Blog Details
5 Benefits of Outsourcing Accounts Receivables in 2022

January 31, 2022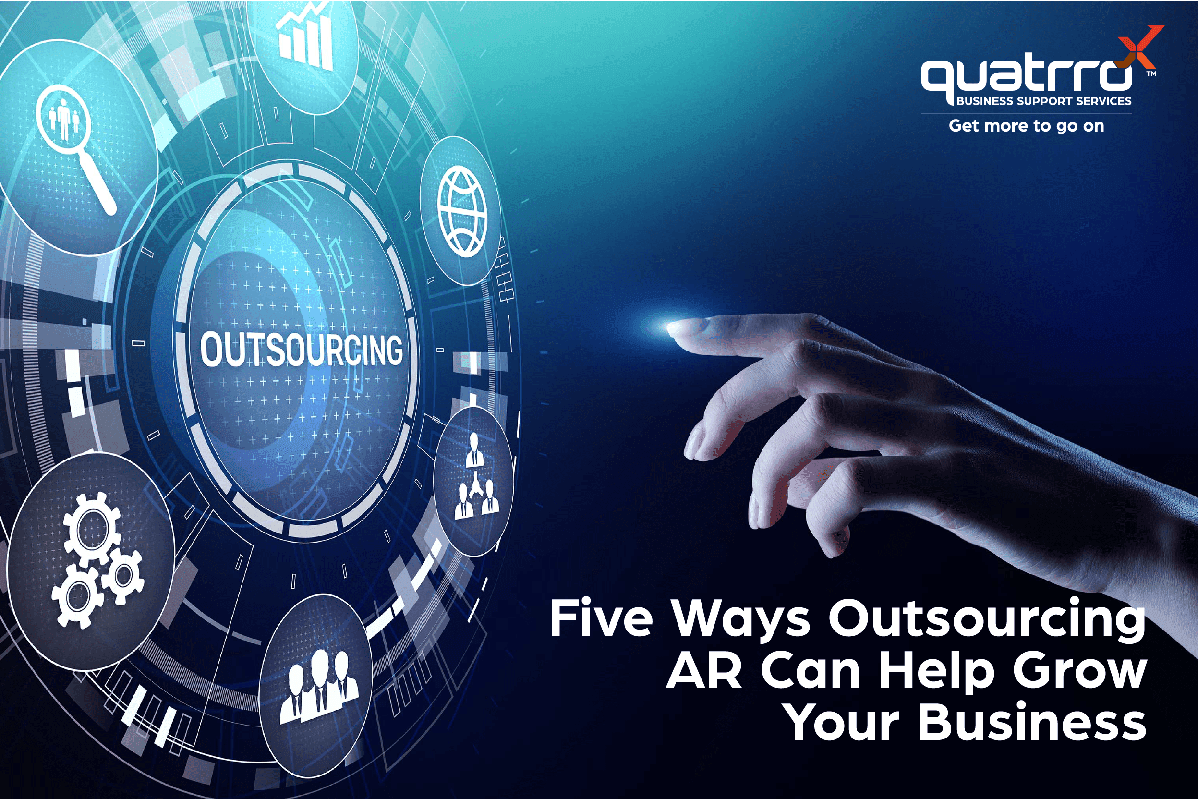 Has the pandemic affected revenues and margins in your business? Outsourcing accounts receivables could be the answer to your cash flow concerns.
Over the last two years, the pandemic has dealt a severe blow to the revenues and margins of businesses, irrespective of size and industry. A 2020 study (of 5800 US businesses) on the economic impact of COVID-19 on the small business ecosystem concluded that the financials of most were precarious, with only 75% having the funds to meet operating expenses for the next two months. To quote US Vice President Kamala Harris, "Sadly during the course of the pandemic, one-third of our small businesses have closed."
Running a profitable enterprise is difficult even in a flourishing economy. Businesses that have weathered the pandemic-inflicted market conditions are likely to be those that had a strategic approach to accounts receivables (AR) management.
What is Accounts Receivables (AR)
The primary goal of the AR department of a company is to monitor collection against billed invoices and make efforts to collect those payments as timely as possible. An AR team can generate customer invoices, issue customer refunds, and reconcile AR accounts.
The right AR management strategy adds a layer of protection against future non-payments. Granting credit is, for many businesses, a vital customer retention strategy. Some customers may themselves be awaiting AR collections so they can pay their bills. A critical task performed by the AR team is to assess which customer is worthy of being extended credit.
Importance of Outsourcing Accounts Receivables
If the pandemic has taught us anything, it's to have a consistent invoice collection process focusing on your cash flow. By neglecting to establish a professionally managed AR function, a business will suffer from missing customer payments, errors in accounts reconciliation, negative cash flows, delays in funding expansion plans, and defaults on business debt.
Outsourcing accounts receivables is a powerful strategy for businesses that lack the expertise or the resources to construct a robust, full-time AR team. An outsourced accounts receivables service will help you optimize working capital management, improve collections on invoices, and improve client relationships. In addition, the outsourced accounts receivables partner will work with you to tactically implement AR processes and systems to automate and speed up the collection process.
Benefits of Outsourcing Accounts Receivables
Businesses that have survived and even thrived during the pandemic are the ones that were able to realign their service delivery and payment collection models to the new normal. Although many industries have shown signs of growth by the latter half of 2021, a return of economic shut-down never seems far from being a real possibility. The bottom line is that businesses need to continue strengthening their accounts receivables approach to get paid faster and more efficiently.
Improving even a medium-sized organization's AR processes requires a hefty investment of resources (technology, staffing, and training). Given the precarious state of both the US and global economy, that's a risk most CFOs and CEOs are unwilling to take. In such a scenario, outsourcing accounts receivables is one of the most viable and effective strategies for reducing Day Sales Outstanding (DSO) metrics and securing payments sooner. AR providers have the tools, skills, and technologies to revamp an existing AR flow and provide new capabilities to streamline the entire process of billing and collections.
Here are five significant benefits of outsourcing accounts receivables for your company:
Faster payment collection

Getting paid in business goes beyond raising invoices and sending automated reminders. Consistent, friendly contact with clients will help your invoices be prioritized for payment. However, most credit departments don't have the bandwidth for effective follow-up. Accounts receivables outsourcing providers ensure that your overdue customers are contacted regularly for payments. In case of a customer concern about an invoice, early contact and resolution will improve chances of timely payment collection. In short, with accounts receivables outsourcing, you drastically increase the chances that all your invoices will get paid more quickly.

AR professionals are adept at dealing with late-paying customers without damaging the relationship. Consistent customer communication will improve the customer's understanding of your billing and payment collection processes and improve the likelihood of timely payments in the future.

Access AR best practices

There is no one-size-fits-all optimum AR workflow. But there are AR best practices that a company of your size and industry can adopt to free up working capital. A professional AR partner can be of immense value by identifying the gaps in your AR workflow compared to industry peers and giving you the information you need for improved decision-making. Here are some of the immediate benefits that you can access:

Gain an impartial assessment of your existing AR processes. For instance, how often does the sales team override standard contract terms?
Improve reconciliation of discrepancies in accounts.
Develop financial reports to assess future revenue and liquidity.
Improve the accuracy of your customer credit policies. Are you taking too long to approve credit applications, are you adequately assessing customer risk, and do you need to change established credit policies?

Streamline invoicing through automation

The apparently straight-through process of invoicing can have errors and discrepancies affecting your cash flow. Delays in the generation of invoicing, inaccuracies in recording customer data, and billing the customer outside the system are common issues that can be addressed by (a) centralizing AR and (b) automating most AR processes using electronic billing systems and customer portals. Outsourcing accounts receivables allows you to access the latest automation innovations without investing in them directly.

Automating your collection management processes will break down the silos between business units. It will improve transparency in financial reporting, which will enhance your ability to make timely strategic decisions.

Lower employee costs

Since an outsourced service takes care of all your accounts receivables processes and automation needs, it reduces/eliminates the requirement for having an in-house AR team. That means you have lower overhead expenses while enjoying improved cash inflows. You can also quickly scale your AR collections processes as your business grows without worrying about hiring and training additional staff in time to meet the growing demand.

Targeted approach to reducing DSO

Once you have hired an outsourced accounts receivables partner, you can negotiate the reduction of 10, 20, 30+ days of DSO as a business deliverable in the business contract. Lower DSO will mean more cash at your disposal for funding core business functions.

As any diligent business leader knows, you must, however, evaluate the benefits of accounts receivables outsourcing in tandem with the associated risks of AR outsourcing. The most obvious one is the risk of handing over such a key function to your enterprise to a third party, and one that will directly impact your company's cash flow. Then there is the risk of a data privacy breach.

These risks can be circumvented when you work with a premium, experienced outsourcing partner. Therefore look for an AR service provider that offers the right mix of AR technology, skills, credentials, and experience to achieve your company's specific goals.
Author: Cynthia Gomez