FINANCE AND ACCOUNTING OUTSOURCING SERVICES
Focus on Business Strategies and Address Challenges Pertaining to Finance and Accounting
It's decision time. And you're still not sure what to do. Why? Because you don't have enough information to go on. Yes, you've got the P&L, but it's not updated. You've got inventory projections, but you don't know how accurate they are. You're not sure if you can trust the latest accounts receivable report or the performance of the accounting services data from your various locations.
To top it all off, you haven't got anyone who can help you interpret this financial reporting data – let alone benchmark it against other companies like yours. There are just too many missing pieces. QBSS is a professional outsourced finance and accounting functions consulting firm that can help you stay on top of the numbers game. We bring to you the right mix of an outsourced accounting team, financial and accounting professionals, financial planning expertise, and industry best practices to support your business strategy.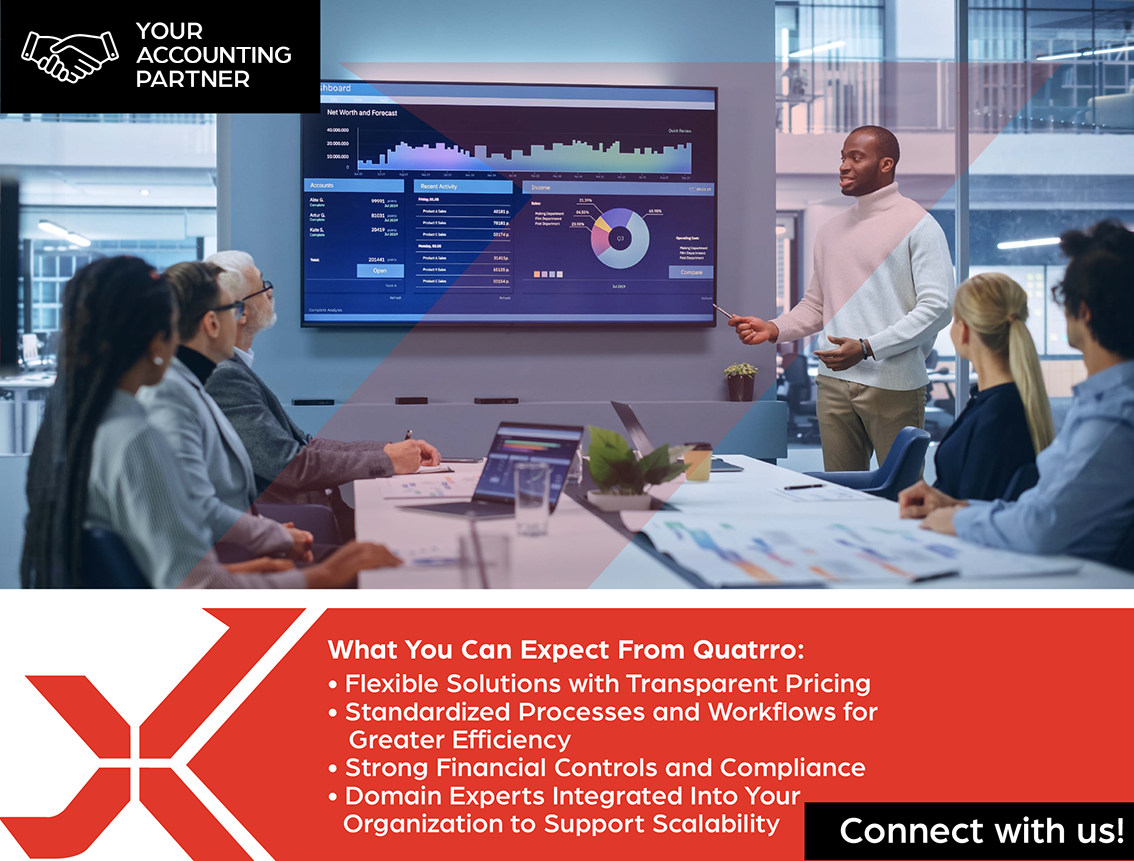 We offer the financial reporting you need to grow your business while freeing up your time and resources to manage your core business better. Outsourcing your finance and accounting functions to a trusted advisor like QBSS will help:
Make your financial reporting and planning and accounting functions more efficient
Improve your working capital management, streamline accounting processes and payroll processes and enable customized management reporting
Generate insightful and actionable financial reports through outsourced accounting services
Mitigate risks of financial leakages, fraud, and non-compliance with GAAP accounting guidelines
Create an agile finance and accounting function tailored for growth
Access to real-time information that improves accounting processes and financial reporting
Access to cost-effective technology to ensure compliance with key performance indicators
Your business strategy and goals will determine the scope of outsourced accounting services. If you are new to outsourced accounting, we recommend you start small and then expand as you become more comfortable with the concept of outsourcing accounting services. If you have leveraged outsourced accounting before, we think you will find we are a different sort of consulting firm than you may have worked with in the past. Contact us us for a free consultation to assess outsourced accounting services.
Our Current Offerings
Our comprehensive Finance and Accounting functions helps you have better financial planning and control through sharper insights and streamlined processes for payroll services, the accounting department, bookkeeping services, healthy cash flow and cash basis accounting, tax services, maintaining accurate documentation and financial reports, and more to drive long-term growth.
Finance & Accounting
Our services improve the financial Reporting and accounting systems process. This, in turn, ensures on-time delivery of accurate financial statements and streamlined bookkeeping services and payroll processes, thereby strengthening compliance with GAAP accounting norms.
Our services improve the Record to Report​ process. This, in turn, supports timely and accurate tax filing and tax preparation, provides access to strategic and cost-effective accounting services, enables continuous monitoring of key performance indicators and strengthens compliance with GAAP accounting norms.
Profit and Loss Statements
Balance Sheet
Cash Flow Statement
General Ledger
Bank Account and GL Reconciliations
Cash and Credit Card Deposit Verifications
Inter-Company Accounting
Fixed Asset Account Management
Inventory Accounting
Corporate Consolidation Reporting
GAAP Accounting Compliance Reporting
QBSS's Procure to Pay services is a cost-effective way to ensure companies are able to efficiently optimize their working capital. Consequently, accounting processes are streamlined and smart cash flow management ensured. Our outsourced accounting services include:
Mailroom Services
Invoice Processing and Disbursements
Approval Workflow
Vendor Management
Electronic Invoice Integration
Statement Research
Utility Tracking
Positive Pay
1099 Reporting
W9 Tracking
Tax and License Processing
AP Aging Report
QBSS provides an end-to-end solution that provides a holistic view of the order to cash process. This, in turn, serves to enhance overall performance of the business' accounting processes and financial reports. Outsourcing your accounting services entails:
Prepare, Verify, and Dispatch
Order Management
Customer Billing
Customer Inquiries
Cash Management
Monitor and Follow-Up for Collections
Setup and Monitor Customer Master
Bad Debt Analysis
Accounts Receivable Reconciliations
Accounts Receivable Aging Report
Business Improvement
We offer practical, prudent and hands-on advisory support, and insights in specific business areas to enhance your agile decision making and critical strategic initiatives planning.
Our services help create a consolidated view of your financial model for acquisition analysis with quality and accuracy.
Review multiple acquisition targets in one file with sensitivity toggles
View consolidated profit and loss and cash flow for all selected acquisitions
See revenue and expense forecasts including monthly/quarterly EBITDA/adjusted EBITDA numbers
Automatic covenant testing for lenders, such as leverage ratios, FCCR, etc
Include investing activity considertation values into the calculations
Analysis to evaluate an increase or decrease in revenue or cost assumptions and the effect on EBITDA, net income, cash balances and financial covenants
Identify debt-equity split for debt and equity schedules
A consolidated view of key benchmarks such as revenue, income, CAGR, key ratios and stock prices
Dynamically adjust revolver drawdown based on minimum cash balance to be maintained
Comparisons of forecast versus actual post acquisition
Our services offer executive-level support and management of finance teams to drive enterprise value.
Review and identification of opportunities for EBITDA improvement
Management of budget and forecasting cycles
Assessing organization and making recommendations for growth
Preparation for acquisition, merger or exit
Implementing plans to optimize cash flow
Providing guidance and oversee due diligence activities for raising capital and attracting investors
Management of year-end processes and review of year-end closing
Preparation or management of audit process
Review and preparation of facility reporting
Our services help systemize your various evaluation and documentation needs with effectiveness.
Review of existing processes for streamlining and standardization for uncovering automation opportunities
Providing experienced professionals for developing policies and procedures for startups and other companies
Documentation of standard operating procedures
Organization and guidance in updating existing documentation
Updating backlogged processes, determining the reason for the backlogs with implementation of improvements
Payroll & HCM
QBSS takes care of the complete Human Capital Management and Payroll needs. Our unique approach addresses the employment life cycle from pre-hire to post-retire thus successfully managing your talent while reducing your HR overload. Regardless of your company's size, our flexible technology and service models streamline processes, improve productivity and simplify administration to help you achieve peak performance.
Evaluation of HR administration and compliance supervise basic functions and guidance to  management of the HR administration
Review procedures for industry best practices and efficient operations
Supervise basic HR functions and guidance to management on HR administration
Provide strategic HR methods in relation to business objectives
Provide tools and recommendations to enhance organizational culture
Strategic guidance relating to staff engagement, development, and performance management
Support creation of compensation philosophy and total
rewards package
Manage, advise and administer employee benefit plans through an HRIS
Maintain an employee handbook
Oversee and facilitate employee on-boarding, talent acquisition, and off-boarding processes
Function as an HR compliance advisor relating to local, state, and federal labor laws
Advise on employee relations coaching
Liaison for management and the Board of Directors.
Facilitate a transition of electronic HRIS
Partner with management to facilitate performance management practices
Managed Payroll
Executive Search
Executive Coaching and Development
Retained Talent Acquisition Search
Leader Coaching and Development
Organizational Development
Individual Coaching and Development
Get more to go on
How Our Clients Get More To Go On, While Focusing On Lean Operations:
See Further
Enable faster decision making in real-time, with digitally enhanced, compliance ready and accurate reporting delivered within 10 business days
Gain an end-to-end holistic view through analytical dashboards, reports and benchmarks
Scale Smarter
Enhance technical and technological capabilities without inflated overheads
Grow your business without added pressure on your resources or overhead
Focus on "big-picture" strategies and not back-office operations
Boost bottom-lines with up to 40-60% reduction in costs
Stand Stronger
Garner actionable insights from a team of industry experts
Leverage vertical-specific best practices, while being fully compliant with regulations and tax legislation
Latest Insights
Latest Trends and Strategies
Industries we Serve
Vertical Experience and Authority to
Provide Domain Expertise and Benefits
" What a year we had in 2022, and we could not have achieved success without the partnership and support from Quatrro. Our accomplishments in 2022 are due in no small part to our strong portfolio, where the developing Quatrro partnership plays an important role—having the right supplier partner, services portfolio, and delivery capability is vital to a successful services business. "
Leading Technology Integrator & Service Provider
" We are very excited to work with Quatrro Business Support Services as we feel your team 'gets it' when it comes to customer experience and subscription management. "
Leading IT distribution firm
" Congratulations on your persistent Collection efforts on this account. The customer has approved a payback for over $39K in deductions that were taken back in September 2021. This is a major impact on the Collection side as well as for our Sales Team.. "
Sales Director – Pet Care Store
" Quatrro's Human Resources team provides a partnership that allows us to focus on our business We formally had a one-person Human Resources Department for a staff of 75. Quatrro brings expertise from the different sectors of HR who specialize in recruitment, onboarding, HRIS systems, staff documentation management, and staff performance resolution. The partnership with the HR leadership has led us through the selection and implementation of our first electronic HR system, assisted in the design of new onboarding procedures and systems, broadened our recruitment efforts, and assisted in managing staff performance issues. Recently, when I consulted our attorney about a staff performance issue, his first question was "What does say?" There is timely access to all HR staff as well as the Chief Human Resource Officer if needed. If a problem exists, it is identified and explored quickly. Resolution occurs through a collaborative effort that is monitored to ensure all systems are operating well. "
President, Non-Profit Mental Health Care Organization
" It brings a lot of peace of mind having Quattro on call for HR, especially for a growing organization like ours! "
Executive Director, Non-Profit Alliance, and Advocacy Group
" Throughout the engagement, our administration team and ad hoc Compensation Committee worked with Quatrro to exchange and discuss the information on our staff. We had periodic meetings to ensure we were on track, and which culminated in a plethora of market data and research that Quatrro Sue shared with us. The result was a well-designed salary grade/band range chart, along with the skill set criteria for each pay band. All of this was presented to our Executive committee and has been approved for implementation. This interaction and engagement with Quatrro was a great investment for our staff and the continued growth with our non-profit. "
Vice Chair, Non-Profit Historic Museum
" Quatrro led our leadership team through an engaging and iterative process to translate our roles into concrete activities, priorities, and performance measures. They were thorough and compassionate in helping us to articulate the myriad hats we wear in our roles and to critically reflect on how we are spending time on vs. what we should be spending time on. The facilitation illuminated gaps in our organizational capacity that have led us to reflect on our staffing structure and operational processes overall. Even 4 years later, the matrices have become a great roadmap in describing the unique functions of each role to the rest of the internal team, facilitating performance evaluations, and succession planning for the leadership team. "
Chief Program Officer, Legal Services Provider for Non-Profits
Frequently Asked Questions
What are Outsourced Accounting Services?
Outsourced accounting is the hiring of a third party (outside the company) to complete the organization's finance and accounting functions. Outsourced accounting services encompass a range of finance functions, including; bookkeeping services, financial reporting, management reporting, tax services, accounts payable, accounts receivable, etc.
What do Outsourced Accounting Service Providers Do?
Outsourced accounting service providers enable a business to reduce overhead expenses, increase efficiency and make more informed business decisions. Accounting functions that are commonly outsourced are:
Accounts Payable/Accounts Receivable: Outsourcing the accounts payable and accounts receivable functions enables an organization to focus on the strategy of their cash flow rather than actually having to focus on the transactional work of processing and collecting, or paying, invoices.
Bookkeeping Services: Outsourcing this service gives the company access to reliable and accurate financial reports based on the transactional data entered throughout the period, which improves e financial data visibility for informed decision-making.
Enhanced Financial Reporting: By outsourcing finance and accounting functions, the business can leverage expert and timely advice from the service provider, on reports outside of the standard monthly financials including reporting around budgeting, benchmarking and trend reporting. These additional reports provide enhanced support for business strategy and decision-making.
Controller Services: Outsourcing this component of the finance and accounting work can bring enhanced expertise around audit preparedness and financial reporting - all of which provide insights into the financial health of the business.
Financial Planning: An outsourced accounting team can complete regular cash audit and budget tracking tasks that an in-house accounting team is often pulled away from completing on a regular basis. All of these activities allow the business leaders to better forecast future costs and revenues which lead to being able to make better-informed decisions about the future of the business.
Tax Services: This generally includes tax preparation and filing of sales and use tax as well as property tax and income tax, in order to ensure regulatory compliance and maximized tax benefits.
Is Outsourced Accounting Services Good for Small Businesses?
Outsourcing finance and accounting functions accrues a varietyof benefits to businesses, no matter the size:
Access to Accounting Experts: Partnering with a business process service provider with deep industry knowledge and expertise, the business' books are always accurate, compliant and completed on time, with minimal risk of penalties or regulatory noncompliance.
Ease of Scaling Up the Business: Outsourced accounting services can ensure the business is able to scale-up back-office services with ease as the business grows and without any lag.
Access to Real-Time Information: A dedicated team of experts ensures that the company has real-time access to financial reports, allowing the leaders to make agile business decisions based on actionable and reliable data.
A Proactive Approach: An outsourced accounting team stays proactive and is able to identify and highlight potential threats and challenges as well. This, in turn, ensures financial reporting is more accurate and intelligent.
Why Partner with QBSS for Outsourced Accounting Services?
Quatrro's finance and accounting services enables customers to have better financial control through streamlined processes sharper insights for healthy cash flow, the right people and technology to drive long-term growth.
Quatrro's dedicated team of professionals brings decades of industry expertise and best practices in three primary domains: finance and accounting; business improvement and human resource services.
Now you have a way to get more to go on. Reach out to us.
Get a Free Consultation