Blog Details
Top 3 Trends That Will Change the Future

March 22, 2020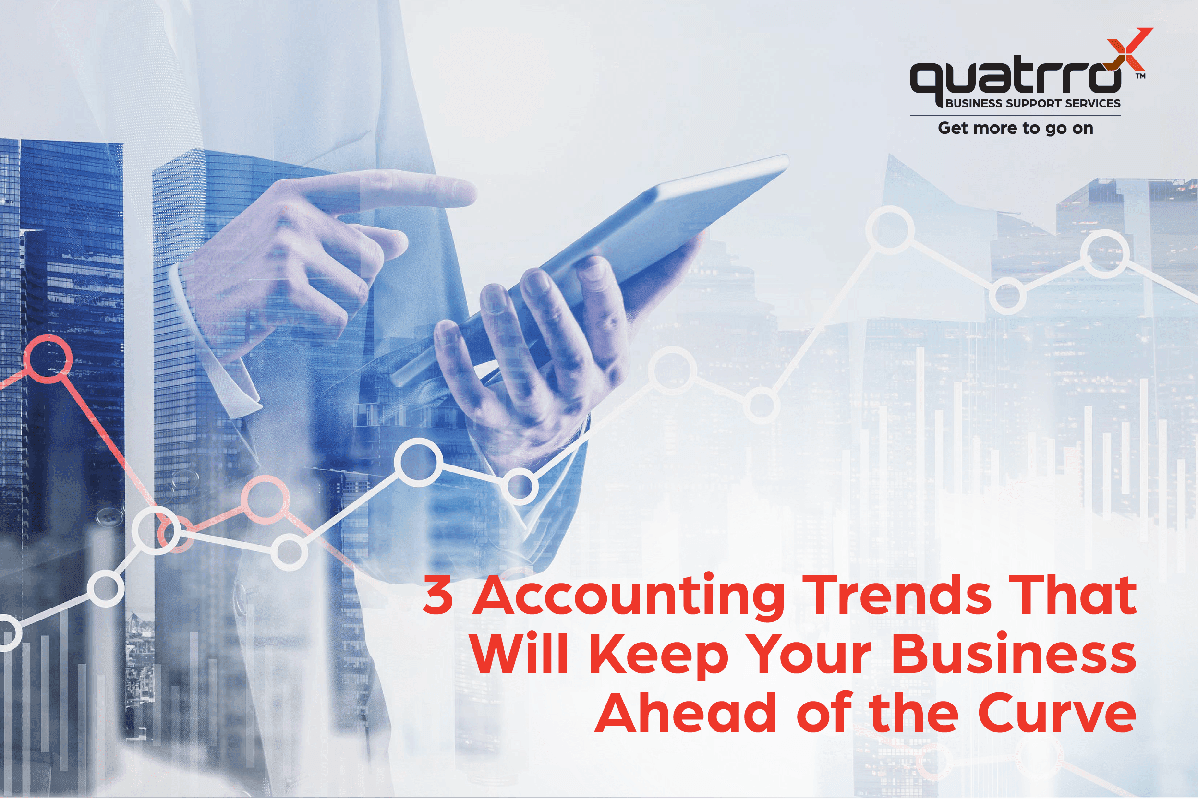 Accounting plays a vital role in the functioning of any business. Heading into the 21st century, finance and accounting professionals saw the emphasis of their responsibilities shift from simply recording various aspects of an organization's financial health to building and managing an accounting function that is proficient and has the process diligence and control to keep costs in line. Those who were most successful at navigating this changeover were able to help their companies achieve high performance in a challenging economy. As a result, numerous businesses whether small or large, are embracing the accounting trends emerging today to reshape their businesses and have greater control over accounting function and better visibility across the entire organization.
IN THIS ARTICLE, QBSS OUTLINES SOME OF THE TOP ACCOUNTING TRENDS FOR THE 21ST CENTURY CFOS
TREND # 1: AUTOMATION
Automation has made things easier for the modern-day accounting professional. Automation is extremely beneficial for small and medium businesses (SMBs), as it helps reduce transactional and routine tasks such as data entry, bookkeeping, and compliance work. Automation also enables SMBs to store all their financial information in a centralized location. Sending invoices and payments received can be tracked easily through an automated accounting system. It also simplifies the process of recording and verifying information on a large scale for SMBs. SMBs generally partner with third party service providers who can help them reinvent their finance operations by integrating automation into key finance functions to improve their business performance.
TREND # 2: OUTSOURCING
Finance executives seek to make a positive impact on their organizations, yet they often lack the time, resources, and capabilities to achieve optimal alignment between their investments and overall business performance. To meet those challenges, outsourcing is now an option being considered by many CFOs. Outsourcing can also help businesses in cutting costs, lowering the risk of fraud and providing streamlined and efficient processes. It also keeps a neutral eye on the business's cash flow while still allowing complete control over business accounts.
TREND # 3: ARTIFICIAL INTELLIGENCE (AI), MACHINE LEARNING (ML) AND INTERNET OF THINGS (IOT) ARE CHANGING THE WORLD THE SMB LIVES IN
Before AI came to the scene, accountants had to wait for the hard copy data to be delivered and then manually enter that information into their system. But now, with the help of AI, document scanning tools and software can give accountants live access to their financial information which eliminates the tedious task of manual entry and provides accountants with more time to spend analyzing the information and providing critical advice to management based on that information. The IOT adds another layer of benefit by providing access to real time data and existing operations. It can immediately respond to issues and evaluate risks comprehensibly. SMBs can integrate these technologies more effortlessly and swiftly because their structure is smaller and more flexible, ensuring them a quicker response to the insights and opportunities provided.
While these are just a few of the emerging trends the accounting industry is seeing today, they are definitely some of the game changers.
SMBS SHOULD KEEP AN OPEN MIND TO THESE ACCOUNTING TRENDS AND ADAPT THE BEST PRACTICES THAT ARE IN THE BEST INTEREST OF THEIR BUSINESS TO BE WELL ON THEIR WAY TO FUTURE-PROOFING THEIR FIRM.
At QBSS, we are committed to helping our clients remain focused on creating strategies around these trends by taking the burden of day-to-day operational tasks such as accounting, IT and payroll, off your shoulders. We possess 25+ years of experience in offering tailored business support services, keeping in mind the needs of our clients while ensuring efficiency and utmost quality in all that we do.
Author: CM Sharma