Blog Details
IT Outsourcing: Do You Really Need It?

December 23, 2021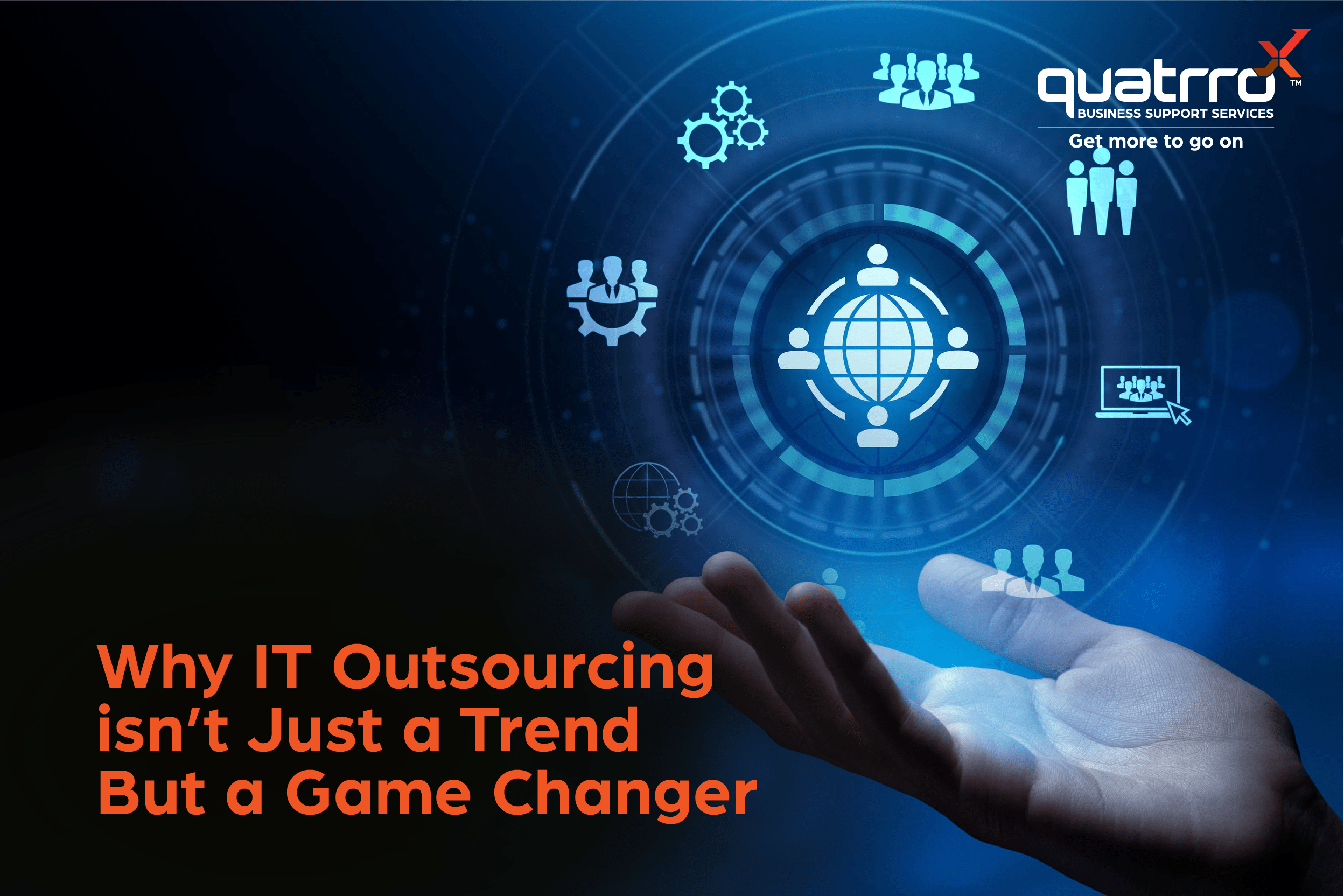 A study commissioned by the Small Business Association (SBA) before the global pandemic found that over 627,000 new businesses open each year, and in that same time 595,000 would close each year.  Now that we are dealing with the adverse effects of a novel coronavirus, many companies worldwide are either losing business due to the continued consequences of the pandemic, or are constantly on the verge of having to shut their doors. Those that are dealing best with the uncertainties of the times are finding ways to optimize their business infrastructure and processes. The best way to achieve "optimization" in your business infrastructure and processes is to look at outsourcing your non-revenue-generating headcount, including your IT services.
Market Trends:
"Outsourcing" in today's business world has been a revolutionary phenomenon – it helps businesses to increase their bandwidth while shifting headcount and IT infrastructure support from CapEx to OpEx. This allows them to not only remain competitive in the market, but also increase agility while reacting to changes in the market. By outsourcing their non-core business operations, many organizations are able to eliminate some of their ongoing expenses without sacrificing quality – which is always a priority when making such a decision. There are many areas in which outsourcing can be implemented within organizations. However, one of the largest areas of outsourcing opportunity for an organization continues to be in the area of IT services, especially during this Covid crisis.
According to Daxx and Statista research, it is anticipated that; by the end of 2021 the overall value of outsourced IT services will surpass $413.72 billion
Per "Security Magazine", 83% of IT leaders plan to outsource their security to an MSP(Managed Service Provider)
The Deloitte Global Outsourcing Survey states that 57% of organizations believe IT outsourcing allows them to completely focus on their core business activities
The report by Avasant IT Outsourcing Statistic states application development is one of the most frequently outsourced IT functions in 2021.
The rapidly growing business pressure, and of course digital transformation, is causing many businesses' to fundamentally shift towards outsourcing IT services. Doing so not only helps them to keep up with the tide of ongoing digital innovation, but also enables the organizations to better focus and shift their strategies to align with today's challenges.
The recent OpsRamp survey of 137 IT managers states that digital transformation is at the forefront of priorities for most CIOs. And the report by Global Industry Analytics states that the value of the IT outsourcing market is expected to grow by about 5% each year between 2020 to 2024.
Opportunities You Can Embrace by Incorporating IT Outsourcing Services:
Increase availability of strategic mission-critical resources – The 24/7/365 help desk services offered by outsourced service providers relieves almost 90% of the burden of both IT staff, and the organization's end users, by handling day-to-day technical issues and organization-specific needs around the clock. When users encounter issues during after business hours, outsourced service providers tend to resolve them more quickly (based on agreed contractual SLA's) than in-house operations thus enhances productivity and internal customer satisfaction.  Freeing up internal IT resources from daily support tasks enabling them to focus completely on strategic initiatives designed to drive growth for the company.
Boost user productivity – An outsourced service provider offers a 24/7/365 operations center which proactively monitors and quickly resolves issues such as hardware failures or network resources reaching capacity and shutting down. The goal is to help prevent disruptions to your operations, and avoiding these common IT glitches, leads to reduced unplanned downtime and boosts user productivity.
Enable security best practices – Outsourcing IT services enables the organization to leverage cutting-edge technology that helps identify gaps, mitigate potential risk and simultaneously address the technical concern without making a significant capital investment on their own.  Furthermore, the business is being protected around the clock with real-time response to a security breach, fortifying the organization's security position.
Why Consider IT Outsourcing?
IT outsourcing is a proven successful strategy and valuable solution for any size organization.  The benefits of outsourcing can be substantial: it can help reduce cost, improve efficiencies and customer satisfaction while also accelerating go-to-market strategies to greater competitive advantage. Below is a list of 8 major reasons why businesses need to consider outsourcing IT services as part of their operational strategy.
Around the Clock Support – Many outsource service providers have a global presence which allows you to leverage the benefit of different time zones to reduce turnaround time significantly – even if you only use them for after-hours support.
Expert Resources – If you need specific resources for a specific project, this is a good way to leverage expertise in a specialized area without having to hire costly resources to meet potentially intermittent project demand.
Shared Risks – The risks are equally shared with a partner company when you choose an outsourcing partner.
Flexibility – The ability to ramp up/down resources based on project requirements and client needs is much easier than the distraction of dealing with that yourself.
Reduced Turnover Risk – Keeps the operation going in case of any employee turnover.
Labor Savings – The right partnership with a global presence can help significantly lower your overall labor costs
Strategic Focus – The main benefit of outsourcing non-core tasks or components of your operations is your time can be re-allocated towards the more strategic, value-add initiatives of the business.
Overhead Costs – These costs can generally be extremely high for most businesses, but by outsourcing non-core functions, overhead costs are minimized.
Source – Adapted from jeffbullas.com
IT outsourcing had become a worldwide phenomenon pre-Covid days, and is now gaining traction across more industries. By outsourcing, many organizations are able to streamline their business process and enhance efficiency and productivity, and at the same time, they are able to better utilize their resources by focusing on their core business activities and initiatives. Are you ready to take your organization to the next level by outsourcing your IT services?
Quatrro is a tech-enabled outsourcing firm, with over 25+ years of specialized experience, that's changing the way companies think about finance, accounting, and technology services. You get world-class teams combined with highly personalized services, and a portal that lets you see and manage everything online – all of which is rooted in our Get More To Go On strategy. It's how our clients around the world are able to see further, scale smarter, and stand stronger.
We are positioned to help our clients take advantage of this trend and support the complete lifecycle of your business transformation by drawing on our experience to address your specific pain points. We provide complete Managed Services offerings through multiple fully secured NOC delivery centers which are staffed 24×7 with highly skilled and certified engineers.
Author: Dilowe Barker