Blog Details
Labor Shortages Strengthen the Case for Business Process Outsourcing

February 25, 2022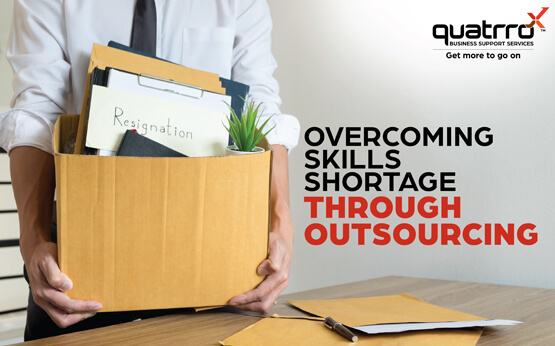 As companies face rising costs and labor shortages, business process outsourcing could be the mantra for sustainable growth.
Businesses in the US are seeing a shortage of labor across industries, the likes of which has not been seen for more than a decade. An estimated 4 million fewer Americans are in the job market now compared to pre-pandemic levels. In addition, according to data released by the U.S. Chamber of Commerce, 'employee quit rates' are touching highs of 3% and above, with some states such as Hawaii, Louisiana, and West Virginia seeing much higher quit rates. The difficulty in retaining employees, and the associated rising cost of hiring new staff, come at a time when businesses need to hire workers to continue their economic recovery.
What's Causing the Labor Shortage?
Let's begin by taking a look at the 'Great Resignation' trend. Over the last two years, Baby Boomers have found themselves tossed into a surreal world of remote-working, using a plethora of new software apps to stay connected and productive, all while trying to manage their personal vulnerability to COVID-19. Frustrated with the 'new normal' at work, many older employees, who have now been productive for the last forty years of their lives, have realized that they would rather live life more on their terms and have been leaving their jobs. Data shows that more middle-aged employees are planning to retire earlier. According to a Pew Research Center analysis in the third quarter of 2021, 50.3% of U.S. adults 55 and older said they were out of the labor force due to retirement.
As older employees quit in more significant numbers, younger employees with less experience have had to take on more responsibilities. While that may be an opportunity for shining and rising through the ranks, it has also resulted in those younger employees facing greater work pressures much earlier in their career, often without corresponding increases in their salary. The burnout faced by employees, who were also home-schooling kids during the pandemic, only added to the stresses of remote working. This, in turn, increased the instances of 'job hopping' that were happening. Consequently, employers now have to pay significantly higher than expected salaries to retain current employees or to hire new ones.
Another explanation of worker shortages is the record trend towards business ownership. Americans applied for 5.4 million business I.D. numbers in 2021. People are choosing to start a business even though the economy is plagued by low unemployment numbers. Millennials, just like the Baby Boomers, are assessing what they want out of life; working for themselves seems to be the preferred route. Accessible business technologies (Zenefits, GoDaddy, PocketSuite, QuickBooks, among many others) and mature online marketplaces have made it that much simpler for small businesses to get started.
Finally, temporary stimulus checks and increased unemployment benefits gave many blue-collar American workers the flexibility to re-evaluate their work situation, with many deciding that they were unwilling to return to low-paying jobs.
Staying Afloat Amid Rising Wage Costs
Companies with deep pockets are likely to invest in AI powered automation and labour-saving technologies to reduce their dependence on a human workforce. But where does that leave medium-sized companies who don't possess the same financial muscle power? As a business owner, some of the immediate strategies you could consider for staying profitable as wages rise are the following-
Pass on the burden to the buyer via an increase in prices.
Reduce business hours to lower the cost of operations.
Lay off staff and have the remaining employees pick up a larger workload.
Identify and eliminate the least profitable products/services.
Unfortunately, most of these steps are short-term or ad-hoc measures at best. For instance, how many cost increases can you afford to pass on to the consumer? And how long can you reduce business hours or lay-off staff without impacting customer service? For business owners struggling to find the right talent or resources to counteract their rising wage costs, business process outsourcing can prove to be a sustainable growth strategy.
Business Process Outsourcing to Enhance Business Agility
Whether you are looking to outsource repetitive work or tasks that involve highly skilled decision-making, business process outsourcing will help reduce operational costs, improve efficiencies, boost compliance, and improve profit margins.
There is nothing ground-breaking in recommending business process outsourcing as a strategy. According to the latest reports, US companies have, by far, the highest business process outsourcing rates, with 68% delegating their services. However, the difference now is how quickly you make the change.
In normal circumstances, companies that decided to move their operating model towards business process outsourcing usually did so in a very drawn-out manner, often taking months, if not years, to evaluate every nuance of the transformation. However, the current dynamic business environment demands that leaders make decisions that are well-informed and well-timed.
The COVID-19 impact has made it clear that such disruptions can happen quickly and repeatedly, and therefore business leaders need to accelerate decision-making in every aspect of functioning. How will you digitize your business? How will you stay relevant in a competitive and fragmented market? How do you access people with the best skills and technology? How can you adapt your processes to be more agile at every level in the organization? Failure to make these strategic decisions simultaneously will put the very survival of your organization at risk. Working with a business process outsourcing service provider will help you overcome the challenges of implementing the best-in-class automation, adhering to stringent industry standards, and ensuring that you recruit people with the right expertise.
For organizations in the early stages of the decision-making process about outsourcing, the most effortless functions to outsource are accounts receivables and payables, bookkeeping, and financial data reporting. Outsourcing these non-core functions of your business can yield cost savings of up to 25% with improved quality and revenue outcomes within the first quarter.
As your business circumstances change (be it a merger, seasonal volumes, or a shift in market focus), an agile outsourced service provider can quickly make the transition to ramp up the team to meet your increased needs. The right outsourced service team can also leverage their expertise, research, and analytics to help ensure that you are prepared to respond proactively to changes in market conditions. Outsourcing also eliminates guesswork about how much it will cost you to ramp up in those support areas to meet the growth of your business.
The business process outsourcing industry has grown well beyond just volume-based transactional work to highly evolved aspects that now include financial planning and analysis, customer analytics, and compliance. Therefore, it's no longer a question whether business process outsourcing is right for you. The question you should ask now is – what areas can you outsource and how quickly.
Author: Sue Braley