Blog Details
The Evolving Role of the CFO: Unlocking Strategic Value in the Digital Age

July 19, 2023


CFO, Future, Skills, Strategy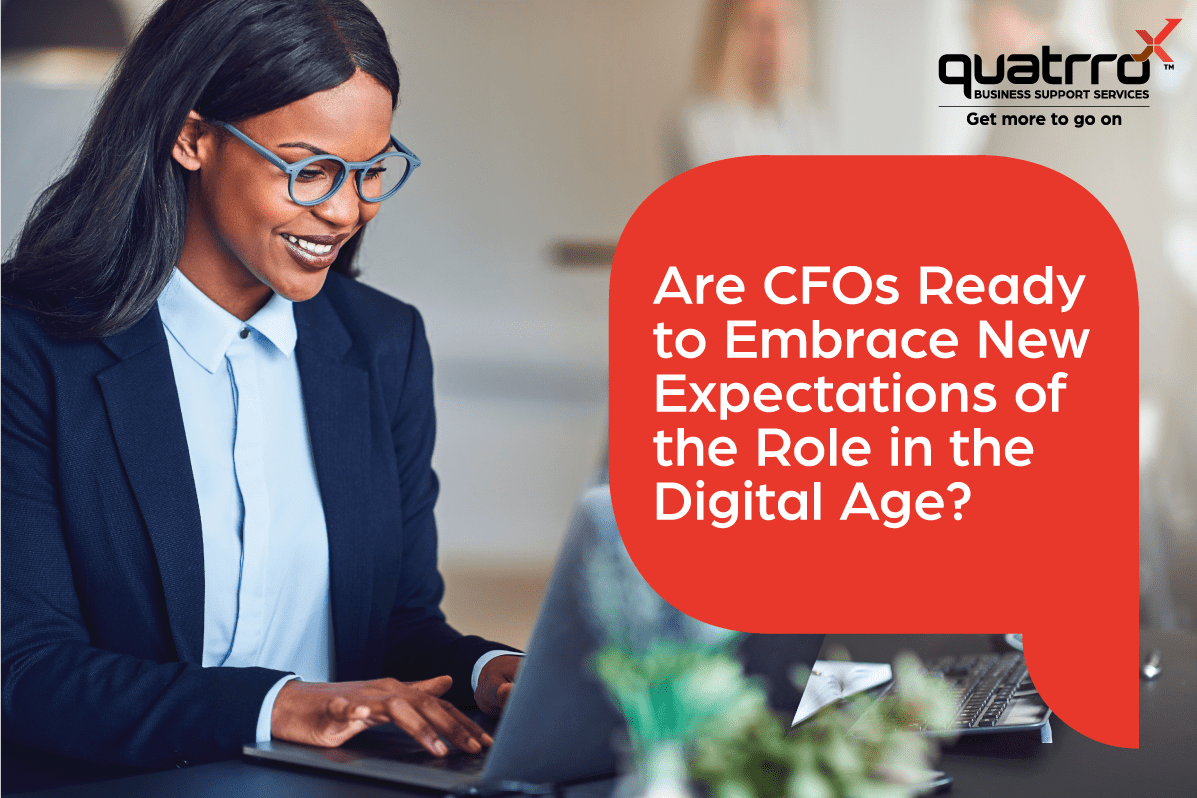 The responsibilities of today's CFO are growing, and our latest series, "Expectations of Today's CFO," delves into the changing landscape for CFOs in various sectors including Retail, Non-profit, Automotive, and Enterprise. Discover these valuable insights to gain a deeper understanding of how CFOs can effectively navigate their traditional duties while embracing the new CFO mandate.
Introduction
In the ever-changing landscape of the finance industry, the Chief Financial Officer (CFO) role has experienced a remarkable evolution with heightened expectations and increased responsibilities, particularly in the digital age. CFOs are expected to be strategic partners in an environment where businesses constantly change, driving profitability and growth while providing financial stability.
This blog delves into the dynamic journey of the CFO, offering key insights and actionable recommendations to embrace the evolving role of a strategic leader. Gone are the days of being limited to traditional financial management tasks. Today's CFOs have emerged as strategic partners to the CEO and other decision-makers, pivotal in shaping the organization's direction and driving long-term sustainable growth.
The Past
Not too long ago, CFOs were primarily expected to deliver the following:
Accurate and timely financial reporting

Balanced budgets

Compliance with all applicable regulations

Effective risk management

Efficient financial operations

Strong financial controls
In addition to these traditional responsibilities, CFOs were also expected to be able to provide strategic financial insights to the CEO and other executives. While these functions remain crucial, they are no longer sufficient in today's fast-paced, interconnected world.
The Present
In recent years, there has been considerable development in the skillsets required of CFOs. Today's CFOs must be capable of the following:
Understanding and interpreting complex data

Using data analytics to drive agile decision-making

Thinking strategically about the future of the organization

Outlining and executing a calculated approach to cost management

Communicating effectively with both financial and non-financial audiences

Building strong relationships with other executives

Demonstrating strong leadership and interpersonal skills

Motivating and inspiring their team
Skills Required of a CFO Today
Strategic Vision and Business Acumen:

Today, CFOs are expected to possess not only a deep understanding of the business but also a strategic mindset to look at the business differently. They need to align financial goals with overall company objectives and contribute to the development and execution of long-term strategies across the business.

Technology Proficiency:

The financial function has changed as a result of the digital revolution. CFOs must be adept at identifying how to best utilize cutting-edge technology like cloud computing, AI, and data analytics. They should leverage these technologies to find new business prospects, increase forecasting accuracy, and drive data-driven decisions in every area of the organization.

Risk Management and Compliance:

Risk management has always been part of the CFOs duties, but it has grown increasingly complicated in recent years. CFOs must keep up with evolving legal requirements, cyber threats, and geopolitical dangers. They must create solid risk management frameworks and ensure compliance is upheld throughout the organization.

Communication and Leadership:

CFOs are no longer confined to the finance department. They are expected to be effective communicators, collaborating with stakeholders across the organization. Strong leadership and people skills are essential for driving change, inspiring teams, and fostering a culture of innovation.
The Future of the CFO Role
The future of the CFO role is likely to continue to evolve. CFOs will need to become more adept at data analytics and strategic thought leadership to be successful. They must also adjust to emerging trends and technologies.
Strategic Partnerships:
CFOs of the future will need to foster strategic partnerships within and outside the organization. They will need to collaborate with other executives, technology leaders, and industry experts in order to drive innovation to help the organization achieve its objectives.
Adaptability and Continuous Learning:
Given the rapidly changing business landscape, CFOs must embrace adaptability and a commitment to continuous learning. This involves staying updated on industry trends, new technologies, and regulatory changes that may impact the organization. Not only must they embrace it themselves, but they must also drive a culture of it within their team and the organization.
Data Analytics and Predictive Insights:
As data becomes increasingly central to agile decision-making, CFOs must possess advanced data analytics skills to best support their organization. They should be able to derive predictive insights from complex data sets to guide strategic choices and optimize financial performance.
ESG and Sustainability:
Environmental, Social, and Governance (ESG) factors have gained prominence over recent years. CFOs must understand and incorporate ESG considerations into their financial strategies and organizational plans as investors and stakeholders increasingly value sustainability and responsible business practices.
Potential Issues and Solutions for CFOs in the Future
While the future offers immense opportunities, CFOs may also face challenges such as the rise of AI, increasing regulatory complexity, and the need for a global perspective. CFOs can navigate these challenges effectively by:
Embracing emerging technologies like AI and automation as a means to streamline processes and enhance efficiency

Investing in training and talent development programs to stay ahead of regulatory changes and compliance requirements

Cultivating a global mindset through cross-cultural experiences and partnerships to effectively operate within international markets
Strategies and Best Practices for Modern CFOs
In order to succeed in their evolving role, CFOs should consider implementing the following strategies:
Invest in Technology:
CFOs should prioritize investments within their team and their organization in advanced technologies like cloud computing, AI, and automation in order to streamline processes, enhance data analysis capabilities, and improve overall operational efficiency. All of which can lead to an increase in the bottom line.
Collaborate with Other Departments:
CFOs should actively collaborate with leaders from other functional areas, such as marketing, operations, and IT, to gain holistic insights into their operations and help them make informed decisions that drive growth and innovation.
Foster a Data-Driven Culture:
CFOs should promote a data-driven culture within the finance team and across the organization. By leveraging data analytics and insights, CFOs can help the organization and its leaders enhance nimble decision-making, drive performance improvements, and identify new growth opportunities.
Develop a Diverse and Agile Finance Team:
CFOs should focus on building a diverse and agile finance team comprised of professionals with various skills and backgrounds. This diverse talent pool can provide fresh perspectives, adaptability, and innovative problem-solving approaches to navigate the challenges of the future.
Conclusion
As the CFO role evolves, CFOs must adapt to new expectations and embrace the digital age. By developing a comprehensive skill set encompassing strategic thinking, data analytics, effective communication, and leadership abilities, CFOs can unlock their potential as strategic partners and drive sustainable growth for their organizations. The changing role of the CFO presents exciting opportunities for personal and professional development, ultimately leading to enhanced organizational success.
Stay tuned for future blogs in this series, exploring the unique roles and expectations of CFOs in various industries and providing industry-specific insights and recommendations to excel in their respective fields. Together, let us help you navigate the changing landscape of finance and ensure success as trusted thought leaders.