Blog Details
Which is Right for Your Business: Cloud Computing vs. Traditional IT Infrastructure

September 21, 2023


Cloud Computing, IT infrastructure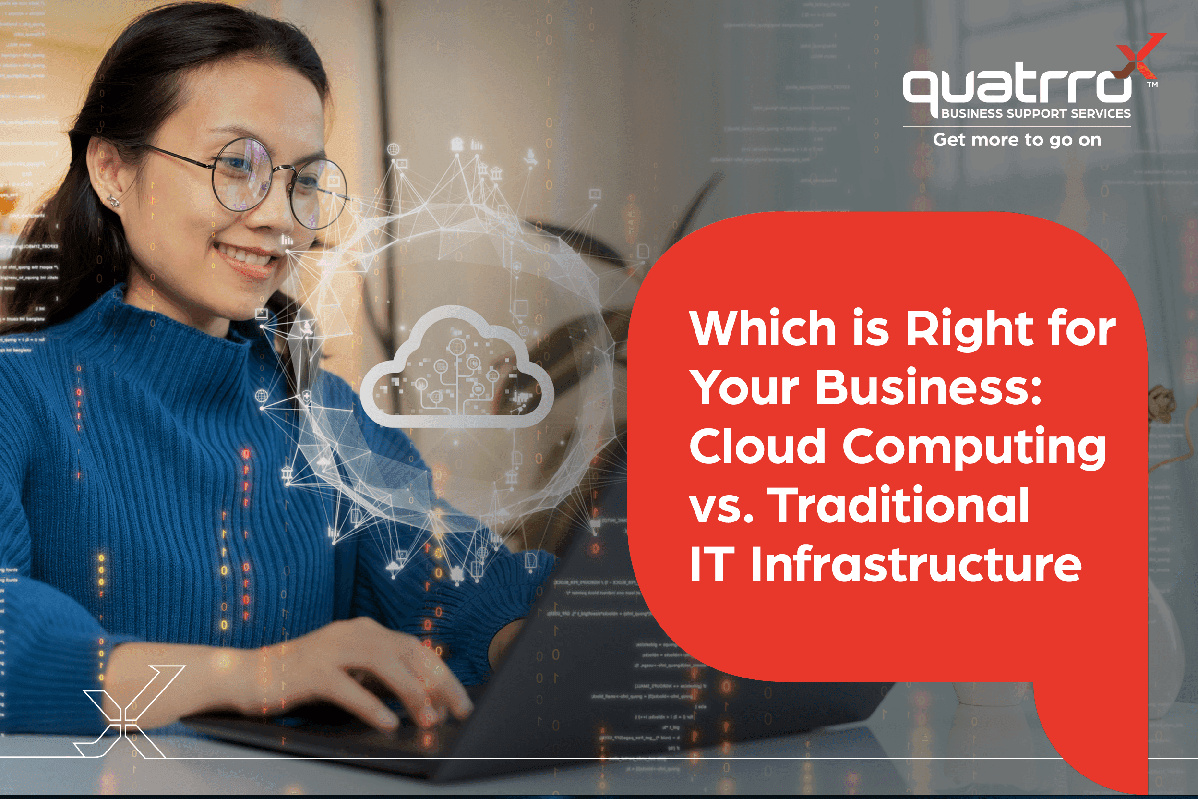 IT infrastructure has evolved throughout time. Regardless of who you are or the size of your organization, selecting the proper IT model is a major responsibility because it will have a long- term impact on your company's scalability, cost structure, reliability, and security.
Some organizations are using traditional IT infrastructure, while others have already embraced the new frontier that is cloud computing, and still others are wondering how to decide on the optimal IT strategy for them.
This blog will help you determine the best IT model for your business as we explore and compare the traditional IT infrastructure model with a cloud computing model. Let's get started!
Operating Costs

Traditional IT infrastructure involves a lot of investment including buying hardware and upgrading it in order to scale up data storage and services, equipment, and servers space to allow for optimal growth. This, in turn, runs the additional investment of paying for resources that you ultimately may not use. Cloud- based services, on the other hand, are a more cost-effective choice for most organizations. Most programs are designed so that you only pay for the storage space and processing power that you utilize. Apart from that, it does not necessitate huge upfront expenditures on hardware and software, and you do not need to recruit a large in-house IT team to run the daily operations. The host will be responsible for performing regular security upgrades and health checks, as well as having built-in failover and continuity systems, which decreases the likelihood of the server breaking down and avoids unnecessary downtime for your organization.

Scalability and Flexibility

With cloud computing in place, scalability and flexibility become an organization's primary advantages. You not only have unlimited storage capacity and better server resources, but you also have complete control over installing software as needed and may scale the cloud server based on website traffic, providing greater flexibility for enterprises to develop. Agile scaling can be difficult, cumbersome, and confined to resources that are already available when employing a standard IT infrastructure paradigm. If your company is expanding or you run out of storage space, you'll need to acquire or rent extra servers and equipment to ensure the environment can reach maximum potential. This, again, runs the risk of forcing you to pay for resources you may never use.

Security Considerations

Cloud computing services use strict security measures including encryption, firewalls, and recurring security updates to protect data from unauthorized access in compliance with industry standards. In this paradigm, data is transferred over the internet and stored in remote data centers, making encryption essential to protecting private information from unauthorized access. To ensure the confidentiality and integrity of data, cloud security places a high priority on encryption for both data in transit and data at rest. The risks of data breaches and unauthorized interception are decreased by this complete strategy.

In contrast, the traditional IT infrastructure, rather than focusing on encryption during data transmission, often prioritizes encrypting data at rest, such as when it is kept on physical servers or in local database, which opens an organization up to vulnerabilities in network communications.

Accessibility

Cloud computing makes it possible for businesses to enable their users to remotely access software, hardware, and services from any location, facilitating remote work and cross-border collaboration. Traditional computing, on the other hand, frequently limits flexibility and remote work possibilities by necessitating physical presence or appropriate network access in order to use applications and access data.

Reliability

Cloud service providers can promise their customers extraordinary levels of availability and uptime due to their huge resources. Additionally, businesses should have backup and disaster recovery plans in place to ensure they can quickly recover from any disruption that may occur. Businesses employing traditional IT infrastructure are responsible for managing their own backups and disaster recovery plans. This could be time-consuming and cost-prohibitive for many organization in terms of new software and technology investments that may be needed to do this properly.
Wrap Up
Cloud computing is the technology of tomorrow. Due to its dependability, scalability, and affordability, cloud computing is quickly replacing physical in-house systems as the cutting edge of business computing and the delivery of software and applications. Moving to the cloud has several benefits, and you will undoubtedly see the best ROI when making this selection. It's a long-term strategy with several benefits above and beyond your original investment. The ability of a firm to adapt to the new way of doing business is crucial to its existence.
If you're still undecided about which model is best for you, why not contact us to help youevaluate and make the right decision? Our IT specialists will examine your present environment and create a specialized strategy that not only matches with your business goals but is also designed to allow for business growth.
Check out this infographic on What You Should Know About Cloud Computing In 2023.