Managed IT Services
Stay Ahead of the Curve, with our Customizable Managed IT Support Services
As a growing business, the organization may not have the budget to invest in technology, or the required talent pool to access best-in-class information technology (IT) services. The organization can, however, still avail of enterprise-level technology solutions. And, even if the organization does have the resources to build a substantial in-house IT team, it is more than likely that it will hit a point where the economies of scale do not justify the burgeoning technology costs.
In this case, therefore, a viable strategy is opting for managed IT services. In a dynamic business environment, partnering with a managed service provider (MSP) enables the organization to develop its IT capabilities, with minimal resource deployment. Managed IT services enables an organization to continue to focus on its core competencies, while a managed services vendor streamlines day-to-day tasks of more time consuming and complex projects.
Typically, managed services cover routine IT tasks such as network monitoring and maintenance of equipment, technical support, data storage, network management, and remote monitoring, support and troubleshooting. Today, managed services are focused more on proactive IT services such as software upgrades, security software updates, firewalls, penetration testing, endpoint protection, email filtering, and avoiding network downtime issues.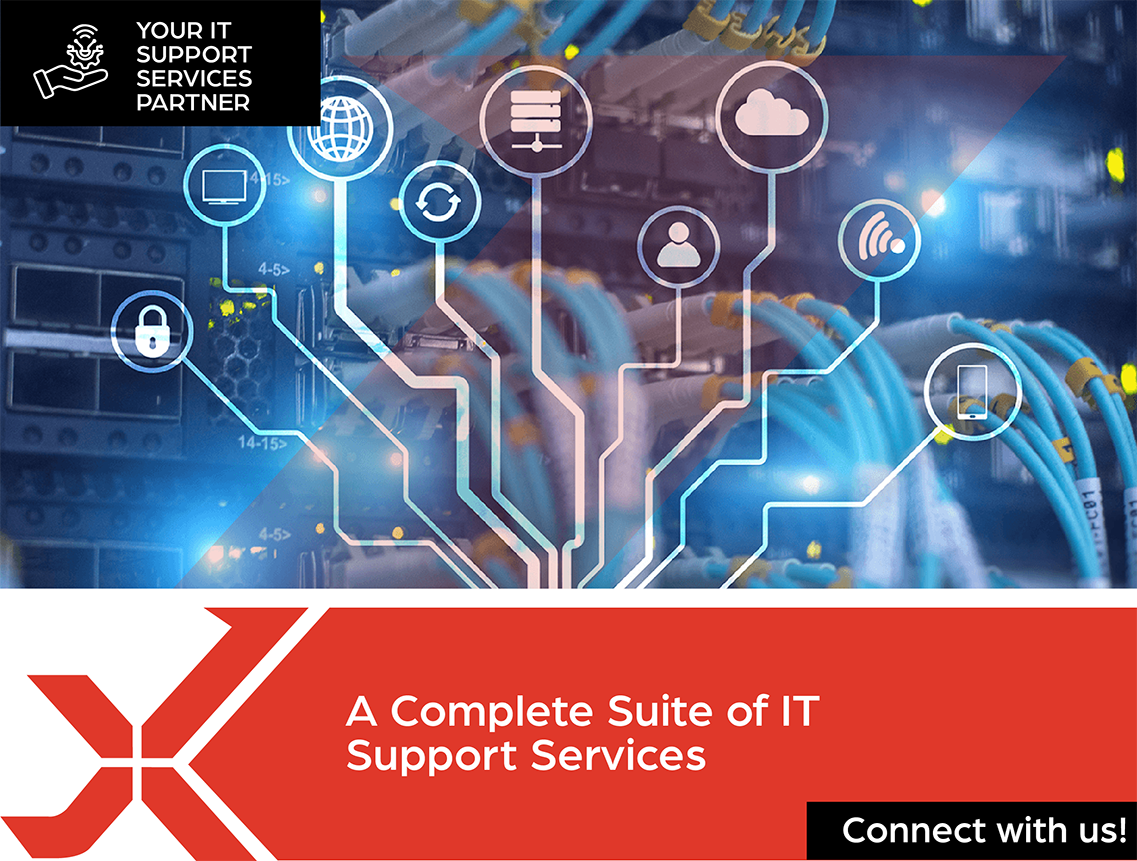 Finding an appropriate managed services provider for your business is a tricky process, entailing questions such as:
Does the service provider understand the organization's business needs?
Does the managed services provider support infrastructure management?
Does the service provider have expertise in the latest automation tools?
Does the managed services provider utilize remote monitoring, support and management for proactive maintenance?
Does the service provider have a backup and disaster recovery strategy?
QBSS is a strategic managed service partner catering to technology needs across industries. We offer the right mix of managed services and human expertise to help you maneuver the ever-changing business landscape. Our scalable services support the complete lifecycle of your business functions, by drawing on our experience to address your challenges.
What We Do:
Multiple fully secured network operations centers (NOC) staffed 24×7 with highly skilled and certified engineers
Industry best practices and processes that are ITL, PCI, HIPPA, and SOC compliance certified
Enhanced IT reporting, including automated performance and alert notifications
Real-time tracking through an executive dashboard for patch management and AV updates
AD/Exchange maintenance
Asset reporting and remediation
Scalability to support future business growth
How businesses can Get More to Go On:
Enhanced Employee Productivity
Increased Network Security
Assured Business Continuity
Enhanced Disaster Recovery
Ensured Compliance
Increased Efficiency
Better Management of Network Uptime
Reduced IT spending
Scale up or Down Easily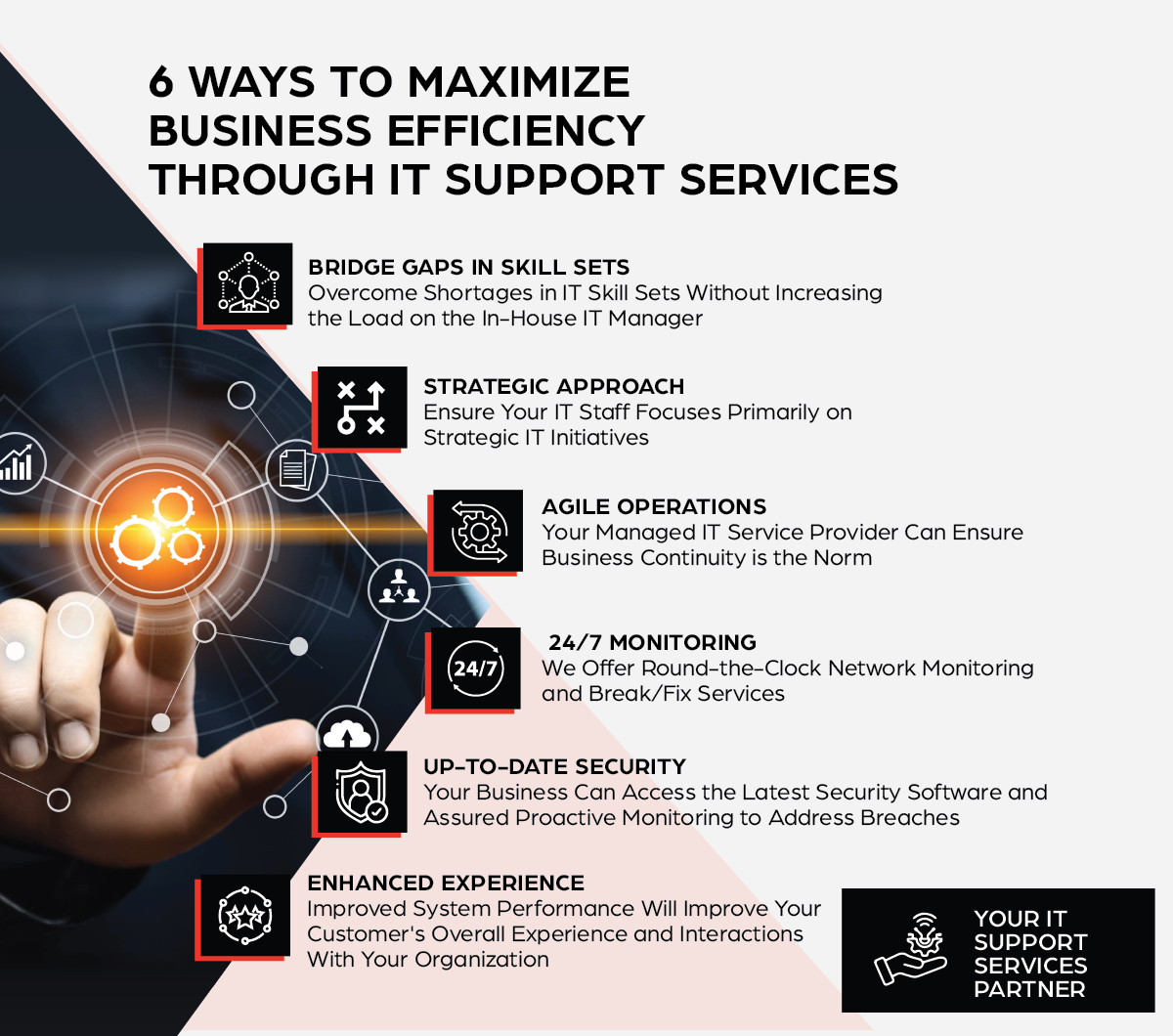 Frequently Asked Questions
What are Managed IT Services?
Managed IT services encompass tasks handled by a third party, generally in a hybrid-remote model, ranging from a specific on-demand response or projects to 24/7/365 technical support helpdesk. Managed services are often leveraged to reduce the in-house teams' workload or fill gaps in existing IT roles and skill sets. A typical managed IT services supplier is called a managed service provider (MSP), and services may include:
Remote monitoring, support and management of hardware and infrastructure
Cybersecurity services, including remote monitoring, penetration testing, threat hunting, incident responses, etc.
Configuration, migration, monitoring, and management of cloud services. These can be rendered in cooperation with or outside of managed cloud services.
Communications support, including IP telephony services.
With cloud computing emerging as a critical business tool, managed IT services have also evolved to include cloud services. Typically, service providers may offer infrastructure as a service (IaaS), providing managed public cloud services in conjunction with multiple cloud providers. Service providers may also market managed platforms as a service (PaaS) offerings or partner with software as a service (SaaS) vendors.
Managed security services have also gained significant traction. Customers are increasingly focusing on the IT security aspect of their businesses. To address this requirement, managed service providers are developing managed security services practices or partnering with security vendors to provide cybersecurity services.
A typical business model for managed services is a break/fix approach, which entails the managed services provider providing reactive service on-demand in response to a reported issue or problem. Conversely, a proactive approach to managed IT services involving active ongoing maintenance and IT infrastructure management (including patch management and predictive maintenance) can often be more cost effective in the long run.
How are Managed IT Services Priced?
Break-fix IT services are generally offered at an agreed per ticket rate, or as tiered bundles of tickets at an agreed rate. Many businesses find that this option is not very cost-effective because it can be hard to predict their costs from month to month if they regularly have a large volume of reported issues or updates that need to be done.
Proactive managed IT services are generally priced either as a flat per FTE or per user rate per month. This pricing approach helps organizations to better control their costs and also often comes with an agreed service level agreement (SLA) for response times which leads to higher user satisfaction levels.
Why Invest in Managed IT Services?
Investing in managed IT services enables an organization to address multiple business needs, such as:
Cost Control:
Proactive managed IT services often help ease budgeting concerns for an organization because they ensure steady monthly payments for an ongoing level of expected service to the. Additionally, proactive managed IT services can save costs by catching things before they become a major problem resulting in losses or large expenses. On the HR side of things, investing in managed IT services can save a lot of cost from recruiting, hiring, training, and retaining top IT talent in-house.
Assured Reliability:
Managed service providers ensure 24/7 network monitoring and availability, as specified in the service level agreement. These service providers are typically focused on providing optimal technical support, in comparison to in-house teams, who often have to split their time and focus between helpdesk support and strategic business initiative implementation.
Enhanced Efficiency:
Outsourcing IT services to managed service providers ensures in-house teams are able to address the strategic business initiatives needed or help the organization move to the next level of their core business. These providers also provide recommendations to enable the organization to optimize infrastructure performance thereby adding efficiency to the business infrastructure.
Reduced Network Downtime
Managed services providers adopt a proactive approach to network maintenance. By using remote monitoring and management, the service provider is able to identify, diagnose, and troubleshoot potential issues before they become major challenges.
Assured Business Continuity
Managed services providers typically create an efficient disaster recovery plan that ensures immediate system and restoration, in case of an unforeseen emergency.
Assured Operational Maturity
A managed services provider offers optimal technical support to ensure the organization's business needs are met. This typically entails a managed platform that supports cybersecurity services, support services and safety policies.
Support for Future Business Functions Roadmaps
Partnering with a managed services provider ensures the organization is able to scale up or down, depending on their likely future requirements.
Predictable and Scalable Spending (OPEX)
Investing in IT systems and infrastructure can be very expensive. When investing in IT, predicting operating expenses can be difficult. With managed IT services, these expenses are consolidated into a single, fixed set of OPEX costs. Since managed service providers typically function with monthly fixed rates, hardware breakdowns, maintenance, and repairs are calculated into the organization's operational budget itself.
What does Quatrro's Managed IT Services Portfolio Include?
Quatrro is a channel-friendly, strategic managed service provider (MSP) offering technical support across multiple industries. The company offers the right mix of managed services and expertise at cost-effective prices to enable customers to meet their business needs and objectives simultaneously. Our managed services portfolio includes:
Help Desk
24/7 Remote Support for Employees and clients
A Centralized Help Desk
A Secure Self-Service Customer Portal
Network
Network Management for Availability, Performance and Fault Monitoring
Automated Reporting and Alerting
Centralized Switch Port and IP Address Management
Firewall Managed Security Services
Application
Automated Performance Metrics for Applications and Servers
Performance and Fault Monitoring
Application Support
Server and Cloud
Agentless Network Managed Services Implementation via SNMP and WMI
Availability, Performance and Fault Monitoring for Server Cloud Computing Infrastructure Automated Reporting and Alerts for Fault and Threshold Breach and Utilization
Automated Monitoring of Critical Services
Desktop and Mobile
Support Available for Desktop, Tablets, Smartphones and Apps on All Platforms Including IOS, Android, Win8 and RIM
Single Management Console for all Mobile Devices
Remote Support and Automatic Management Capabilities
Automated Desktop Lifecycle Management
Security Services
Management of Intrusion Detection
Proactive Network Monitoring
Patch Management
Security Services Assessment
Security Services Audits
Why Partner with Quatrro for Your Managed IT Services?
Quatrro is a channel-friendly MSP who takes the time to understand the customer's business needs and focuses on the big picture of your IT services and ensures that we own the resolution for you. This means that we don't walk away from something until it is completely resolved – even if we have to escalate that issue to an original equipment manufacturer. Partnering with Quatrro for managed services ensures you are able to develop your IT capabilities with minimal deployment of internal resources. Quatrro supports your business with an experienced team, competencies and assets, by providing simple, faster, safer and more cost-effective IT solutions.