Blog Details
7 Power Packed Advantages of Business Enablement for Your Company

June 16, 2022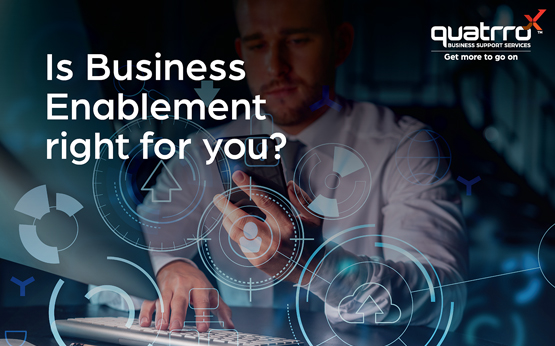 Business today is about using the right technology. Almost every process in your company can today be automated in some way. But with so many options available at varying price points, which digital solution is best suited for your business, and which is likely to lead to systemic chaos? This technology selection challenge, which confronts CEOs, CFOs, CTOs, and CIOs, has led to the emergence of business enablement services. But what is business enablement, and what advantages does it offer for your company?
What is Business Enablement?
The post-COVID dynamics have made it abundantly clear that being a tech-laggard is not an option. In an environment where significant economic disruptions are occurring more frequently (and with little warning)
digital technologies have the power to transform employee productivity
 and create much-needed agility, resilience, and customer reach. Enterprises that continually implement innovative technologies will have a competitive edge that translates to significant revenue growth. And herein lies the importance of business enablement services.
As the term suggests, business enablement 'enables' an enterprise through implementation of technologies and process efficiency that facilitate growth with defined intention. In business enablement, the selection of technology initiatives is driven by clearly defined business goals rather than selecting the most popular solution or easily implementable solution. The selection is based on an understanding of the current state of business, the operational bottlenecks, and the challenges and opportunities. A primary goal of business enablement is the implementation of technology initiatives that deliver without compromising the organization's safety, security or growth.
Business enablement can also be described as 'process-technology enablement.' However, it should not be confused with operational enablement (which is focused on streamlining product operations) or with sales enablement (which is about driving sales success).
Implementing Business Enablement
As business enablement is a strategic implementation of process and technology initiatives, it necessitates the involvement and buy-in of stakeholders across the organization. Business enablement teams typically comprise three groups – owners, users, and approvers.
Owners ensure the execution of business enablement projects from start to finish. They are responsible for getting buy-in from all the stakeholders on the new business solution. In practice, IT directors (or functional heads) are best suited for the role.
Users are those who are directly impacted by the new process. In a business enablement project, the user group typically has representatives from each impacted functional team.
Approvers are tasked with making the final decision on business initiatives and may include the head of finance or IT. Getting approvers to agree and align paves the road for support from other functional leaders across the organization.
With the business enablement crew in place, the next step is to define priorities, expected outcomes and seek budgetary guarantees. One of the most critical factors to success is communicating the expected impact and keeping users informed (during and after deployment). Once the business enablement initiative is up and running, it's imperative to assess the anticipated versus actual outcomes. Also, evaluate how you can continue to expand the solution use case and simplify the user experience.
Benefits of Business Enablement
Business enablement aims to empower businesses to perform high-value work more efficiently, improve the customer experience, streamline IT spending and implementation, and increase profitability. Here are the top benefits of business enablement.
Increased productivity

The primary goal of business enablement is to create an environment that fosters employee productivity using the right automation tools and ensuring that your staff has the information they need to make the best decisions.

Improved data security

Most businesses collect loads of customer data but cannot safeguard that information effectively. A strategic business enablement approach will ensure that you have adequate data security measures in place. For instance, ensuring the safety of customer data collected via your CRM software by adding a layer of SaaS data encryption. Sharing how you put extra measures to safeguard sensitive customer data will boost the confidence customers have in your business.

Streamline IT resource management

A medium-sized business may use scores of business applications, which can easily escalate IT costs, compromise security, and diffuse data collection efforts. On the other hand, business enablement ensures that your digital transformation efforts are consolidated across departments, allowing you to create a central information repository for advanced data analytics.

Data-driven customer insights

Digital transformation is the key to capturing customer patterns and unlocking customer insights. You can develop a more customer-responsive business model by developing a higher understanding of what your customers need, lack, or desire.

Superior customer experience

Customer experience (CX) is the new marketing battlefront. Digital transformation allows you to deliver more intuitive customer experiences across touchpoints, including sales, customer service, social media, and digital communications.

Increased agility

Digital transformation promotes a culture of continuous improvement, which eventually creates the path for faster innovation and speed-to-market.

Increased profitability

Businesses that have successfully implemented digital transformations are more likely to report revenue growth and higher profits and see a significant increase in market share.
The
Fourth Industrial Revolution or Industry 4.0
(which signifies the digitization of manufacturing) is blurring the boundaries between the physical and digital worlds. Technologies such as AI and robotics have accelerated the pace of disruptions. Any company that fails to make the digital leap is at risk of being forced out of business. If you want your company to thrive in the coming years, it's highly recommended you partner with a business enablement service provider who can help you achieve your business goals via strategic digital transformation.
Our enterprise-wide solutions streamline day-to-day operations so you can concentrate on strategic goals. From pre-sales operations support to IT Infrastructure support and our complete suite of Finance & Accounting services, we enable any business with all of the back-office support they need to get up and running, or scale, quickly. Learn more about our Business Enablement Services.