Blog Details
Examples of Cloud Computing Across Industries

June 13, 2022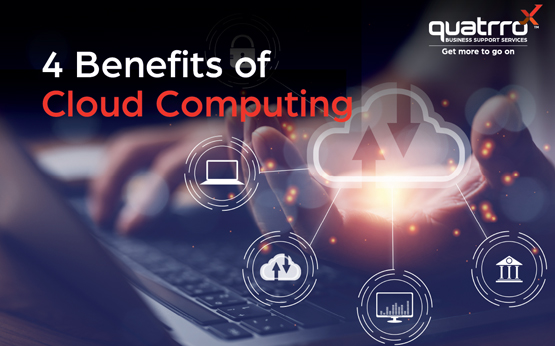 Cloud computing is a prime example of how new technologies and data-driven approaches are shaping the way companies operate. While it may be new to smaller organizations, the impact of cloud computing is already apparent across both private and public businesses. In this article, we look at some examples of cloud computing usage in various industries. But before that, a quick recap of the definition of cloud computing. which is why there is an increased demand for small business IT support services
What is Cloud Computing?
Cloud computing 
is the use of networks of remote servers to store, manage, and process data with minimal management effort or interaction with the service provider. These remote servers are usually accessed via the internet. What this means is that instead of having to rent a physical server, you get a virtual server that can be accessed anytime anywhere through the internet. The merging of the 'internet and computing' in cloud computing has given the user community the power to instantly access a range of applications and services, without having to fuss about hardware or software compatibility. Cloud computing offers businesses a new way to conduct business and deliver services and has better enabled the remote working model. Most cloud computing services are provided by public cloud service providers (such as Amazon Web Services, Microsoft Azure, IBM Cloud, Heroku, and Alibaba Cloud), but many companies also choose to leverage private clouds as well. There are four main types of cloud computing services.
Software as a Service (SaaS): Examples are Google Drive and Google Calendar.
Infrastructure as a Service (IaaS): Examples are Microsoft Azure and Rackspace.
Platform as a Service (PaaS): Examples are Google App Engine and Heroku.
Serverless Computing: Examples are Amazon Web Services and IBM OpenWhisk.
Benefits and Risks of Cloud Computing
Cloud computing allows businesses to access anything from applications to storage through a cloud service provider without investing in an in-house IT infrastructure. The top benefits of cloud computing for businesses are:
Mobility as all the users can access relevant data at any time and from any device using the internet.
Improved collaboration as employees across departments can access the data simultaneously.
Cost savings as you do not need to build your own IT infrastructure or invest in expensive hardware.
Increased flexibility and scalability as the bandwidth and storage space consumed depend on your business's size, current needs, and budget. Multiple users and entities can be accommodated in the cloud-based system.
However, as with any internet-based technology, cloud computing poses specific challenges and risks. These include:
Security risks as the remote servers that store your confidential data are owned and operated by a third party.
Downtime is imminent when there is a loss of an active internet connection. During this time, no data or app hosted in the cloud can be accessed.
Limited control of businesses over the apps and services provided on a cloud infrastructure owned by a third party.
But the benefits of cloud computing outweigh the perceived risks. And this is substantiated by the growth of cloud computing in business. One example of a company that has leveraged cloud computing is Netflix, which successfully migrated all its databases to the cloud in 2016. In 2021, the global cloud storage 
market was valued at $70.19 billion.
There is a projection that the market will exhibit a CAGR of 24% between 2022 and 2028, with market value rising from $83.41 billion to $376.37 billion during this time period. According to research by Gartner,
 Infrastructure as a Service (IaaS) 
will experience the highest end-user spending growth in 2022 at 30.6%, followed by Desktop as a Service (DaaS) at 26.6%, and Platform as a Service (PaaS) at 26.1%.
Examples of Cloud Computing by Industry
Cloud computing has emerged as a disruptive technology that can accelerate digital transformation, enable flexible operations, and reduce costs across various industries. Let us look at some examples of industries that are already transforming by leveraging cloud computing.
Cloud Computing Examples in Marketing
Maropost is a unified e-mail marketing platform that allows clients to execute multiple marketing efforts such as SMS campaigns, contacts management, organized transaction e-mail, multi-channel marketing, and e-mail marketing automation.
Hubspot leverages cloud marketing to deliver more human and less "automated" messages to customers. It helps companies to attract visitors, convert leads, and close customers by allowing the marketing and sales departments to manage all their activities in one place.
Salesforce is a cloud-based customer relationship management (CRM) app that integrates sales, service, and marketing. You can view the customer transaction history and outcome of each interaction on one platform.
Cloud Computing Examples in Healthcare
ClearDATA works with payers, providers, healthcare technology businesses, and pharmaceutical and life sciences enterprises to securely store, share, and analyze healthcare data.
NetApp, a hybrid cloud service provider, delivers data in real-time to facilitate faster and more efficient clinical processes. NetApp makes data security and compliance easier for healthcare companies.
Cloud Computing Examples in Education
Blackboard is a leading cloud-based learning software. It delivers learning content for K-12, higher education, and the government. It has features like classroom analytics, virtual classroom video conferencing, and assignment management.
Courserai s a massive open online course provider that offers a wide range of online courses from instructors and universities around the globe. The platform awards certifications and university-recognized degrees.
Cloud Computing in Government
One of the early adopters of cloud computing has been the U.S. government, which includes the U.S. Army, Air Force, Navy, DOJ, USDA, and the Department of Education. The focal areas for 
cloud computing use by the U.S. Federal government
 includes IT consolidation, shared services, and citizen services. However, cloud computing in public departments is guided by compliance and security measures such as the FIPS, FISMA, and FedRAMP to safeguard against cyber threats.
Other Examples of Cloud Computing Apps
Below are some of the popular cloud computing services for businesses.
NetSuite is a cloud-based software with integrated business functions including business accounting, ERP, CRM, and eCommerce.
Trello is a cloud-based task manager that offers a visual overview of running tasks, who
Zendesk is a cloud-based ticketing platform that allows customer service reps to handle inbound requests from clients across many communication channels, including phone, e-mail, live chat, and social media. It was built with a cloud-based learning tool helpful in responding to customer requests and questions.
To summarize, cloud now offers efficient and economical solutions for every function of a growing enterprise. No longer a buzzword, cloud computing is essential to ensuring the accessibility and security of a growing business without significantly ramping up the infrastructure costs. Add cloud computing to your company's strategic roadmap if you haven't already done so!
Author: Dilowe Barker