Blog Details
Back-Office Support to Strengthen and Serve the Community

February 27, 2023


Back-Office, End-to-End Finance Processes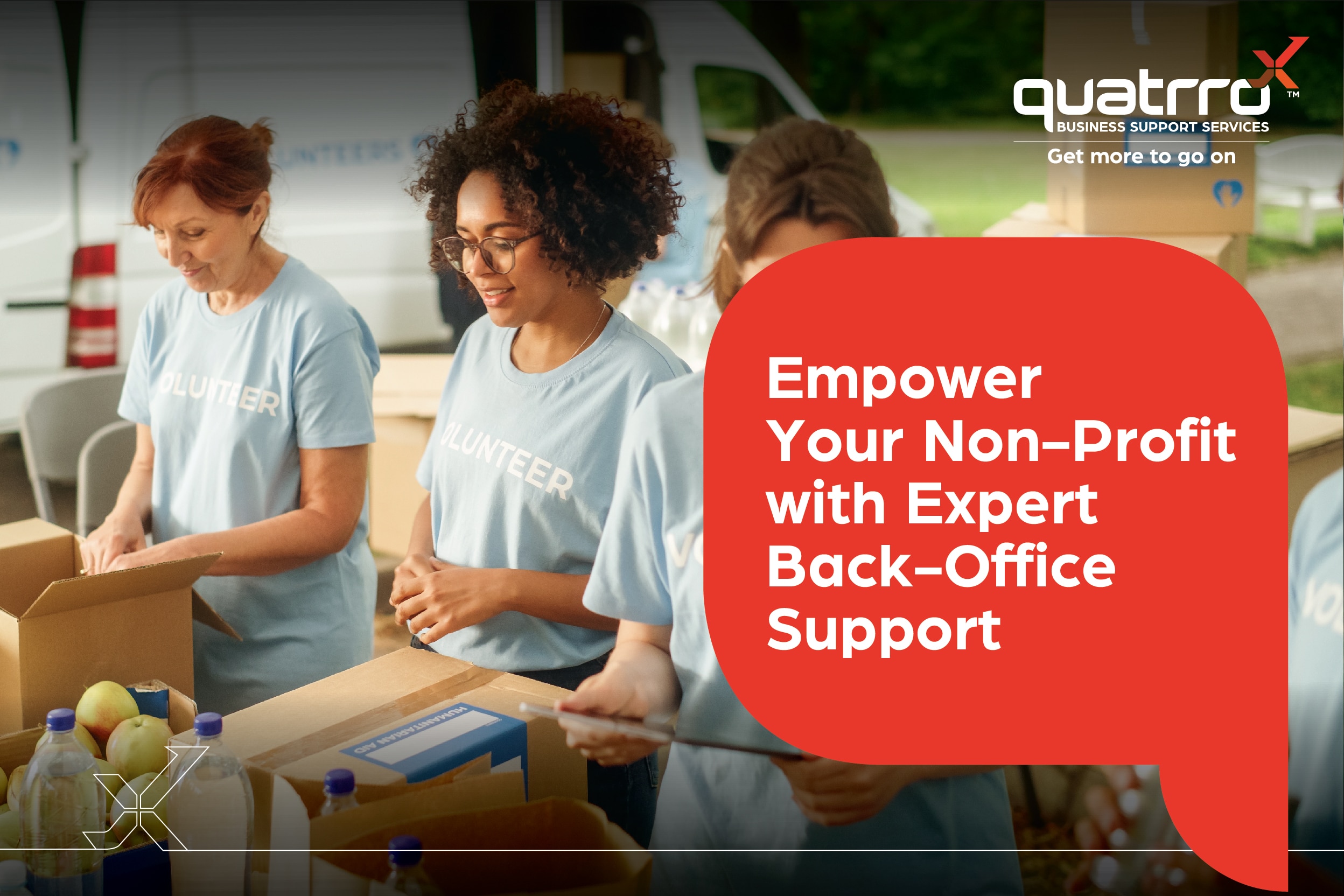 For a Good Cause: Back-Office Support to Strengthen and Serve the Community, Ensure Control and Financial Compliance
Running a non-profit organization is a complex and multi-layered process. From ensuring compliance with audit requirements to maximizing limited resources to ensure the larger mission and goal are aligned, these organizations truly face a plethora of challenges on a, sometimes daily, basis. 
Outsourcing their accounting services to Quatrro ensures that each challenge is addressed proactively while improving financial control and transparency. . We provide a clear, actionable, consistent picture of their financial situation,  while also improving and effectively managing both human and technology capabilities..We use our experience to help you navigate your compliance landscape and varied reporting requirements, while also improving financial controls and transparency, regardless of the type of non-profit organization. We assist you in  maximizing your limited resources to meet greater needs without increasing overhead costs. We understand that when non-profit organizations fail  to meet their goals, it not only disappoints board members but also prevents them from fulfilling their mission commitment to their community. Our domain expertise enables us to understand your unique issues and challenges, enabling us to turn them into proactive actions to meet back-office needs.
How Quatrro Ensures Holistic Support for End-to-End Finance Processes
CFO Advisory Services

Strategize and implement plans to optimize cash flow

Manage the budget and forecasting Cycles 

Assess the organization's resources and make recommendations for growth in alignment with short-term, and long-term, goals 

Grant Management

Funder reporting, including meeting government compliance requirements

 

Single Audit Act requirements and compliance

Intermediary funder compliance for pass-through grants

Bookkeeping

Program cost allocation

Manage revenue streams 

Functional budgeting
How Partnering with Quatrro Ensures the Business Gets More to Go On
Leverage best practices in non-profit accounting from highly trained professionals

Strengthen financial controls through segregation of duties and accountability

Optimize cash flow through timely and accurate reporting to external funding sources

Increase financial transparency through enhanced internal reporting

Improve accounts payable, budget facilitation, financial forecasting, and cash flow management processes
We give you more to go on by providing measurable benefits, as well as intangible value, enabling you to focus on your mission and not your back office.
Contact us
to find out more.