Did you know? How an outsourcing partner can help you grow your business
Running a successful organization is challenging in today's time. Consistently repeating this feat, is even more so. It is crucial for entrepreneurs to focus on their core business so they can give their undivided attention to grow their business and build value for all the stakeholders.
But someone has to do the non-core activities and that is where outsourcing comes in. Your non-core activities become core activities for an outsourcing firm and, like you, they know best practices on their core activities. It may not be possible to always have the best person for the job internally on your own team simply because the requirements keep changing as your business grows and you are not in the business of pooling talent. The good news is that's what outsourcing companies do – having high-performing talent on hand is true outsourcing mastery.
The right outsourcing partner can make your life easier. Their crucial insights into the industry and industry benchmarks in which your business operates can help you improve your productivity, make smart business decisions, make better margins, and be assured that the rest is being taken care of. They help you understand things like whether you are operating at an optimum level, if there are ways to get the same job done faster, better and cheaper, or even, which aspects of your business are profitable and which ones require your attention to flourish.
How to keep your outsourcing partnerships healthy
Partnership
It is important to understand that you will be choosing an Outsourcing "Partner" and not just a service provider. If you think of outsourcing as just service provision, things can go very bad very quickly. You have to work in collaboration with them so they can understand where you are going and guide you as to how best you can get there.


Communication
It is important to have open and transparent communication with your outsourcing partner. They should know the changes that are coming so they can be prepared to help you to weather the challenges that come along with them.


Flexibility
Be ready to hear the hard truths. If your partner is telling you that some aspects are not working out listen to their advice, take their input, discuss the options and then make the best informed decision. Your outsourcing partner will always tell you what's best for you because it is their business to do so.


Trust
Trust is the currency in which businesses operate. Choose an outsourcing partner you can trust – and trust them to be in your corner. Without trust, any relationship, be it professional or personal, has a very short shelf life.


How to choose the right outsourcing partner
The right outsourcing partner can make partnership, communication, flexibility, and trust seem effortless, but like the possibilities, the choices are also endless. The market is flooded with outsourcing companies promising the best services at a fraction of your cost. It can feel intimidating to evaluate them and make the right choice. So how do you choose the best partner for you?
Here are some of the questions that you should ask any outsourcing partner that you are considering:
Which industries do you work with?
You should know whether the outsourcing partner has any prior exposure to the work your organization does. It is extremely important for the outsourcing partner to understand your business in order to serve you proficiently. If the outsourcing partner has previously worked with companies in your industry, it eases the transition to a large extent and means that they will be able to provide you with industry expertise, advice, and best practices.


How long have you been operating in the business process outsourcing industry?
It is important to understand the tenure of the outsourcing partner and their overall track record in the industry. Do they have clients who would be willing to talk to you about their experience? What issues did the clients have and what was the response from the service provider – was it dealt with to their satisfaction? Facing issues and challenges is always inevitable, but the way the outsourcing partner responds to the challenges says a lot about them.


Do you provide all of the services that my company needs?
The most obvious question that must be asked is can the outsourcing partner actually help your company in achieving the desired objective behind the decision to outsource the work. There can be many reasons for a business to choose outsourcing – some companies do it to save cost, others do it to realize process efficiency. Whatever your reasons, it is important to choose an outsourcing partner that will help you achieve your objective in the most proficient manner which starts with providing all of the services that your cost needs.


Is the service scalable?
If there's a surge of demand or growth in your business, and you need more staff urgently, what would the response time be from the outsourcing partner. There are plenty of outsourced providers that do what they do well at a small scale only and if pressed to go beyond that their service to you crumbles. If you know that you will be experiencing growth in the short or long term, make sure that the partner you choose to walk through that journey with can meet the challenges that the growth will bring.


How will your service benefit me?
An outsourcing provider should be able to provide you with a clear outline of how they will help you to realize efficiency gains. Typically, there would be a period of time after your on-boarding with them that processes would be settling in, but after that period there should be a clear plan, pushed forward by the outsourcing provider, that ensures that you start to realize efficiency gains either from standardizing, automating or optimizing your processes and procedures. Beyond that, the outsourcing provider should also be able to articulate for you the value add that their service will bring to you and your organization – make sure that that value add aligns with your goals for the business.


Who will I be working with on a regular basis?
It is important to understand the structure of the team that would be handling your business as well as the governance structure that they put into place. Make sure you understand whether you'll be assigned a dedicated relationship manager acting as your single point of contact or if there be different contact points based on the nature of the query. Neither way is right or wrong – it is just a matter of what will work best for you and your company.


How much money will I save?
Even if your primary objective is not cost-cutting, you should probably expect to see some sort of overall financial gain in the long term by choosing to outsource the work. The most common form of savings is in the form of labor arbitrage, but there are also other costs to consider in your decision: software costs, hardware costs, support costs, employee benefits costs, general overhead costs, recruiting costs, and even employee retention costs. If you are willing to share your current cost structure in all of these areas, the outsourcing provider that you are evaluating should be able to share a clear ROI calculation with you which, of course, would be key in helping you to make your decision on your path forward.



In the current economic scenario, companies have to "Go Lean" to function more efficiently and grow sustainably and outsourcing can help you save money but the right outsourcing partner will help you make money. Choose wisely!

"Life is a matter of choices, and every choice you make makes you – John C. Maxwell"



How to Remain Relevant in the Age of Automation
The implementation and rise of automation has allowed for new techniques and processes to be created that improve efficiency, speed and the reliability of many manual, repetitive tasks that were once performed by humans. While increased efficiency, speed and reliability is great, automation, while varying in amount from country to country, is displacing about one third of human jobs. Per recent research by McKinsey, "about 60 percent of all occupations have at least 30 percent of constituent activities that could be automated."1 While those numbers might seem large, the Covid-19 pandemic has only increased and sped up the transition to going digital. So, how does one remain relevant in the age of automation?
Let's be honest, automation is going to replace some jobs, it's inevitable. But what's important to remember is that new jobs will be created as well, which may compensate for those job losses. However, these new jobs will require different skillsets and thinking that people should focus on learning, or honing, so that, among the commotion of new automated technologies, people can still remain competitive. In order to stay competitive, here are four important skills to help remain relevant in an age of automation.
#1 Creativity
Creativity and imagination will outlive automation. The human imagination cannot be replaced by computers or robots. Work that requires high level creativity or imagination is difficult to automate. Automations help with many aspects such as increased optimization and efficiency, but it is not flexible or creative like a human.
#2 Emotional Intelligence
Emotional intelligence is key to being successful both personally and professionally. Having emotional intelligence means that you are aware, in control, can express emotions, have the capability to be empathetic and have the ability to handle relationships and interactions with others.
#3 Critical Thinking
Having the ability to think critically means not only enhancing the skill to problem-solve, but also the ability to clearly express thoughts and ideas. Being able to clearly articulate and express ideas is necessary. No matter how advanced automation or technology may become, humans will need to be able to make those critical final judgments and decisions.
#4 Adaptability
It is important to be able to adapt to your environment and continually learn new skills and ways of doing your work. As we have all learned in this past year, things can change very quickly. One day you are in the office with all of your co-workers and the next day you're transitioning into, or creating, a home office to work at. If you cannot adapt, you will not be successful.
Automation is inescapable. Covid-19 has shown us that digital transformation may be coming sooner than we think. So many companies have gone digital in a very short period of time. We must be prepared as unexpected changes are thrown our way. While developing these skills doesnot necessarily mean that you will never be replaced by future automation, but it never hurts to expand your skillset, especially because these are all skills that transfer to any position!
CFO – Are You Still Relevant?
Today's business environment is changing more rapidly than ever before. It is becoming more and more uncertain, volatile and complex. The ongoing pandemic has disrupted most businesses in some way and many organizations are in a struggle for their survival. On the positive side, this has taught us a new way of remote working which seems to be a new normal now. While that is helping most organizations to save cost, it, too, has its own challenges which require different thinking and approach. CFOs are playing a key role in these uncertain times. About two decades ago, the skills required of CFO's were largely about accounting practices, financial reporting, fiscal controls, compliance and banking. Today, to be a successful CFO you need so much more than that. Businesses today require them to be a business enabler who can play a strategic role alongside the CEO to grow the business while managing the uncertainties and creating value for all the stakeholders.
Besides the basic skills mentioned above, some other traits of successful CFOs today are:
Understanding of business, customers, competition, and the global market
Long-term strategic thinking
The ability to see the big picture in the decision-making process
Deal-making capabilities
Good understanding of the risk matrix
Strong verbal and non-verbal communication
Solid presentation skills
Effective leadership abilities
Conflict management skills
Understanding of technology and emerging trends impacting your business/industry
Knowledge to deal with regulatory bodies and taxation across the world where you do business
Understanding of culture and people sensitivities, particularly in global organizations
Familiarity with how to use data and analytics to help make agile business decisions
Ability to be a good listener
Uphold strong ethics and governance
Keeping up to date on what's available and continuously looking for improvement
While understanding accounting, financial reporting and the other basics are important skills, they are no longer enough to be a successful CFO. In order to be considered in that category, you need to harness these new skills and traits listed above. As per Sheryl Sandberg "Leadership is about making others better as a result of your presence and making sure that impact lasts in your absence." Be a good leader and do not be afraid to learn new skills, and create long-term value not only for your company, but for yourself as well.
Outsourcing Healthcare Accounting Services: A Necessity or Choice?
Healthcare payers are in the midst of unprecedented transformation as rising healthcare costs, changing patient demographics, stringent regulations, and empowered consumers push for a smarter and more efficient healthcare system for tomorrow. However, the biggest concern for the healthcare providers is mismanagement followed by ineffective cash collection practices at physician offices and other smaller hospitals. The physician groups and individual medical practitioners have traditionally been focused on patient billing and have been unable to implement effective financial controls across their revenue cycle leading to revenue leakages.
As per a recent report by Mckinsey, Fifteen cents of every US healthcare dollar goes toward revenue cycle inefficiencies. Of the $2.7 trillion the country spends annually on healthcare, $400 billion goes to claims processing, payments, billing, revenue cycle management (RCM) and bad debt—in part, because half of all payer-provider transactions involve inefficiencies.
Is there a solution in sight that can help the healthcare providers to turn around the situation and minimize their financial losses?
There is good news! Off late, many health care organizations have found a savior in Outsourcing. Specialized finance and accounting service providers can help healthcare providers minimize financial losses arising due to inefficient cash collection practices, provide access to updated healthcare technology at attractive price points and let the doctors focus on what they do best – Focus on Patients. Interestingly, while the adoption of outsourcing as a viable alternative was never given a serious thought until 10 years ago, however the perspectives have changed and there are several reasons that have pushed the case for outsourcing.
Outsourcing in the health care industry is definitely on the rise now. There is sufficient data to prove that there is a growing trend towards outsourcing of healthcare accounting among US based healthcare providers. As per a report by industry research firm, 'Markets and Markets', the US BPM healthcare market was pegged at US $83.5 billion in 2013 (with 73.8% market share) and is poised to grow at a CAGR of 11.2% to reach US $ 141.7 billion by 2018.
Quatrro's Perspective – Critical Points to Consider
Healthcare providers can no longer afford to avoid the common pitfalls as the stakes are higher than ever in the wake of recent regulatory amendments. Listed below are key benefits that highlight that outsourcing is no longer an alternative but rather a necessity in today's scenario:
(a) Access to Domain Experts:
It is important for health care organizations to use accountants who understand the nuances of the health care industry due to the constantly changing regulations and requirements. This can be particularly difficult for small to medium-sized providers, many of whom struggle to find accounting personnel that have the depth of industry knowledge they need.
Outsourcing accounting and reporting to specialized 3rd party professionals with health care expertise can strengthen and enhance internal controls by providing a deeper level of segregation. In addition, the health care knowledge can improve the results of cost reporting due to having on-site expertise with a comprehensive knowledge and awareness of critical reimbursement issues that come from the cost report.
(b) Extension of In-house Team:
The health care industry is particularly dynamic, and can experience cycles of high growth and stagnation within short periods of time. Outsourcing can help those experiencing phases of high growth by reducing stress on existing resource pool by serving as an extension of the core financial team. Outsourcing can provide the necessary assurance to the board and management that finances are being adequately maintained. Outsourced accounting individuals can help the organization address the backlog of work as well as develop enhanced reporting capabilities. In addition, owners can be relieved of the burden of managing the accounting function, and focus on business growth.
(c) Improved Business Decision Making:
The key to accurate and effective financial statement and analysis is allowing the reader to easily interpret and identify key business issues and problems before they become irreparable. Access to accurate and timely financial statements is a critical component of any organization. An outsourced accounting team's can enable their outsourcing buyers to develop a fresh perspective on the existing process and enables them to provide logical and useful information to the users in an improved format. In addition, an outsourced accountant's experience in working with a range of financial statements can benefit the buyer by, for instance, transforming fragmented monthly financial statements into a simpler and more understandable format that eliminates many cumbersome and unnecessary processes. This leads to enhanced decision making and plays a pivotal role in business growth.
(d) Collaboration between Outsourced and In-house Staff – Key to Success:
Some health care organizations are concerned that bringing in outsourced workers may create unrest among those affiliated with the organization. According to an article in HFM Magazine, Strategies for Successful Revenue Cycle Outsourcing, "there is a risk that employees, patients, and the community could feel alienated when working with an organization that is not housed in the provider setting." This is why it's important for outsourced workers to closely collaborate with in-house staff, so that everyone is working toward a common goal of improving the organization's operations.
The below graph highlights the key attributes required by healthcare outsourcing service providers to effectively compete in the emerging healthcare BPM space
Organizations should choose an outsourcing team that does not work in silos, but liaises with the staff and takes their knowledge into consideration when suggesting changes to the organization's operations.
The aforementioned critical factors hold the key to your future business success!
Question is whether you are ready to internalize the merits and thereby experience exponential business growth that allows you to focus on patient care?
We are sure you are and we, at Quatrro, would be happy to pave the roadmap for a smooth onboarding and transition! Quatrro brings decades of experience in helping small and medium businesses including healthcare providers and physician offices like yourself enhance efficiencies of their financial processes, reduce revenue leakage due to inappropriate cash collection practices and improve bottom-line growth. Quatrro's Finance & Accounting solutions for the healthcare industry are designed to assist you elevate your level of care and profitability.
We will be happy to help you experience similar benefits and more. Please contact us today.
Cloud-based Accounting –The 'Next Gen' Accounting Solution for small and medium sized businesses
Cloud-based accounting is similar to traditional, on-premises, or self-install accounting systems, with only the accounting software hosted on remote servers, similar to the SaaS (Software as a Service) business model. In cloud computing, users access software applications remotely through the internet or other network via a cloud application service provider. Cloud-based accounting solution frees the business from having to install and maintain software on individual desktop computers. It also allows employees in other departments, whether in remote or branch offices, to access the same data and the same version of the software.
The Economics of Using Cloud Accounting Systems
Cloud-based accounting solutions offer several advantages over traditional on-site, on-premise software systems. As opposed to the more traditional systems, such as Quickbooks, Quicken and Peachtree, cloud-based accounting solutions reduce total cost of ownership (TCO), improve return-on-investment (ROI), and shorten payback time, all while delivering other advantages in system performance, reporting, and employee efficiency.
Total Cost of Ownership: Cloud vs. On-Premise
When comparing the TCO of the cloud versus on-premise systems, it may initially appear that on-premise solutions provide a more cost-effective solution. For example, the start-up costs, on average, for software licensing is about 9% of the total IT expense as opposed to the initial subscription fee of cloud computing which can be 68% of the total IT expense. However, the cost comparison evens out after a period of time.
With on-premise software solutions, the majority of the ongoing costs become visible after the system has been implemented. With the cloud, the only ongoing costs include customization and training which requires a less substantial ongoing investment. Because of this, businesses can actually save money with the cloud. With lower total costs, Return on Investment (ROI) can often exceed triple-digit percentages, while payback timing is typically a fraction of on-premise, averaging 3-6 months.
In addition to reduced on-going expenses, the cloud offers multiple benefits over on-premise systems including enhanced data security, reduced maintenance costs and easier workforce management.
Enhanced data security: Keeping sensitive financial data safe is paramount to any operation. Because a cloud-based system resides in a managed data center, the data is significantly more secure and stable then comparable on-site solutions. Offering 24-hour security, multi-tiered redundancy and other forms of continuity, cloud-based systems significantly reduce the risk of theft, damage or other issues when compared to on-site, on-premise PCs within a central office.
Reduced maintenance costs: Cloud-based systems provide software upgrades that are automatically installed, which reduces the need to expend IT resources to install, reinstall or upgrade software programs. Additionally, because cloud-based software is monitored at a data center, any incompatibility issues have already been addressed and resolved before a new program is implemented.
Better Data Access Control: Cloud-based solutions enable users to access data remotely. This makes it easier for business partners, such as auditing firms and outsourcing companies, to access relevant data more quickly. Companies also enjoy a greater degree of immediate control over data access when employees leave the company. Cloud-based Solutions enable companies to provide limited access to the auditors so that they can access the needed information
Flexibility and Scalability: Cloud-based systems offer anytime data access from any computer, which optimizes the systems' flexibility. As a result of availability real-time data, reporting is more flexible and user can access the data remotely to gain visibility for consolidated or multiple entities. Cloud-based systems are extremely scalable to suit the needs of an operation. Instead of having to procure user licenses and suitable hardware that is needed in traditional on-site installations, the cloud easily accommodates new users and multiple entities, as well as multiple currencies through its central data center.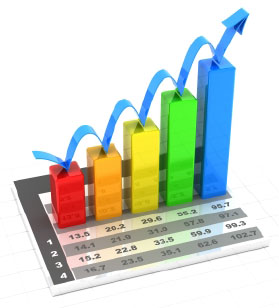 A CEO's Guide to a Mission to Margin Analysis
As CEOs and Executive Directors assess the impact of the recent COVID challenges, they need the data and analysis to be able to take action to ensure sustainability. Some may be facing tough decisions about how to maintain critical impact in the community with less resources, as well as more challenging infrastructure needs. The right financial partner, like QBSS, can facilitate this with you – our designated CFO level advisors can be the partner that you need.
One recommendation we make is to perform a Mission to Margin Analysis. This analysis will align your leadership team and the Board on priorities for the organization and where to make changes if necessary.
STEPS TO COMPLETE A MISSION TO MARGIN ANALYSIS
Ask your leadership and the Board to rank each of your programs on a scale of 1 to 5 on each of the following metrics:
a. How aligned they are with mission (1 – not aligned at all to 5 – fully reflective of the mission)
b. The level of the margin (1 – significant loss to 5 – showing a substantial surplus)
Your CFO will need to prepare and submit margin data by program (Don't forget to make sure the "margin analysis" incorporates all indirect costs)
Create a diagram with four quadrants as shown below
Put each program in the quadrant that aligns with its ranking
HIGH MISSION – HIGH MARGIN: THIS IS WHERE YOU WANT YOUR PROGRAMS OPTIMALLYLOW MISSION – LOW MARGIN: ANY PROGRAMS IN THIS QUADRANT SHOULD BE EVALUATED FOR ACTION STEPS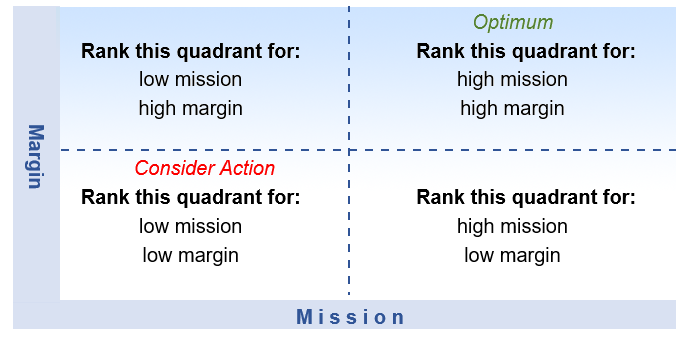 We want to partner with you to provide critical financial data for decision-making like this Mission to Margin exercise. With the expert accounting team and cutting edge technology that QBSS brings, you don't have to worry about basic day-to-day processing (even when working in quarantine!) – instead you have the time and information you need to ensure sustainability.
Top 4 Trends That Will Change the Future
Accounting plays a vital role in the functioning of any business. Heading into the 21st century, finance and accounting professionals saw the emphasis of their responsibilities shift from simply recording various aspects of an organization's financial health to building and managing an accounting function that is proficient and has the process diligence and control to keep costs in line. Those who were most successful at navigating this changeover were able to help their companies achieve high performance in a challenging economy. As a result, numerous businesses whether small or large, are embracing the accounting trends emerging today to reshape their businesses and have greater control over accounting function and better visibility across the entire organization.
IN THIS ARTICLE, QBSS OUTLINES SOME OF THE TOP ACCOUNTING TRENDS FOR THE 21ST CENTURY CFOS
TREND # 1: AUTOMATION
Automation has made things easier for the modern-day accounting professional. Automation is extremely beneficial for small and medium businesses (SMBs), as it helps reduce transactional and routine tasks such as data entry, bookkeeping, and compliance work. Automation also enables SMBs to store all their financial information in a centralized location. Sending invoices and payments received can be tracked easily through an automated accounting system. It also simplifies the process of recording and verifying information on a large scale for SMBs. SMBs generally partner with third party service providers who can help them reinvent their finance operations by integrating automation into key finance functions to improve their business performance.
TREND # 2: OUTSOURCING
Finance executives seek to make a positive impact on their organizations, yet they often lack the time, resources, and capabilities to achieve optimal alignment between their investments and overall business performance. To meet those challenges, outsourcing is now an option being considered by many CFOs. Outsourcing can also help businesses in cutting costs, lowering the risk of fraud and providing streamlined and efficient processes. It also keeps a neutral eye on the business's cash flow while still allowing complete control over business accounts.
TREND # 3: ARTIFICIAL INTELLIGENCE (AI), MACHINE LEARNING (ML) AND INTERNET OF THINGS (IOT) ARE CHANGING THE WORLD THE SMB LIVES IN
Before AI came to the scene, accountants had to wait for the hard copy data to be delivered and then manually enter that information into their system. But now, with the help of AI, document scanning tools and software can give accountants live access to their financial information which eliminates the tedious task of manual entry and provides accountants with more time to spend analyzing the information and providing critical advice to management based on that information. The IOT adds another layer of benefit by providing access to real time data and existing operations. It can immediately respond to issues and evaluate risks comprehensibly. SMBs can integrate these technologies more effortlessly and swiftly because their structure is smaller and more flexible, ensuring them a quicker response to the insights and opportunities provided.
While these are just a few of the emerging trends the accounting industry is seeing today, they are definitely some of the game changers.
SMBS SHOULD KEEP AN OPEN MIND TO THESE ACCOUNTING TRENDS AND ADAPT THE BEST PRACTICES THAT ARE IN THE BEST INTEREST OF THEIR BUSINESS TO BE WELL ON THEIR WAY TO FUTURE-PROOFING THEIR FIRM.
At QBSS, we are committed to helping our clients remain focused on creating strategies around these trends by taking the burden of day-to-day operational tasks such as accounting, IT and payroll, off your shoulders. We possess 25+ years of experience in offering tailored business support services, keeping in mind the needs of our clients while ensuring efficiency and utmost quality in all that we do.
Payroll Fraud – A Major Threat for SMBs & How Can It Be Minimized
Fraud poses an incredible threat to organizations of all types and sizes, in all parts of the world. The occurrence of fraud may also expose businesses to civil or criminal liabilities. Small businesses are not immune to fraud instances, rather they are the easiest prey for any fraudulent activity to happen. According to the 2018 report by The Association of Certified Fraud Examiners (ACFE), the median loss due to fraud for small businesses is $200,000 versus $104,000 for large businesses.
ACCORDING TO THE ASSOCIATION OF CERTIFIED FRAUD EXAMINERS, PAYROLL FRAUD IS THE #1 SOURCE OF LOSSES TO US BUSINESSES.
Payroll fraud is committed in various forms such as falsified wages and commissions, faking injuries for the insurance claims, false invoicing or having ghost employees. The reality is, payroll fraud is not always preventable. The key is to catch the fraud and minimize the risk. The best way to minimize fraud risk is to reconcile payroll at least on a quarterly basis.
MEDIAN LOSS DUE TO FRAUD FOR SMALL AND LARGE BUSINESSES
Source: 2018 ACFE report
Among all the types of fraud that can occur, payroll fraud is a severe threat for SMBs that have not safeguarded themselves properly. Payroll fraud that occurs within an SMB can lead to complications with the business's account, and can grow from a small dent in the company coffers to a major financial drain.
THIS ARTICLE OUTLINES THE WAYS IN WHICH SMBS CAN MINIMIZE THE RISK OF PAYROLL FRAUD
1. Bank ReconciliationBank reconciliation is a critical accounting procedure which ensures that the cash balance shown on a company's balance sheet and bank statement is accurate. Completing monthly bank reconciliations enable SMB owners to identify and explain differences that may result from the timing of posted activities, errors made by the bank or the company or fraudulent activities of a company's employees.
2. Conduct Surprise AuditsConducting a surprise payroll audit always works in the favor of an SMB as it helps to minimize both financial and regulatory risks by giving owners the opportunity to correct the problems proactively. Many unscrupulous employees anticipate any regular audits that occur and cover their tracks accordingly, but a surprise audit can help in exposing the usually hidden discrepancies. Also, the simple threat of audit can deter fraudulent employee behavior.
ACCORDING TO THE ACFE, 12% OF SMALL BUSINESSES DETECT FRAUD BY CONDUCTING INTERNAL SURPRISE AUDITS
3. Go ExternalSMBs can eliminate the risk of in-house fraud and can feel secure in knowing that their payroll is being handled appropriately by using an outsourced payroll service provider. These providers have sophisticated systems in place to catch payroll abuses and then alert clients to the possibility of payroll irregularities. Also, they stay current on all federal, state and local regulations in a way that a small or medium business just can't, giving owners' peace of mind with regards to their compliance.
If you are looking to shift focus off the routine tasks in your business and back to building your core business, then QBSS can help share the burden of your payroll, finance and accounting services to empower you to scale your business in a cost-effective way, regardless of a company's size.