Blog Details
How Master Managed Service Providers can Change the Game for Your Business

August 30, 2022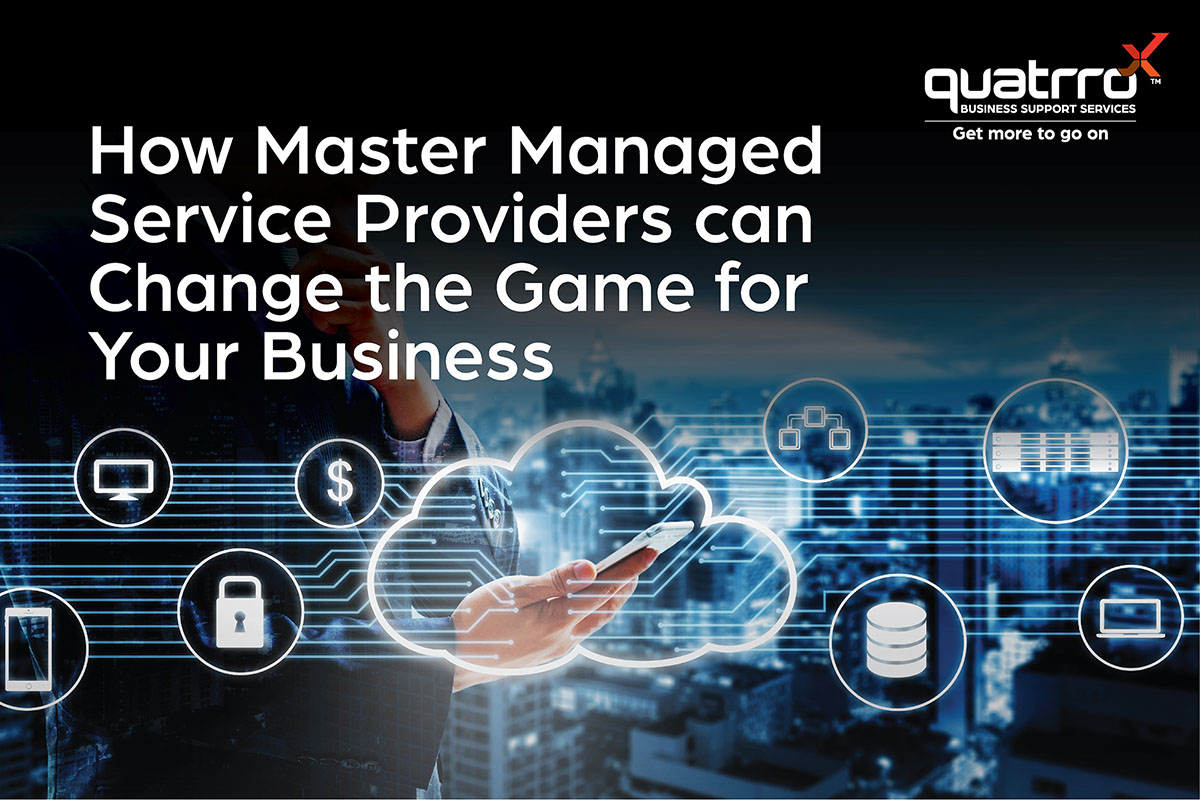 Worried about customer experience? Here's the solution!
"The advance of technology is based on making it fit in so that you don't really even notice it, so it's part of everyday life."– Bill Gates
The constant progress of technology is something we have all seen and continue to see, so it's time to go beyond break/fix IT and focus more on how to take a proactive approach.
In fact, many MSPs are even struggling to keep up with the pace of technology and innovation and are even finding themselves more likely to be reactive than proactive due to their resource constraints. This results in a lack of business efficiency which hinders their growth both short term and long term. While this can be incredibly frustrating for an MSP that is trying to grow, it really doesn't need to be.
A master managed service provider (MMSP) is an organization that provides similar services to the MSP themselves, but is able to provide their support in a channel-friendly, non-competitive manner. The MMSP can support an MSP in addressing their core operational and process challenges by alleviating day-to-day workload and giving their internal team time to focus on key strategic, revenue-generating projects. And all while providing proactive 24×7 monitoring and management for the client's IT infrastructure that can be paired with cost-effective IT solutions the MSP can offer in a white-labeled offering to boost recurring revenue.
The 3 Biggest Pain Points of MSP's and How Quatrro Helps Them Overcome These Challenges
As an MSP, I'm sure you have felt the impact of this increase in companies seeking transformation and support of their modern workplaces and the growing complexities that come with that. Many of our MSP clients have come to us for this very reason – they are struggling with scaling to meet the growing demands in the market. As a Master MSP, Quatrro is an MSP to MSP's working to help them overcome the challenges they are facing that are slowing the realization of their go-to-market strategy and, ultimately, their business growth. Here are some of the common pain points we hear and how we help our MSP clients overcome them:
Problem #1 – Range of Expertise

Many MSPs struggle to find and retain resources with a high degree of expertise in ALL the areas their clients need support. And even if they do have those resources, they struggle to find time for those resources to continually train to grow and expand on their range of expertise…or even just keep up with certifications in their current areas of expertise. It can be very difficult, and exhausting, in this scenario to keep up and be everything to everyone. Yet, the only way to grow is just that.

Our Solution

By leveraging Quatrro's team of 750+ IT resources, our MSP clients can take advantage of our breadth of expertise and experience when and where needed. Not only do these MSP's not have to worry about finding, hiring, training and retaining the right resources exactly when they need them, but they are also able to take advantage of the lower cost of our resources. This means they can offer a wider range of expertise either at a lower cost to win more business or at a higher margin to boost their business growth. Finally, our range of experts can also be leveraged by the MSP's internal team for working more strategically with their clients to plan for how to support that company's goals and especially as it relates to adopting new technology or anticipating changes that could impact their IT infrastructure.

Problem #2 – Bogged Down by Basic Tasks

The majority of MSPs find that their internal team spends so much time just managing and responding to Tier 1, Tier 2 and Tier 3 helpdesk issues, not to mention regular maintenance tasks like patching, backups, and server upgrades, that they just aren't able to spend time on projects or initiatives that would grow the MSP's bottom line.

Our Solution

Our MSP clients often have us manage their Tier 1, Tier 2 and Tier 3 helpdesk support so their engineers are only focused on managing the Tier 4 issues that may require onsite visits to the client. Your team will only need to focus on the Tier 4 escalations. What this does is free up the MSP's internal engineers to focus on the kind of projects that add real value to their clients and may even help generate additional projects and revenue from existing clients. Our MSP clients report that when their team is able to spend time on these kinds of activities, the ones that show their value as a business partner to their clients, it not only grows their bottom line, but it also builds and grows their client satisfaction and retention.

Problem #3 – Lack of Scalability

With the rise in demand for MSP services, the ability to scale is quickly becoming a major pain point for most MSPs. The reason for this is:

A majority of MSPs are restricted by the size of their own IT infrastructure. For those that are still using an on-premise server rack, and many still are, they can only have so many servers in the given space. If they want to scale beyond that, it can obviously be challenging to allot needed setup time, people and cost away from client-related work.
Scaling an MSP business model also means not only changing the size (and, in some cases, the type) of management tools, processes and teams, but also the size (and, in some cases, the nature) of the supporting infrastructure. Those can be very difficult things to change in a timeframe that allows you to be responsive to market needs.
For an MSP, predicting your future operational needs is tough. It's possible that you'll win new clients, or lose existing clients, at any time. Scaling smoothly in a way that doesn't disrupt existing clients, or delay onboarding of new client, necessitates nearly instantaneous response which many MSP's find difficult to achieve.

Solution

Quatrro's scalable IT resources and expertise are at your disposal to support quick ramp-ups, or even scale downs, when needed to support your business growth. Whether you need a complete team to meet your new client's requirements or you just need a few resources to augment your current team's skillset, availability or headcount, we can help! In addition to being able to leverage our resources to scale, we also offer access to our MSP clients to tools and platforms that they themselves may not yet be at a point that they can invest in, or maybe that they just don't want to make the investment in. We are happy to offer these tools and platforms, even in a white label format if needed, as a way to help support the growth of our MSP client's business because we know that every dollar that can be allocated towards revenue-generating activities means bottom line growth. And scaling the right people, process and technology through a master MSP partner is a key part of that strategy.
Wrap up
Operational efficiency is a necessity for MSPs of all sizes, but not all MSP's are equally able to achieve and maintain it. To improve operational efficiency, sometimes it makes sense for an MSP to strategically partner with another MSP to deliver the right resources, skillset, workflow and tools to best meet a client's needs. Then the question really becomes, where would you take your MSP business if you knew you had a master MSP behind you to support you every step of the way? Finding the right master MSP, the one that aligns with your direction and values and that adds options for clients you never thought possible, can accelerate your go-to-market strategy execution and boost your business growth beyond your wildest dreams.
Author: Dilowe Barker