Blog Details
Strategies to Boost Retail Accounting Efficiencies

September 15, 2022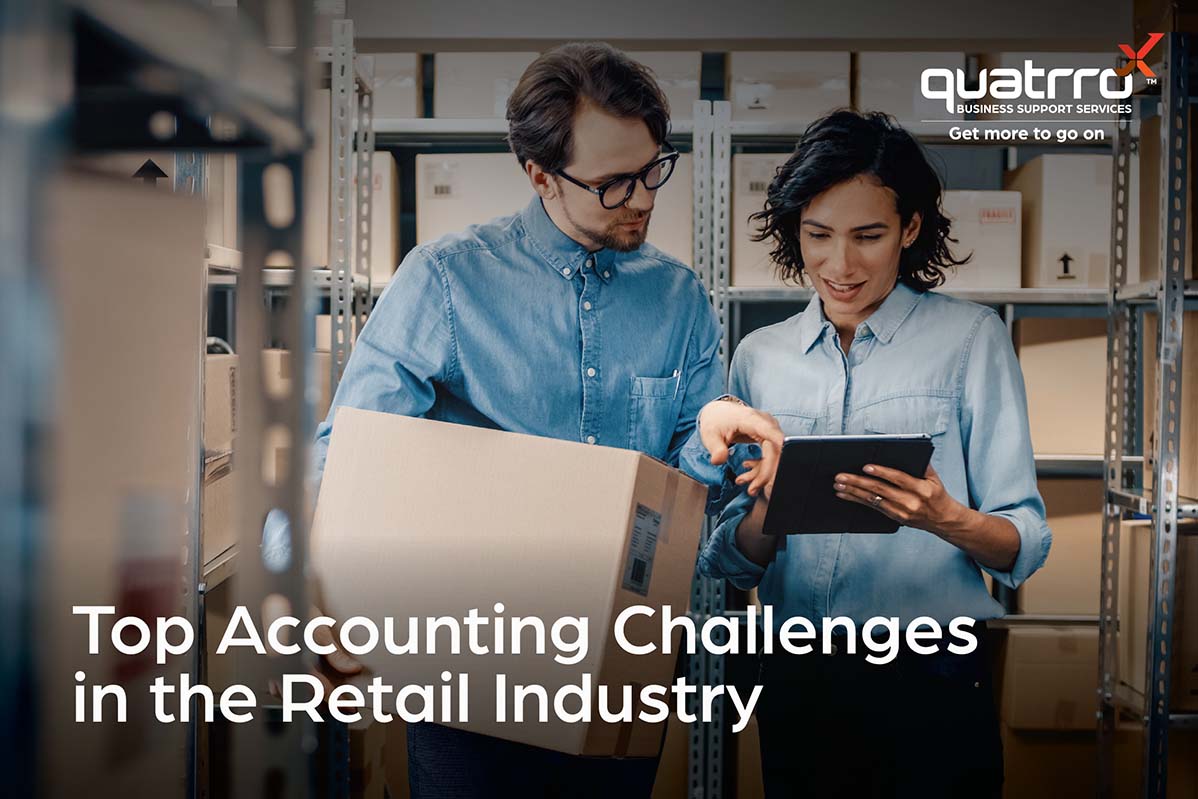 Enhancement of accounting efficiencies is vital for retail businesses in the post-pandemic era.
The pandemic exposed many existing vulnerabilities in the already struggling retail industry. Many retail businesses shut down as buying levels dropped drastically and people stopped engaging in activities such as dining, shopping, or traveling. On one hand while consumers were spending less and saving more, the levels of unemployment also went up. Retail players that lacked an online presence were forced to rethink their product lines, distribution models, and pricing. Retailers that already had an online sales model faced demand and delivery challenges. As a result, the role of retail accounting has become amplified as a 'vital-to-business-survival' function.
For retail enterprises, accounting provides insights for the following critical business decisions:
Which marketing channels are bringing in more customers?
How are discounts impacting sales margins?
Are the inventory costs aligned to budgeted amounts?
Which products are moving quickly off the shelves and driving revenue?
Which products are contributing most to inventory costs?
Does the business have adequate cash flow to meet future obligations?
Top Accounting Challenges in the Retail Industry
The significance of accounting for retail businesses can be better understood against the backdrop of common accounting challenges in the retail industry, as outlined below.
Ensuring adequate inventory

Managing stock levels is a primary differentiating factor in accounting between the retail industry and others. On the one hand, you need sufficient stock to avoid empty shelves and unhappy customers. On the other hand, excessive inventory can mean that your cash is tied up, leading to a shortage in working capital.

Tax compliance in payroll processing

Payroll is complicated in the retail industry because of the mixture of permanent and temporary staff (recruited to cope with the seasonal spikes). Keeping payroll records current and, ultimately, accurate payroll tax records and payments can become a substantial administrative issue for retail businesses.

Tracking of numerous accounting variables

Another thing that makes accounting in the retail industry difficult is the multitude of reports that retail managers must monitor regularly and religiously. Apart from inventory, retail managers and company leaders must closely monitor expenses, operating cash flow, cost of goods, accounts payables, accounts receivables, and past due invoices. The accuracy of financial forecasts has become more critical as these businesses navigate this post-COVID environment.

Ominous risk of cyberattacks

With cyberattacks on the rise since 2020, retail businesses are at greater risk of falling prey to these cybercriminals. Even things like accessing emails with attachments or links for recruiting can open the door to an attack. Allowing such a thing to happen (which could seriously impact a business's financial and reputational value) is a big concern for retail owners and managers.

Outdated accounting software and practices

Established retail organizations may be stuck with basic or outdated accounting systems that fail to deliver the robust reporting and analysis that modern retail accounting software solutions offer. Even something as basic as reliance on paper-based invoice processing increases the risks of financial mismanagement. Retail owners eager to automate their retail accounting processes are often overwhelmed by the number of accounting technologies available, making it difficult to determine which would best meet their specific needs.
Solutions to Overcome Retail Accounting Challenges
A retail accounting department characterized by accounting best practices, top-end accounting software, and people with the right industry expertise is essential to ensuring the survival of a retail business. Developing the efficiencies of your retail accounting function will boost efficiency and give you more time to focus on your core business. Here is a list of modern-day solutions for retailers to eliminate old bookkeeping methods, reduce costs and increase productivity while improving customer service.
Cloud Computing

The adoption of cloud computing is a notable trend that has propelled retailers to manage their financial information from anywhere, anytime. Cloud accounting ensures accuracy, speed, security, and effortless management of financial data while also providing the following benefits:

It facilitates inventory management and financial reporting with all data points stored in a single repository across locations.
Cloud-based accounting software allows 24/7 accessibility, making it easy for leadership to access records, reports, and invoices on the go.
The data is automatically backed up for easy retrieval in case of a natural disaster or other business disruption.
Moving accounting to the cloud improves data security through encryption and multi-factor authentication.
It improves the efficiency of the accounting staff by reducing paperwork and facilitates collaboration across various locations.
Cloud computing software can meet the requirements of a growing retail business without significant addition to IT infrastructure costs.
It facilitates a remote-working environment for the accounting team.
Moving the accounting function to the cloud improves business relationships with suppliers and distributors as invoices are digitized and can be paid faster.

Advanced Technologies for Accounting Efficiency

Robotics and machine learning can automate repetitive accounting tasks and give retail accounting professionals the time to focus on higher-level analysis. Artificial intelligence, or AI, facilitates the real-time integration of accounting data which can allow the generation of reports/insights in real-time. This allows the business to react in a more agile manner to any negative trends emerging. With AI technology, a retail organization can make proactive decisions on procurement, purchase orders, expenses, accounts payables, accounts receivables, etc. AI-powered systems can also be configured to support documentary compliance to identify potential fraud issues and red flags that can lead to loss of revenue.

Retail Accounting Outsourcing

As technology redefines retail accounting and the role of accounting moves from cost control to strategic decision making, the skillset expected of retail accounting experts has evolved. Retail accounting teams must possess advanced analytical skills and an understanding of retail accounting technologies and market challenges to ensure the retail business can remain competitive.

As more brick-and-mortar retailers move online or incorporate e-sales as an added channel, the retail accounting challenges have become exaggerated. In such a scenario, many retail businesses find that working with an experienced retail accounting partner provides access to all the above strategies in one solution.

Professional retail accounting services use the latest accounting software to provide ease of accounting data capture, accounting analysis, and financial accounting reporting. A retail accounting partner understands the retail business challenges and how refinement of the accounting function can minimize those challenges. A retail accounting partner can also recommend industry best practices that the client can emulate to reap significant accounting efficiencies.
Wrap up
With access to the latest accounting technologies, accounting talent and retail expertise, as well as industry best practices, the QBSS accounting team can transform your retail accounting processes to be more efficient, cost-effective, and responsive to business requirements. We can help minimize financial leakages and improve working capital management. Contact us to find out more about how we can help your retail business thrive.
Author: Lisa Sharp