Blog Details
Don't Let IT Challenges Hold Your Company Back

September 19, 2022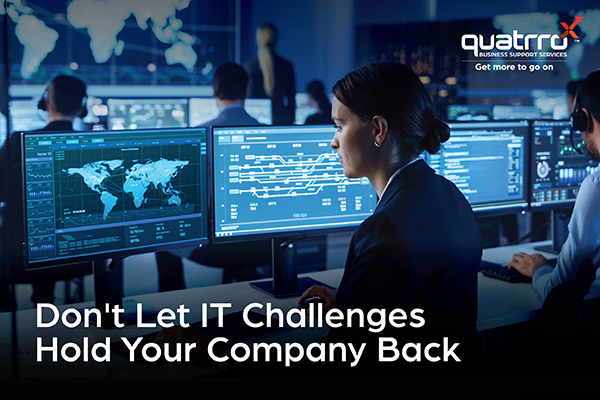 The Present and Future Advantages of IT Helpdesk Outsourcing
Process automation, business applications, data management, and cybersecurity are crucial for the success of every organization. However, managing these aspects can require resources with advanced IT skills, which are often challenging for most organizations to manage in-house effectively. In such cases, IT helpdesk outsourcing gives companies access to IT expertise (professionals, technologies, and best practices), often at a fraction of the cost of managing an in-house IT department.
IT helpdesk outsourcing has always been a popular choice for outsourcing. But when the 2020 pandemic hit, most businesses grappled with enabling a remote workforce. Even companies with an in-house IT team were overwhelmed with the challenges of shifting to work-from-home. So, an outsourced IT team that can bring in the expertise of remote technology management has become an even more attractive option.
With more business apps based in the Cloud becoming the norm to promote information accessibility and remote working, data security has become a significant concern. An experienced service provider can easily help secure the organization's data in the cloud and proactively monitor for threats to the environment.
It's not just the experience of the last two years that is responsible for the growing demand for IT helpdesk outsourcing. The rising significance of technologies such as artificial intelligence (AI), robotics, cloud computing, and blockchain technology imply that any company aspiring to stay relevant over the next decade must incorporate these technologies. Research has shown that implementing AI can boost sales and reduce costs by 50% to 60%. Robotics is being used to create efficiencies in many labor-intensive jobs. Businesses will need very specialized IT support to manage these advanced technologies. As always, IT helpdesk outsourcing will be a natural choice.
Advantages of IT Helpdesk Outsourcing
If your IT department is stretched too thin, or overwhelmed with technical support issues, here are the significant advantages that IT helpdesk outsourcing can bring:
Improved IT Support Levels

IT helpdesk outsourcing providers are well versed in the day-to-day challenges of managing an IT helpdesk based on the number of users and types of devices/technologies deployed. They use this understanding to determine IT helpdesk staffing levels based on expected numbers of remote assistance queries and self-service support queries. Based on demand forecasting, the outsourced IT helpdesk service can improve configuration capabilities in line with the growth in the number of users; this would result in fewer system downtime issues.

Complete Transparency on Resolution SLAs

Any successful business process outsourcing hinges on a service level agreement (SLA), which in the case of IT helpdesk outsourcing, will outline the turnaround time (TAT) for problem/ query resolution. With SLAs in place, IT helpdesk outsourcing will ensure that your internal customers (employees) know the 'how, who, and when' of raising an IT issue.

An experienced IT helpdesk provider will also have a robust tracking system to ensure that all technical issues are resolved per the agreed SLA. Plus they will be able to provide you with regular reports to show the achievement (or not) of those SLA's. Services like chatbot assistance and 24*7 support can further help improve the experience your employees will have with the technical support team.

Access Best-in-Class IT Technologies and Expertise

Outsourcing your IT helpdesk will ensure that your company has access to the best practices, technical tools, asset management processes, and training on new technologies. In addition, IT helpdesk providers are committed to hiring people capable of delivering high levels of IT support for their clients. This also means that your HR team and leadership teams no longer have to be distracted from core business initiatives by trying to recruit, hire, train and retain top IT talent, which in today's market is a very serious challenge.

Scalability and Cost Control

The volume of IT issues within your organization may increase due to seasonal factors, or when a new product is launched. In such cases, IT helpdesk outsourcing will make it easier to scale the IT support level to match the need.. This flexibility can lead to higher satisfaction levels for your employees and customers.

Improved IT Decision Making

An outsourced IT helpdesk service will provide advanced levels of feedback on system performance and potential threats to your organization's data security. Your organization's CIO/CTO can utilize this information to budget for hardware and software upgrades and evaluate if the business must invest in new technologies (such as cloud computing) to enhance employee productivity.
Most internal IT teams function on a 'break and fix' model, which undermines the role of IT in a hyper-competitive business environment. An in-house IT team tends to become too distracted by the day-to-day issues that arise, making it difficult for them to have a strategic approach to supporting the business. On the other hand, with an IT helpdesk outsourcing service, you are putting in place a professional IT team managed by a helpdesk manager. With the daily management and issues reporting taken care of, the in-house IT resources (with their deeper understanding of the organization and its goals) can then be tasked with identifying and executing the opportunities for IT improvements.
Would you like to know more about the benefits of IT helpdesk outsourcing? Let's talk about creating a tailored service for your growing organization.
Author: Dilowe Barker