Blog Details
In-House Accounting Vs. Outsourced Accounting – Which side are you on?

October 3, 2022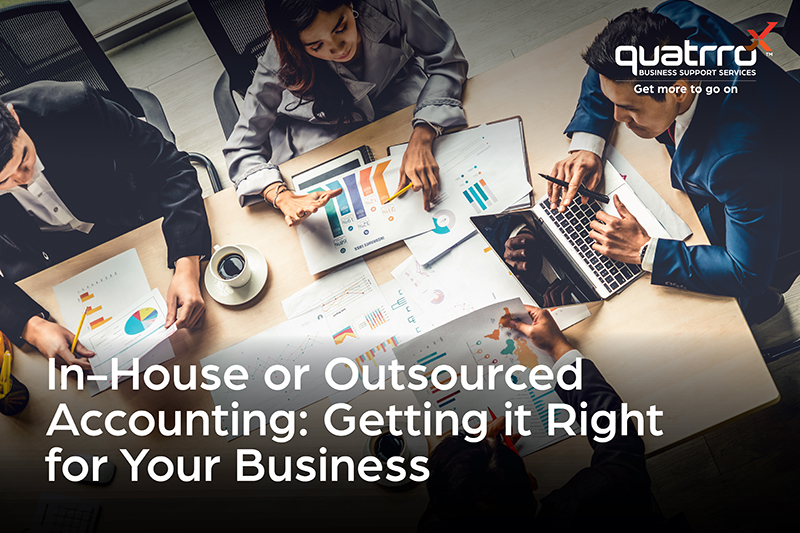 Introduction
Having trouble deciding which accounting solution is best for your organization? It goes without saying that finding the best in-house accounting staff or outsourced accounting firm can be trying even to the most seasoned leaders. Whatever your company's niche, as it expands, so will its financial needs. Making a prudent choice while taking a shrewder step towards financial management excellence is therefore critical to the long-term success of the business.
In this article, we'll look at some of the key differences between the two approaches so you can make the best decision for you and your business.
Cost of Resources and Platforms

When it comes to making this kind of a decision, cost is always a major consideration. When comparing the costs of in-house and outsourced accounting services, there are numerous factors to consider to ensure you are making an apples-to-apples comparison. To be more specific, you want to make sure you are taking into account the salaries for all staff members (CFO, Controller, accountants, AP staff, etc) as well as benefits that will be offered (such as health insurance, paid time off, etc.) as well as overhead costs for those staff members, plus any technology platforms and/or licenses (and server infrastructure if required) that will be needed for them to carry out their work. This is one area where outsourcing almost always wins because they are structured in such a way that allows them to charge you less than it would cost to set all of those things up yourself. Plus, clients are usually only charged for what they need rather than having to carry costs for things that are only needed periodically.

Quality Control

Accounting and bookkeeping are challenging tasks because they are so repetitive in nature and can lend themselves to misinterpretation. On top of that, rules and regulations can change, new software functionality is introduced, and so forth. While it is optimistic to believe that in-house staff would stay on top of all of that it is not uncommon for the team to be so overwhelmed by just trying to keep up with day-to-day tasks or special projects that those things just fall by the wayside. No one ever intentionally decides to do things that lead to quality issues or even making expensive mistakes, but we have all heard the stories of it happening. Truth be told, unless you can afford to have quality control teams in place to audit and validate things that are happening, or even invest in automation that can complete routine tasks without human intervention, you are probably better off handing this over to the hands of outsourcing professionals. Accounting outsourcing providers give you access to a team of specialists (hopefully in your industry) who generally have to stay up-to-speed on the latest trends and updates. And a good outsourcer will have certifications that they maintain that ensure they have strong processes which are audited regularly for compliance. All of this results in, the work being delivered with no sacrifice in quality.

Productivity

In-house teams typically put in 40-45 hours each week, generally from 9 to 5. Therefore, when they are at work, your work is being done; however, any urgent accounting needs that occur after hours are postponed until the next working day unless you choose to push employees to stay late or work on the weekends, which in this labor market can be taking a big risk to lose the employee. Conversely, accounting outsourcing firms typically operate around-the-clock or at least during some sort of extended hours in order to best serve their clients. The ones with off-shore resources can leverage a "follow the sun" approach to work and something that may take several days to complete in-house could be completed during your overnight hours by off-shore team members so that it is ready and waiting for you when you arrive at the office the next morning. Additionally, any business that itself operates outside of regular 9-5 business hours, such restaurants, non-profits and retail businesses, are usually drawn to this element that outsourcing can bring to the table for them.

Confidentiality

This is often one element of consideration that people quickly put in the win column for having an in-house team. It seems like a no-brainer that your own employees would be less likely to leak or share information that they shouldn't – after all you can train them to follow your policies and procedures to ensure this doesn't occur. The thing that line of thinking doesn't take into account is that employees don't often share or leak information on purpose – it happens when they fall victim to a phishing attack or other such cyberattack that they never saw coming. Going back to the same point outlined above about outsourcers and compliance certification – that also usually pertains to their IT infrastructure and cybersecurity measures. Beyond that, any good outsourcer recognizes that it is in their best interest to ensure their systems and client data is locked down and closely monitored and that they have the best cybersecurity in place to ensure there is no breach of their client data – they know that one breach is all it takes to put them out of business. An outsourcer's reputation is their most powerful asset and they will work hard to ensure a confidentiality leak doesn't happen to mar it.

Hiring and Training

Recruiting a new employee takes a significant amount of time and effort – especially in today's tight labor market. Posting a new job opening, interviewing candidates, recruiting them, and then training and onboarding them on systems and procedures all place a strain on a company's resources. Then, if anyone ends up leaving, after you have invested all of that time, the team has to start all over again! When you hire an outsourced accounting team, you don't have to worry about hiring or training – it is the service provider's responsibility to make sure they are able to staff appropriately for what they contracted with you for. And if a team member leaves, it is also on them to ensure there is an equally experienced resource available and trained in time to continue to meet the SLA's agreed to in your contract. Any good outsourcer already has proven manpower management and ongoing recruiting engines in place that ensure they have a bench of qualified people to pull from when new business comes in or when a current assigned team member leaves or is out on leave. As a result, your business doesn't experience productivity drops or missed deadlines because of an open position that you haven't been able to fill yet.
In conclusion, there are practical benefits to addressing the internal team building vs. external outsourcing dispute. Ultimately, you need to consider each of these elements individually and collectively and what each will mean for your organization in terms of helping you to meet your goals for the year and give you a long-term competitive advantage.