Blog Details
How to Hire and Retain Top Talent in Today's Business Environment

October 14, 2022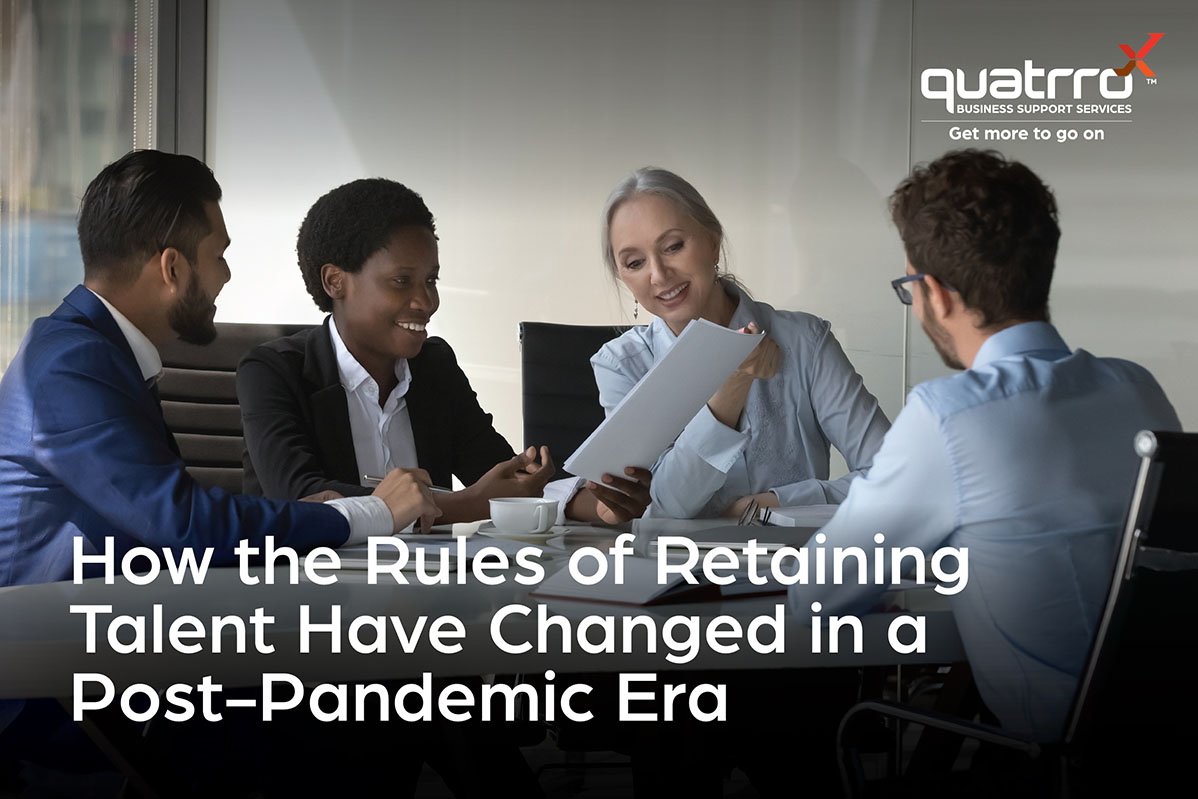 Business owners and managers across industries are finding it increasingly difficult to find and retain talent. In the latter part of 2021, after two years of regular COVID-19-induced shutdowns, US businesses (and the global markets) returned to some sense of normalcy. However no one could have predicted the Great Resignation trend that followed; instead of a surge of people looking for work, the US Labor Bureau reported that a record 4.5 million Americans quit their jobs in November 2021. The big question for CEOs, CFOs, HR executives, and business owners in 2022 and beyond is how to attract and retain top talent.
Meeting Expectations from Employees in the Post-COVID-19 Environment
If you recall Maslow's hierarchy of motivation categories, at the very top of the pyramid are 'self-actualization and self-esteem', and at the bottom are 'love/belonging, safety, and physiological needs'. Today, the average white-collar worker has moved up the needs hierarchy and now prioritizes the top two categories as their motivation. While compensation and job title are two important components of a job, employees are now also equally evaluating how their jobs, and employers, fit into the vision they have for their personal lives. So, the introspective questions being asked by employees include:
Does their place of work make them feel valued?
Do they feel connected with peers, work culture, and business goals?
Do they see a growth path?
Does the employer support the need to balance their work and personal lives?
As a result , the race to attract and retain top talent is no longer just about 'show me the money.' People are increasingly looking to join an organization that has a stated purpose that goes beyond business growth. Employers must clearly demonstrate the company's corporate culture to employees seeking meaningful work experiences.
Prospective employees are interested in learning about the values that the organization represents and how the company's management, employee, and customer policies reflect those values. For instance, if the company's goal is to foster a culture of "inclusion, diversity, and equality," what steps has it taken towards that goal? As business leaders struggle to decipher future hires' expectations, the following values are being given a high premium by potential employees when comparing prospective employers.
Flexibility

The pandemic made businesses realize that work-from-home can be a productive and cost-effective model. It provided employees with the opportunity to balance their personal and professional lives, avoiding the drudgery of commuting to work during peak traffic hours, and reducing the need to engage in office drama and politics. Post the pandemic, while some employers have sought to return to an in-person office environment, a global workforce survey shows that flexibility has become a significant job motivator. Employers who continue to offer their employees a hybrid work model (which includes some days of remote working with a few in-person office days) are more likely to attract a broader talent pool.

Inclusiveness and Diversity

Inclusiveness and diversity have been around for some time, but they are no longer just a lip-service discussion in employee town halls. Employers must prioritize the implementation of inclusiveness and diversity initiatives. Company policies that reflect the genuineness of these efforts are as follows:

There is a clearly stated and accessible anti-discrimination policy in place.
There is regular communication on the inclusivity, multiculturalism, and transparency initiatives of the organization.
The organization proactively seeks employee involvement in drafting the inclusiveness and diversity initiatives.
There is clear communication by top management on the performance of the company, and the future growth plans of the business as it aligns to their inclusivity and diversity goals.
As part of the interview process, potential hires are explained the company's work culture and environment, as well as the job requirements.

When potential employees see an honest and open approach towards inclusivity and diversity, they are more likely to want to join a company.

Equality

Equality is more than just having anti-discrimination policiesin place – it is about supporting and celebrating the differences amongst your team and leveraging them in a way that helps everyone to grow. The differences could stem from age, gender, sexual orientation, lifecycle stage, education, religion, or abilities. Employees are demanding that they be shown opportunities for advancement, recognition, and training no matter where they fall in any of those categories. Adopting equality as a key component of the organization's culture fosters a work environment conducive to idea generation, collaboration, and employee productivity.

Wellness Initiative

The hustle and bustle of daily life as well as the stresses of meeting business objectives have an impact on your employees' health. Even when working remotely g, there is an added digital overload (with the constant email/mobile communications, long video meetings, etc.) that can drain an employee's mental and emotional batteries., Investing in wellness programs will improve the perception of the company's work environment among current and prospective employees. Employee wellness initiatives can be:

Giving subsidies for health club memberships
Having an office gym
Offering onsite health checks
Making healthy snacks and meals available
Ergonomically designed office furniture and equipment
Childcare arrangements
Organizing fun outdoor events and team outings

While the emphasis on these employee proposition values will boost the willingness of people to join the company and stay longer, there are other things you can do to improve the potential hiring pool.

Ensure that your job qualifications requirements are realistic – for instance, don't ask for more years of experience or education than required to increase your available talent pool. You may even want to consider whether previous experience is strictly necessary, or if the right person with the right attitude could learn what is needed to successfully execute the job. Stating that resume gaps are not a problem will undoubtedly boost the number of job applications you receive. You may find greater success by targeting workers who have gaps in their resumes (for instance, people who quit to take care of infants/young kids or were laid off during the pandemic).
Ask your employees for help through an employee referral program. People may have someone in their social or professional circle who is a good match for open positions.
If the company has some wiggle room for bonuses, offer joining and retention bonuses.
With the competition for top talent more significant than ever, hiring managers and business leaders must find creative solutions to attract and retain that talent. When those recruiting efforts take too long or just aren't fruitful, business process outsourcing is a cost-effective and efficient solution to overcome staff shortages in your organization. An integrated business service partner can seamlessly handle functions such as human resource management, IT helpdesk and cybersecurity, accounts payables, accounts receivables, and financial reporting. Outsourcing allows you to access a ready talent pool, minimize business expansion costs and focus on the core functional aspects of your business. Reach out to us if you would like to find out more about this option for your organization.
Author: Sue Braley