Blog Details
How the Education Industry Can 'Level Up' with Technology?

January 20, 2022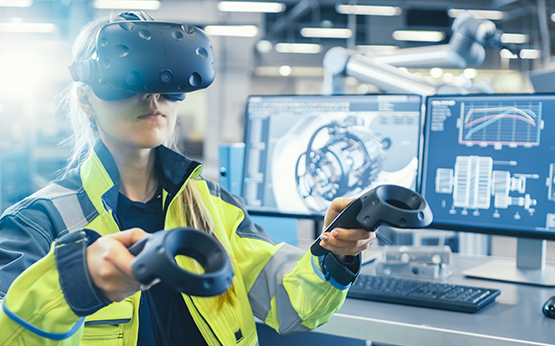 "Technology will not replace great teachers but technology in the hands of great teachers can be transformational" – George Couros
We live in a world where technology plays a larger role in many aspects of our day-to-day lives and education is no exception. Advancements in technology has changed nearly every facet of the educational system; it has not just transformed the way education is delivered and received but also promotes outside-the-box thinking and innovation. Massive open online courses, interactive whiteboards, virtual classrooms, augmented reality, and 3D printing, all of which support blended learning methods, are testaments to these changing dynamics of education.
As trends like big data, machine learning, and the Internet of Things (IoT) have come into the picture, many educational institutions have been focusing on how they can adopt it. According to Holon IQ, in 2020, the digital spending on education was $227 billion, and it is forecasted to be $404 billion by 2025.
In this blog, we've listed some of the most important educational technology trends and benefits to help aspiring education leaders gain the information, skills, and experience they need to succeed.
Must-Know Educational Technology Trends
Our tech capabilities are increasing continuously, empowering educators to impart creative and remarkable learning experiences for their students, while relieving them of the load of repeated chores.
A recent study by Gallup reveals that 81% of teachers strongly agree that adopting digital learning tools in the classroom has great value. Furthermore, 57% say that digital learning tools are more successful for personalizing education, with a vast majority believing that they are more effective for engaging students with school and learning. Here are some of the current educational technology trends changing the education landscape:
Virtual Reality (VR) and Augmented Reality (AR) – The incorporation of VR and AR into the classroom will create an interactive and immersive experience for students, as well as enhance real-life experiences through the use of images, videos, or interactive data. Students in many schools are already using VR headsets to embark on virtual field trips allowing them to explore places they may not have been able to physically go otherwise. Instructional AI and virtual reality are expected to become multibillion-dollar industries in the near future.
Gamification – When it comes to the most innovative trends in educational technology, gamification may be at the top of the list. The gamification approach in the classroom not only deploys knowledge through fun activities, but it also employs various strategies, diverse activities, and rewards that encourage student engagement.
Blockchain Technology – Adopting blockchain technology as part of any educational system will help prevent system hacking which, of course, is a key concern among educators. Blockchain technology is also utilized to authenticate skills and knowledge and is employed in Massive Open Online Courses (MOOCs) and ePortfolios. For eLearning agencies, DLT (Distributed Ledger Technology) systems will solve the challenges of authentication, scale, and affordability. Furthermore, it can assist student applicants in publicizing their achievements during their job-seeking.
Virtual Learning – In the midst of this global pandemic, virtual learning environments have proven to be beneficial. This approach not only provides learners with convenience and flexibility, but it also allows for live online interaction between instructors and students, mirroring the traditional classroom experience when the in-person experience was not available. Per a report published in Scientific & Academic Publishing, video presentations are extremely effective for student learning, and video-assisted learning enhances the lessons and has a direct impact on student performance.
Cloud Technology – The use of cloud technology has made education more accessible than ever before. Cloud technology eliminates the barriers that students used to face with the accessibility of textbooks or resources outside the classroom. Students can now always access assignments and textbooks through the cloud from any device with an internet connection. This also helps to address the challenges, and costs, that educators used to face. Particularly, not having enough resources in the classroom so every student is able to access and utilize them when needed
Benefits Of Using Technology in Learning
Technology has greatly transformed the education system; from gamifying teaching to bringing students on virtual field trips, technology has brought about significant changes in the way the teaching process is carried out in schools. These changes have also led to significant advantages such as:
Leads to a better interactive experience – Students can shift from static learning to more dynamic, interactive learning with the use of videos, simulations, digital books, and numerous applications and tools. Furthermore, it promotes the opportunity for a student to go deeper into any area that fascinates them promoting the exploration of their own interests and talents, as well as, possibly, their future vocation.
Enhances knowledge retention – Technology can assist in encouraging active involvement in the classroom, which is a key component of increasing knowledge retention. Educators can utilize different types of technologies in various situations to determine what works best for the students in terms of engagement and knowledge retention.
Promotes individual learning – Every individual has a unique learning style and set of abilities; some are quick learners, while others are a little slower, but each learns at their own pace. Technology provides access to a diverse pool of resources in a variety of formats, which makes learning more effective for everyone with varying needs and encourages individual learning and engagement.
Encourages collaboration – Students can now collaborate, not only with their fellow students in the same classroom or at the same school, but also with students in classrooms all across the world. They can have the opportunity to express their ideas and opinions while also seeking assistance, and learning more about difficult-to-understand subject matter. Furthermore, they can share materials in their virtual learning environments with others throughout various online communities and forums.
Improves teacher productivity and efficiency – With so many digital tools available at their fingertips, teachers can enhance their productivity by expanding learning opportunities for students and improving their instruction methods to personalize learning for their students. Additionally, schools can also gain by reducing the prices of physical teaching materials, improving the effectiveness of educational programs, and making the best use of teacher time.
Wrapping Up
With augmented reality, cloud computing, online social networking, and adaptive learning systems, education is no longer limited to the walls of the traditional classroom, but has now expanded far beyond that. Education powered by technology is becoming an enabler for the best learning and delivery experience of the future and prepares the student for an exciting world that awaits them.
Author: Dilowe Barker