Blog Details
Big data and the cloud – a match made in heaven

January 27, 2022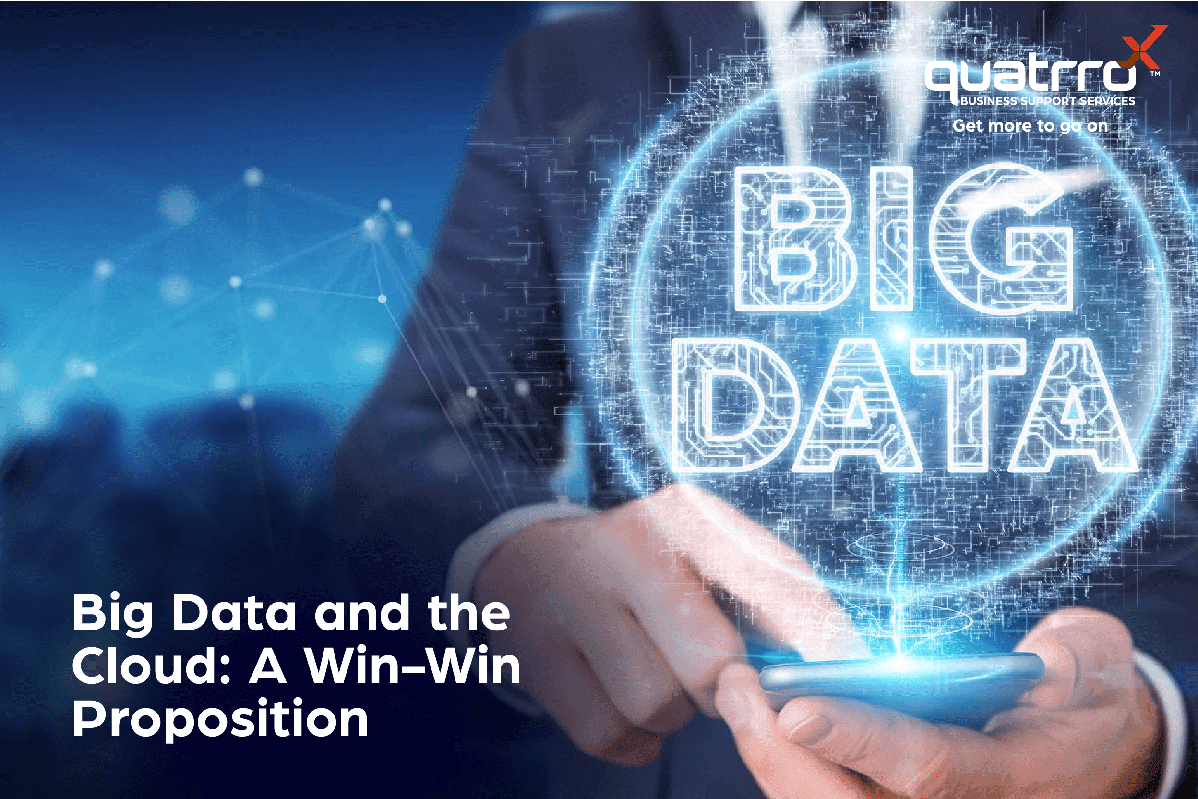 You've probably heard the terms "Big Data" and "Cloud Computing," but did you know they go hand in hand, with many public cloud services actually conducting big data analytics?
Big data and cloud computing have emerged as the most crucial technologies to penetrate the mainstream of the IT industry in recent years, resulting in an ongoing "datafication" of enterprises throughout the world.
We see massive amounts of data accumulation from every imaginable structured and unstructured data source (collected and created), in the most diverse formats, and all of these data points represent revenue for any company.  Both big data and cloud computing play a significant role in companies staying ahead of the curve by finding the right way to leverage this wealth of data.
The combined power of big data and cloud computing is beyond comprehension; it not only provides predictive and prescriptive insights but also aids in business processes and decision-making strategies.  In fact, the combination of both big data and cloud computing is extremely powerful given that it can positively impact company revenue while reducing the investment cost required to achieve the desired results.
According to Statista, the worldwide big data market will reach $103 billion by 2027, and the global cloud computing market is predicted to rise from $445.3 billion in 2021 to $947.3 billion by 2026, according to Markets and Markets.
Let's start with the characteristics of both big data and cloud computing, and then we will focus on the benefits –
Characteristics
| | |
| --- | --- |
| Big Data | Cloud Computing  |
| Brings Cost Saving | On-Demand Availability |
| Promotes Decision Making | Accessible Through a Network |
| Provides Data Insight | Elastic Scalability |
| Increases Productivity | Pay-as-you-go Model |
| Enhances Customer Service | Multi-tenancy and Resource Pooling |
Source – GeeksforGeeks
Benefits of Big Data and Cloud Computing
The move to big data in the cloud is unsurprising given the numerous benefits that the powerful combination of the two can provide, ranging from internal insights to direct customer interactions. Here are the main advantages to consider:
Cost Optimization – Investing in and managing data centers for big data analysis can be costly, time-consuming and requires a significant security framework to be put in place to protect both your physical and digital assets. By storing big data in the cloud, organizations only have to pay for storage space, which reduces infrastructure costs and adds value to the enterprise. This allows you to shift the responsibility of infrastructure management to another organization while you focus on achieving your business goals.
Scalability – Data growth is already reaching 25-30% YoY, so not having a scalability plan in place does not make good business sense. By shifting out of a traditional data center and into the cloud, organizations are able to be agile and flexible while improving overall efficiency and productivity. Also, because the rate of data collection is unpredictable, storing it in the cloud assists in the management of large traffic spikes and usage.
Security and Privacy – When it comes to dealing with and analyzing big data, security and privacy are critical. Failing to do so could damage not just the company's future and reputation, but also its financial wellbeing by tying it up in litigation. To avoid such catastrophic disruptions, many organizations are employing big data analytics by integrating scalable cloud solutions that detect dangerous hackers and threats in order to safeguard their valuable data.
Ease Complexity – Any big data solution implementation necessitates a number of components and integrations. Cloud computing allows for the automation of these components, reducing complexity and increasing the productivity of the big data analytics team.
Wrapping Up
In the current digital culture, no one will deny that big data and cloud computing are extremely important, even if only one of them is part of your strategy. But, when the two are combined, organizations and their employees' imaginations are not limited by inadequate resources. Creativity and competing in markets never thought possible in the past becomes the enablement path to analyzing, interpreting and making data business actionable.
Author: Dilowe Barker