Blog Details
Outsourced Accounting 101 – A Guide for Businesses

January 30, 2022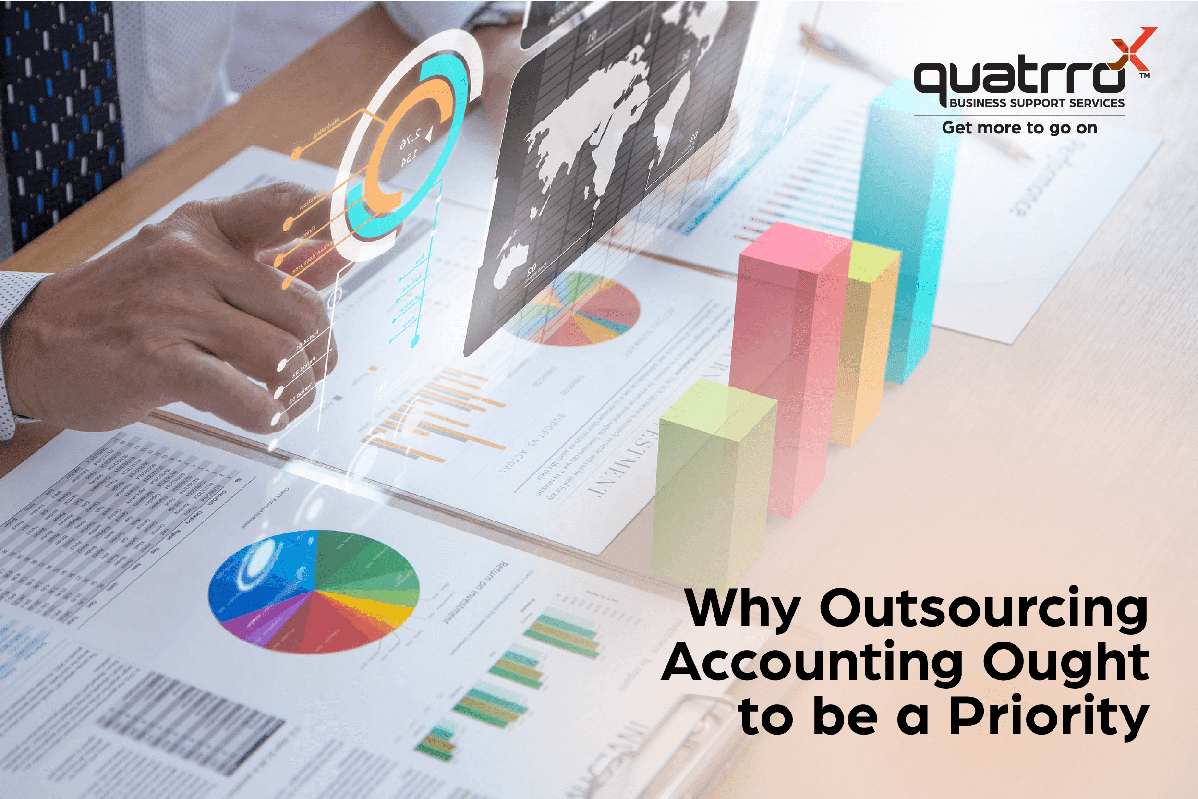 Business process outsourcing is a popular strategy to improve functional efficiencies while reducing employee overhead. Research shows that at the start of 2021, 80% of small businesses planned to outsource some part of their business. One of the first functions to be commonly outsourced is accounting. The US accounting standards for financial reporting and processes (for cash statements and ledgers) make it easy to get an outsider to perform the job without compromising quality of work. But what does "outsourced accounting" cover, and is it the right strategy for your business?
Outsourced Accounting Explained
Outsourced accounting is when you hire an external firm/accounting professional to handle your business' accounting and finance functions. You generally have two options – offshore or onshore outsourced accounting. Onshore outsourced accounting is when you choose a vendor based in your country of operation. Native language competency and domestic business acumen make onshore outsourced accounting the preferred choice for most small and medium-sized businesses. As the term suggests, offshore is when your outsourced accounting partner is located in another country. Some firms, if they have a global presence, are also able to offer a hybrid model for their outsourced accounting services which allows you to take advantage of lower rates for the transactional work and then still speak with someone in your own geography for day-to-day interactions.
Most outsourced accounting firms are more than willing to take on the entire gamut of your financial processes, including handling your taxes. Here's a list of five commonly outsourced accounting functions.
Accounts Receivables and Payables

The two most popular outsourced accounting functions are accounts receivables and payables management. Both functions are time-consuming, repetitive, and require meticulous work. Lapses can result in delays in customer invoicing, bill collections, check processing, vendor payments, and supplies management.

Smooth management of accounts receivable (AR) and account payables (AP) is vital to ensure a healthy cash flow situation and ensure that "business as usual" can continue. AR and AP management tasks also include expense reporting, cash forecasting, and reporting, and debt management.

Financial Data Reporting

Although, as a private company, you are not required to publish financial information publicly, you still need to create a monthly profit and loss statement and a balance sheet to monitor the health of your business. Financial reports are also required for routine internal and external company audits, disclosures to stakeholders, filing quarterly/annual tax estimates with the IRS, and are extremely important if you are applying for a loan or looking to raise capital to grow your business. Preparing these financial documents requires the expertise of a team that not only understands the ins and outs of accounting best practices, but also those of your specific industry as well.

Controller Services

As a business owner, you must base strategic business decisions on the financials of the business. For instance, are you pricing correctly or do you have the cash flow to invest in a new product line? Do you know which clients/services are the most profitable and which operational teams need more employees? These are significant decisions that an experienced controller can help you make by analyzing the reports that a bookkeeper or accountant prepares. Specifically, a controller can help you with:

Cash flow forecasting and analysis
KPI (key performance indicator) reporting
Compliance management and audits
Identifying transactional processing lapses
Reviewing services or product line efficiency
Analyzing overhead expenses and recommend cost reduction strategies
Implementing fraud prevention strategies

Financial Planning and Analysis

Financial Planning and Analysis (FP&A) teams play a crucial role in supporting significant decisions vital for the growth of your business. FP&A includes the following activities:

Planning and budgeting
Integrated financial planning
Management and performance reporting
Forecasting and modeling

The FP&A function involves the study of business and economic trends, the potential challenges a business faces, and how these impact that business' risks and growth prospects. An outsourced FP&A partner can also help you prepare financial reports for acquisitions, bank loans, board reporting, and investor communications.

Book Keeping

An outsourced accounting service can take on the following bookkeeping tasks for your business:

Importing and reconciling all your financial transactions across banks, credit cards, payroll, business invoices, and more.
Ensuring that all transactions are accounted for and up to date.
Tracking bills and income yet to be recognized.
Providing you accurate financial statements (Profit & Loss statement, cash flow statement, and company balance sheet) at an agreed frequency.
Explaining those financial statements and other aspects of your bookkeeping to help you report to investors, tax preparers, and anyone else who may need the information.
Trends Driving Outsourced Accounting Services
The COVID-19 pandemic, which swept across the globe at the start of 2020, has caused a paradigm shift for businesses. Today, more small and medium-sized companies rely on remote teams that use cloud-based technology to deliver results. There is an emphasis on minimizing a "physical office" infrastructure. The remote-working environment has fostered a new comfort level in outsourcing business functions, and outsourced accounting is usually the first choice. The need for agility in responding to a disruptive business environment has renewed the spotlight on outsourced accounting services such as book keeping and controller services.
The accounting industry by itself is undergoing a shift, as well, driven by automation. Although automation minimizes errors and expedites financial decision-making, it also exposes businesses to heightened risks of data hacking and information leaks. With the infrastructure and technologies in place to safeguard vast amounts of financial data, outsourced accounting partners can help avoid this threat to a great extent.
Although data science and analytics as part of outsourced accounting services is not entirely new, it has become an essential driver of process improvements and efficiencies in business. Likewise, AI (artificial intelligence) has produced positive results in automating accounting tasks and improving efficiencies. While it is difficult and expensive to hire an accounting professional with data science and analytics backgrounds, this service is accessible on-demand with an outsourced accounting partner.
As the accounting industry moves from reactive to proactive, the level of financial skills and technologies that can be accessed via an outsourced accounting service provider makes outsourced accounting the preferred choice for many growing businesses.
Is Outsourced Accounting Right for Your Business?
Are you evaluating outsourcing your finance and accounting function? Are you concerned whether it's the right move for your company? Here are a few factors to consider:
Does the current finance and accounting software help you monitor your business financials in real-time?
Do you find yourself struggling with access to the in-depth financial reports you need to make strategic business decisions?
Do you need help with interpreting vast amounts of financial data points?
Are there too many errors in your bookkeeping?
Do you want to digitize or automate your accounting functions?
Do you want to access the best accounting practices for businesses of your size and industry?
Are you finding it cumbersome to hire and supervise an in-house accounting team?
Would you like to minimize employee overheads?
Do you have aggressive growth plans and see yourself needing the services of a flexible and scalable accounting team?
In a nutshell, an outsourced accounting partner can offer you the financial insight you need to grow your business while freeing up your time and resources to better manage every aspect of the core business of your company. The goals and needs of your business will determine the right scope of outsourced accounting services which could start small and then expand as you become more comfortable with the concept.
Author: Lisa Sharp