Blog Details
How to Make Sustainable Finance Work For Your Business

October 3, 2023


Sustainable Finance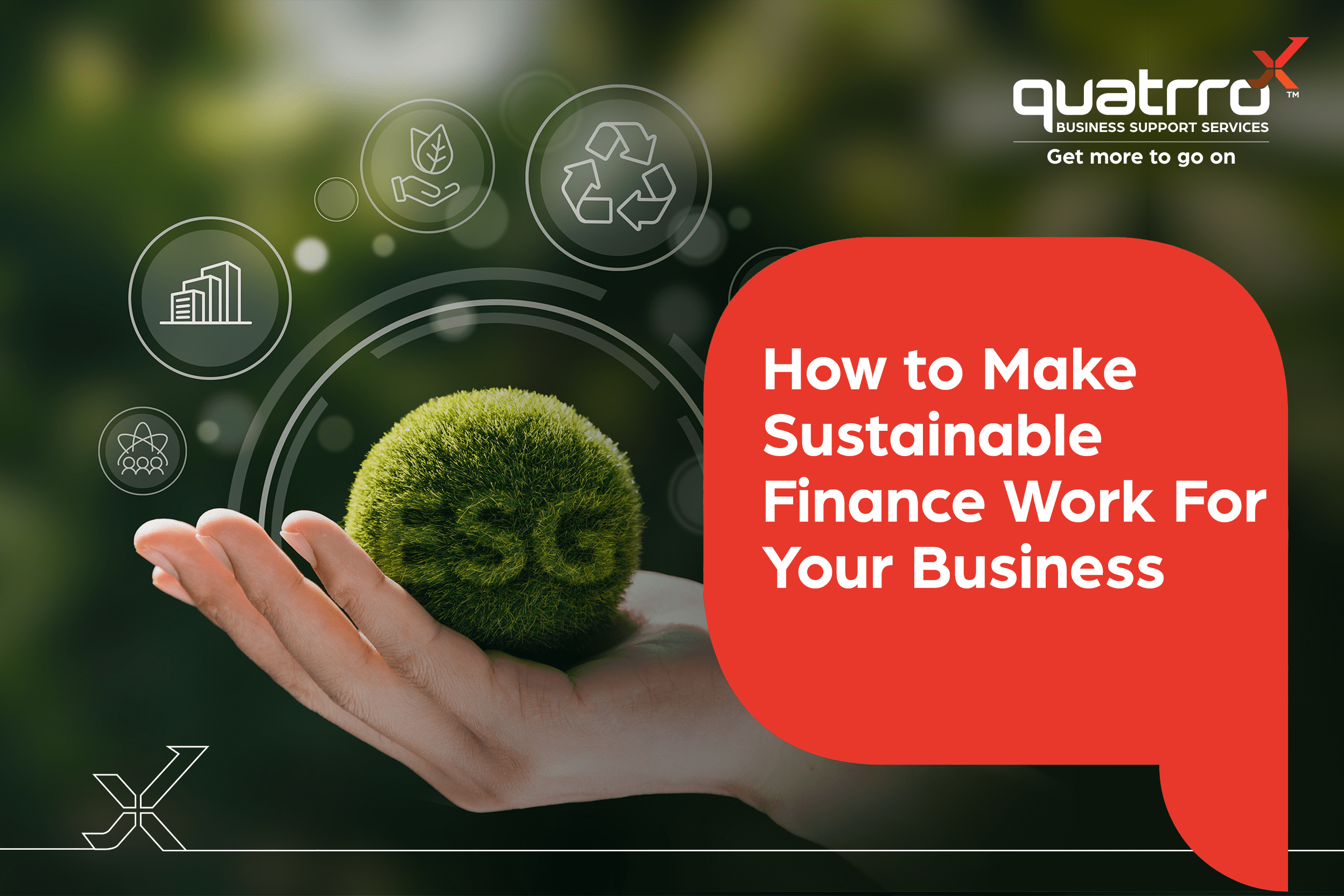 The extreme weather events and natural disasters of the last several years have driven home the harsh reality of climate change and added urgency to calls to build a more sustainable world.
Recognizing that businesses and organizations across every industry and sector will have a tremendous role in the coming transition, business leaders have embraced sustainable finance like never before.
What is Sustainable Finance?
Sustainable finance products like Green Bonds and Sustainability-Linked Loans require that lenders and investors take into account one or more ESG impacts when deciding which businesses, projects or activities to direct their financing capital towards:
Environmental factors

Mitigation of the climate crisis, pollution and ecological degradation, as well as the sustainable use of the earth's resources.

Social factors

Protecting all civil, human and animal rights, diversity and consumer protection.

Governance factors

Initiatives involving employee relations, organizational management and business practices, including fair and just labor policies.
The concept of sustainability was something of a fringe issue not all that long ago. But as concerns about the Earth's future and the well-being of its inhabitants have increased, pressure from investors, stakeholders and regulators has helped push sustainable finance into the mainstream. In fact, according to a global investor survey (*) published by PriceWaterhouseCoopers just last year, 82% of investors were exerting pressure on their portfolio companies to set and target sustainability objectives. That pressure contributed to a near-record $500 billion investment in renewable energy in 2022, while more than 1,000 venture and growth equity investments valued at over $40 billion were directed into climate start-ups alone.
What Does Sustainable Finance Look Like?
The options for sustainable finance have increased significantly in recent years. Depending on a borrower's specific initiative and goals, a sustainable finance package could include one or more of the following vehicles:
Green Bonds and Loans

These instruments are intended to fund environmentally sustainable projects or purchase sustainable assets, such as constructing an energy- efficient office building.

Social Bonds and Loans

These sustainable finance products fund programs and projects with a social impact rather than a purely environmental one. Their use has increased significantly since the emergence of COVID-19, particularly in the healthcare sector.

Sustainability Bonds and Loans

These instruments fund a combination of social and green impact projects.

Sustainability-Linked Bonds

Because they're intended to provide incentives toward the fulfillment of ESG commitments, these bonds can be used for broader corporate purposes, widening the pool of borrowers that can participate in sustainable finance.

Sustainability-Linked Loans

These loans include an economic incentive for the borrower to achieve certain defined sustainability performance targets, such as "increasing the percentage of power generated by a utility from renewable sources".
How Does Sustainable Finance Help?
Companies and organizations also face growing pressure from stakeholders, regulators, and the consumers they serve to become more sustainable, internally and externally. As a result, entities across nearly every industry and in every sector are increasingly incorporating ESG- related targets and commitments into management processes and decision-making.
Sustainable finance products give organizations and businesses the working capital to launch initiatives and programs aimed at furthering their ESG goals. Depending on the specific instrument, the proceeds from sustainable bonds and loans can make an impact in any number of ways, such as developing environmentally friendly products and services, constructing a green building, transitioning to a renewable energy source, purchasing a fleet of electric vehicles, building affordable housing, or providing job training to people with disabilities.
The social and environmental benefits of these and similar projects are apparent. However, the borrowers that leverage sustainable finance to reach ESG goals stand to benefit in several other important ways:
Enhanced Reputation

Prioritizing sustainability demonstrates that the borrower is responsible, ethical, and trustworthy, strengthening its reputation among consumers who share similar values.

Higher Sales

Environmentally friendly products are increasingly popular with consumers. Sustainable finance offers businesses access to the funding needed to develop products and services that meet this demand.

Innovation

The long-term integrated thinking that fosters sustainability helps facilitate innovation in business models, processes and technologies.

Employee Recruitment and Retention

Placing value on social and human capital enhances a borrower's reputation in the eyes of prospective and current employees, resulting in access to a larger pool of recruits and enhancing its staff retention efforts.

Drive Efficiencies

Sustainability can drive significant cost savings and efficiencies. For example, a company or organization focused on conserving electricity or water will see those costs come down.
Is Sustainable Finance Right for Your Organization?
Like any type of finance, obtaining a sustainable bond or loan requires careful planning on the part of a prospective borrower. Before approaching sustainable lenders and investors, it's critical to focus your ESG initiatives around clear objectives and key performance indicators, being realistic in balancing your aspirations with the realities of your business or organization.
If this is your first foray into sustainability, your best bet is to bring on a sustainability team made up of individuals with the expertise to determine whether your proposed initiative, product or service offering will satisfy lender or investor requirements. Once your sustainable finance is in place and your initiative underway, your team should also be responsible for establishing and maintaining internal processes, KPI measurement and reporting, and overseeing expansion proposals.
All sustainable finance instruments require accountability and a high level of transparency on the borrower's part. While there are no set regulations and standards for ESG reporting, any sustainable finance program will have its own stringent reporting requirements to ensure capital is working to further ESG goals. Establishing robust governance and reporting processes is essential to meeting those requirements and will keep you on track to achieve your objectives.
A commitment to transparency will also help your company or organization avoid accusations of greenwashing. Greenwashing occurs when an entity uses advertising and public messaging to appear more sustainable than it actually is or to conceal that its business model and activities are causing environmental damage and harm. In today's climate-conscious world, companies suspected of greenwashing can suffer significant damage to their reputations and brand image, resulting in lost customers and falling profitability.
Ready for Sustainable Finance? Learn How Quatrro Can Help.
Sustainable finance is here to stay, and it could help change the world for the better.
But businesses and organizations looking to take advantage of sustainable finance opportunities need to develop clear objectives for their ESG programs and establish robust governance and reporting structures that will ensure the transparency every sustainable lender and investor demands.
To learn how Quatrro can help ensure you have the right governance, reporting and transparency in place, connect with us today.