Blog Details
Uncovering the Latest Trends Pushing IT Outsourcing in 2023

October 5, 2023


Cloud Infrastructure, IT Outsourcing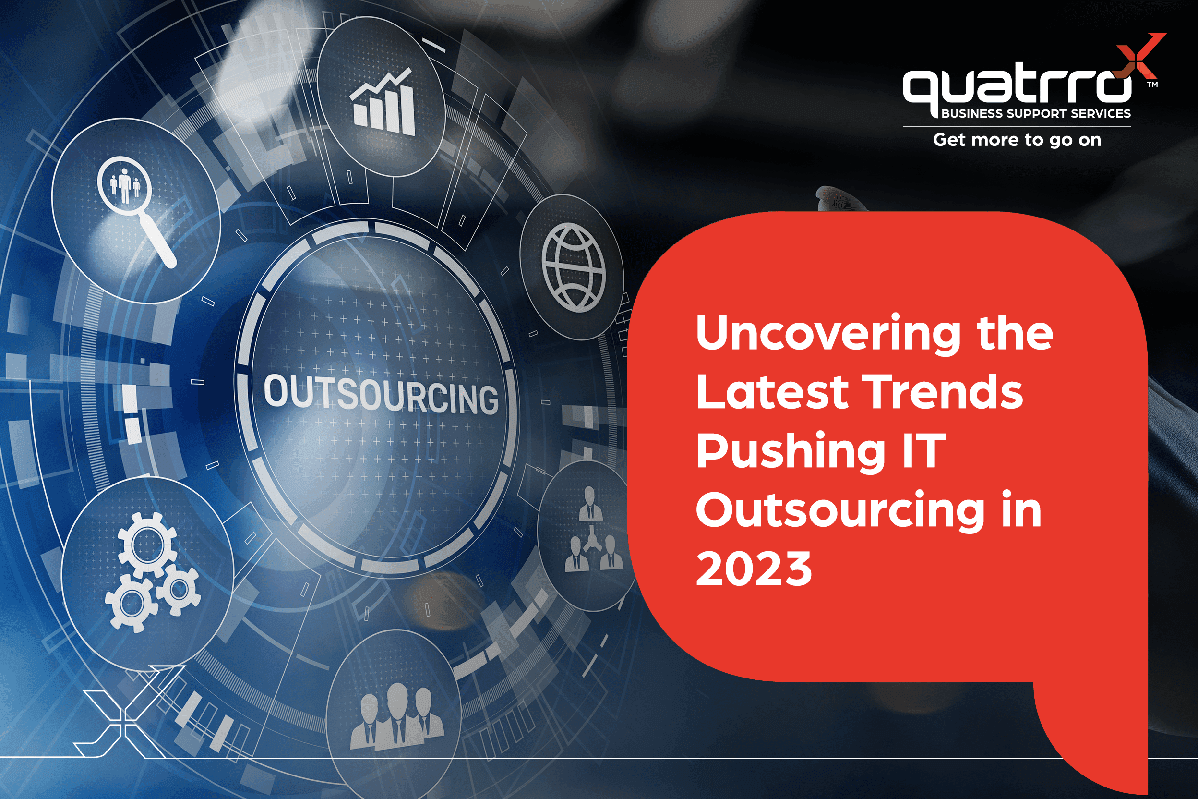 Businesses are becoming increasingly reliant on digital systems as technology progresses. IT outsourcing has become a crucial strategy for businesses aiming to gain a competitive advantage in the ever-changing market. The IT outsourcing market is expected to exceed $1.3 trillion by the end of 2023, with more than 65% of organizations planning to enhance their IT outsourcing efforts over the next two years.
The data shared above highlights the importance of organizations staying abreast of the newest developments and trends in IT outsourcing in order to maximize their potential for growth and competitive advantage. In this blog, we will look at the top drivers in 2023 pushing IT outsourcing that organizations should keep their eye on.
Before we proceed to the trends here is some data and the facts that will blow your mind!
The IT outsourcing industry is expected to grow at a Compound Annual Growth Rate (CAGR) of 8.93%, resulting in a $551M market volume by 2026, according to the IT Outsourcing Statistics 2022-2026.

The cloud computing industry is on the rise! According to MarketsandMarkets, the cloud computing market is anticipated to grow from $148 billion in 2019 to $246 billion by the end of 2023.

Businesses entrust cybersecurity to MSPs because they are more likely to have cybersecurity experts and advanced solutions to be leveraged. According to Statista, MSPs are in high demand, with a value of $152 billion in 2020 and expected to increase to $274 billion by 2026.

The research done by Deloitte on why companies outsource states that:

63% of companies outsource to reduce or control cost.
65% do it to focus on business objectives
53% to solve capacity issues
28% to improve service quality
26% to take help from talented professionals
18% to manage their business environment
With all this data in mind, here are the top trends that are pushing the need organizations have for IT outsourcing in 2023.
Cloud-based Services

According to a Gartner analysis, the fastest growing segment of the global cloud services industry is cloud Infrastructure as a Service (IaaS). This trend allows organizations to achieve cost-efficiency, improved data security, and solve various IT challenges by simplifying complicated business processes and offering organizations with scalability and flexibility.

Cybersecurity

The importance of cybersecurity for organizations cannot be over emphasized in today's digital age. With a greater reliance on technology and the internet, cyber threats are growing more sophisticated and posing a substantial risk to businesses of all kinds. According to Forbes, 82% of businesses faced cyberattacks in 2022.

The growing number of cyber threats around the world has been a huge concern for businesses, which is why managed security services has been surging in popularity. These services can assist organizations in protecting their data from breaches and malware assaults, as well as in adhering to industry norms and standards.

Artificial Intelligence (AI)

AI is quickly becoming an essential component of the modern business landscape. According to IDC, the AI sector will be worth $500 billion by 2024. AI integration in various technologies, is becoming increasingly common. The incorporation of AI into applications yields tremendous and undeniable benefits. Organization can analyze massive datasets in real time, allowing businesses to unearth useful insights and dramatically improve numerous processes, such as forecasting, making agile informed decisions, and streamlining operations to improve customer service.

Automation

One of the largest trends in IT outsourcing is automation. Integration of automation tools throughout business processes allows businesses to better monitor and manage their IT infrastructure, automate their workflow, and enhance their security. Not only can this help you to become more efficient or enhance the quality of your IT services, but it also allows you to streamline your processes, save your IT infrastructure time and money, and make your business more adaptable and scalable.

Wrap -up

The need for IT outsourcing is expected to continue to grow and expand as technology progresses. Companies that are cognizant of these trends and needs and leverage IT outsourced services will be well-positioned to succeed in the future. Not only will they have access to specialized skills and resources, but they will also gain and maintain a competitive advantage in the market. Furthermore, they will be able to continually enhance their processes by leveraging the expertise of third-party providers instead of investing too much time in learning about, deploying, and tweaking new technologies on their own. Regardless of whether you are a start-up or an established company, outsourcing your back-office functions can assist you in scaling up and growing your business.

What we can do for you

We are an MSP and channel-friendly technology services company catering to information technology needs across industries. We offer the right mix of IT solutions and human expertise to maneuver your ever-changing business strategy. QBSS is a trusted partner, for whom, contributing to achieving your business goals is a top priority with our high-quality, cost-effective, rapid deployment technology solutions. As an IT support services company, we proactively monitor, prevent, troubleshoot, and resolve issues pertaining to network security, sensitive data, IT infrastructure, human error, cyberthreats, and more.

Why wait? Let us help your business grow! Contact Quatrro today.