Blog Details
Looking to Drive Revenue Growth During a Time of Inflation? Focus On Your Numbers

August 2, 2023


Robust Accounting Operation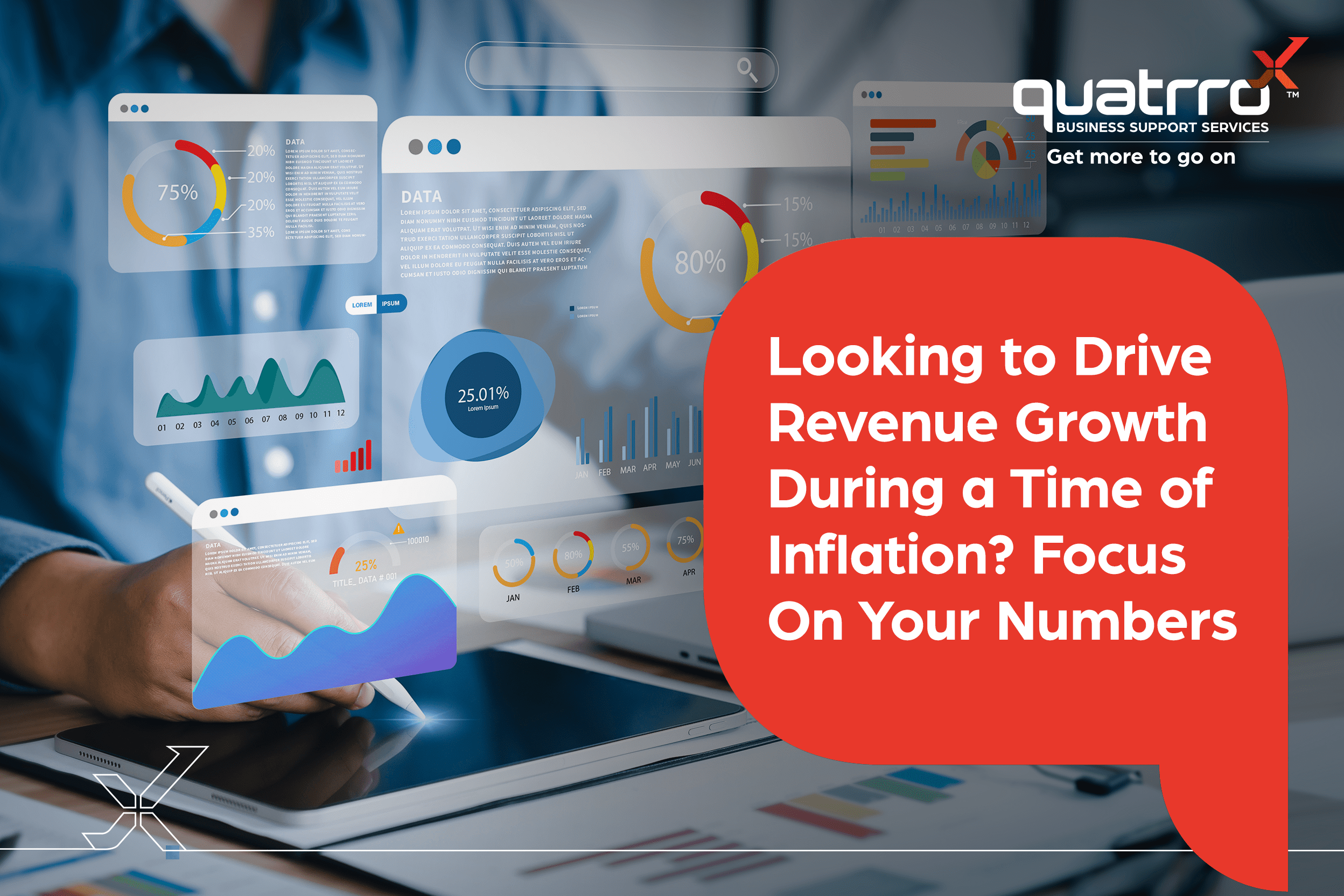 After the Great Recession of 2007-2009 finally ebbed, businesses enjoyed more than a decade of robust economic growth and relatively low financial volatility. But that all changed in 2020, when a global pandemic and growing geopolitical uncertainty decimated supply chains, triggering an inflationary spiral that's still being felt in many areas today.
These Inflationary pressures have only added to the formidable challenges already standing in the way of revenue growth and profitability. If your organization's going to overcome those hurdles, you need to be laser-focused on the numbers.
Accounting Matters, Especially Now
While robust accounting operations are essential in any economic climate, financial functions are especially crucial when inflation threatens to block your path to growth.
If you're not focused on the numbers, budgeting becomes impossible, and you're left without the tools needed to realistically forecast revenue and growth or reliably calculate profits. By closely tracking and monitoring transactions and ensuring the accuracy of your financial statements, accounting operations also play a critical role in preventing fraud, and they ensure your organization remains in compliance with local, state, and federal regulations.
When your financial functions are firing on all cylinders, you're also better positioned to gauge your organization's overall health and efficiently manage the infrastructure on which your business runs. Solid accounting operations are also critical for raising capital from investors and lenders, maintaining strong relationships with suppliers and vendors, and making strategic decisions based on data and facts rather than mere assumptions and hunches.
A Path to More Robust Accounting Operations
So what should you do to ensure your accounting operations and financial functions are optimized for these inflationary times?
Be Sure You Have the Basics Covered
Basic accounting functions may not be glamorous, but they're essential to managing and maintaining a healthy cash flow and ensuring the overall health of your business:
For example, your accounting team should reconcile accounts payable and accounts receivable to your statements of financial position and your balance sheet at the end of every month – not all at once at the end of the fiscal year. They should also have workflows established that ensure efficient issuance and tracking of invoices and a system in place to collect from slow-paying or delinquent accounts.
A workflow for paying your taxes – early if possible, on time at the very least – will also prevent your organization from incurring costly late fees and penalties or becoming mired in a potentially disastrous audit.
Don't Approach Accounting as Merely a Compliance Function

While ensuring compliance with tax laws is an important function of accounting, compliance should never be your only goal. The financial data generated by accounting activities also offers a wealth of financial information that will allow you to run your business in a more intelligent and efficient way. Leverage your numbers to think strategically and shape your business initiatives, such as identifying which of your marketing investments will deliver the best financial results.

Standardize Your Reporting Functions

Whether for shareholders, executives, individual departments, recordkeeping, or tax purposes, a typical accounting department produces a multitude of reports on a monthly, quarterly, and annual basis. Establishing a standardized reporting and data management system will ensure you aren't needlessly duplicating work due to formatting requests or software complications.

Keep Up-To-Date

Whether it's researching the impact tax law changes will have on your organization and record-keeping, staying abreast of industry and accounting standards, or exploring the ways cutting-edge software, automation, and even artificial intelligence can be leveraged to streamline your financial functions, staying on top of evolving policies, best practices, and emerging trends will help keep your organization efficient and compliant.

Don't Overlook the Benefits of Automation

While automation is one of the most effective ways to reduce costs and improve the overall efficiency of your accounting operations, it also offers many other benefits that are easily overlooked. When incorporated into a continuous improvement effort, automation can boost accuracy, reduce risk, and ensure scalability. By eliminating some of the human element that goes into accounting, automation also reduces the potential for fraud, errors, and omissions.

Identify the Right Outsourcing Partner

Outsourcing some or all of your accounting functions can also go a long way to improving efficiencies and driving cost savings, especially during times of high inflation and economic uncertainty. The right outsourcing partner allows you to scale your accounting functions to the changing needs of your business while also offering access to high-level financial expertise, business intelligence, and advanced technology that you might otherwise be unable to access.
Let Quatrro Focus on the Numbers, While You Get More to Go On
If your organization is struggling to drive revenue growth in these inflationary times, Quatrro can help you improve and streamline your accounting and financial functions, ensuring they're optimized to facilitate data-driven decision-making and greater profitability. To learn how our cost-effective, high-quality back-office solutions can help you and your team get more to go on,
connect with Quatrro today.