Blog Details
The Why and How of Accounts Payable Automation

March 23, 2022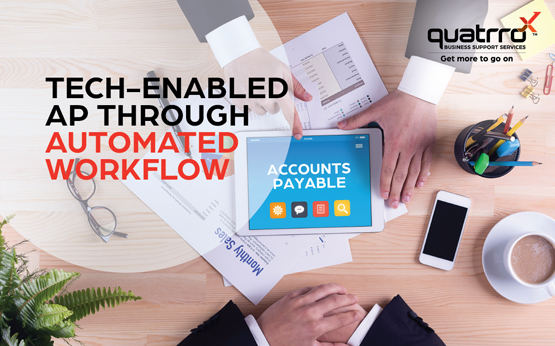 Automation has redefined much of
back
office
business processing
over the last two decades, including the accounts payable function. In the absence of automation, invoice processing typically involves intense human efforts, from receipt of invoices through sending vendor payments. But the ever-growing emphasis on efficiency and the importance of minimizing/eliminating errors has meant that the debate is no longer about IF accounts payable automation is necessary. Automation is now a requirement for driving efficiencies in the accounts payable (AP) process.
Accounts Payable Challenges in the Absence of Automation
In the absence of accounts payable automation, your AP staff will spend most of their productive time performing manual, repetitive tasks such as chasing invoices and PO's, validating prices, scanning invoices, responding to supplier inquiries, cutting paper checks, reconciling payments, and creating reports for top management. Manual execution of AP tasks, which can be easily automated, is underutilization of enterprise resources, who could otherwise be employed for higher level strategic insights and analytics. Staff who perform highly repetitive and manual tasks are unlikely to be particularly satisfied or motivated employees that will stay with the organization long-term.
Extensive reliance on paper-based invoice processing opens the door to manual errors and delays in invoice processing, late payment penalties by vendors, and the risk of non-compliance. Improper validation of invoices prior to payment could mean that you end up paying for services that are not in your contract or at rates higher than was agreed. The lack of visibility of your cash-balance position can also affect the quality of decision-making by other functional teams.
Advantages of Accounts Payable Automation 
Accounts payable automation is the processing of supplier invoices little, to no, human intervention. The entire AP workflow is executed digitally, starting from the capture of data from paper invoices using techniques such as OCR or optical character recognition. The invoices are then stored in the cloud for anytime, anywhere access. The recorded data is either matched with purchase orders and receipts or routed to the applicable team for review. More advanced AP systems also allow for the approver to review vendor contracts alongside the e-invoice to ensure there are no overcharges or unexpected fees, and also to create approval workflows to route invoices to appropriate management team members for electronic approval. Once approved, the invoices automatically flow into the ERP (the accounting system) for payment.
Accounts payable automation creates faster, leaner, and more cost-effective AP processing. Implementation of AP automation eliminates the need for paper receipts and paper checks. You no longer need to print and save invoices. It also creates greater visibility on business expenses and improves cost controls.
Accounts payable automation reduces errors and duplication that inherently come with manual data entry. It offers data insights for informed decision-making and increased compliance. An efficient AP process also strengthens relationships with vendors which can lead to better terms or discount rates.
Assume that a single manual invoice costs you somewhere between $10 to $23 to process. Using that average, calculate the current total cost of processing invoices in your business and then reduce that number by 80% – that's the potential cost savings financial benefit you could see from implementing accounts payable automation! Not to mention the improved productivity and job satisfaction of your existing AP team, who can be utilized for more significant initiatives.
Overall, accounts payable automation makes life easier for everyone – business owners and CEOs, CFOs, CIOs, IT leaders, business heads, and AP professionals. It is an investment that can often pay for itself, whether you manage the payables process in-house or through an outsourced accounts payable service.
Implementing Accounts Payable Automation 
Automation is going to be a pervasive force in much of the finance function for any organization. Yet across most organizations, AP teams continue to spend most of their time handling transactions rather than analyzing the numbers to deliver AP efficiencies. Implementing the right mix of accounts payable automation and change management will allow you to buck this trend in your business. But before you choose accounts payable automation software, you must be sure to outline what your business really needs – just implementing a new software without also considering any needed change management will surely keep you from seeing the ROI you expect.
What are the strengths and weaknesses of your existing app processes? Rather than simply choosing the most popular AP software or the least expensive one, assess whether the software offers a customizable solution for the current weaknesses in your AP processes. Also, evaluate which AP solution best integrates with your existing systems, such as your financial system/ERP.
Some of the other questions that you need to be asking are:
Does the software have a portal for raising queries and easy access to invoice status?
Does it allow your team to route invoices based on custom rules and exception guidelines?
Does it offer diverse options for sending electronic payments to vendors?
Does it have a comprehensive dashboard and report capabilities?
Does it have an iOS/ Android mobile app for greater remote accessibility?
Implementing accounts payable automation will affect everyone across your business in one way or another, and so you should be sure tosecure buy-in from all the impacted areas, especially procurement, IT, functional managers, and the CEO. Help them understand how automation will benefit their area of the business and address any potential concerns they may have.
To quote
Bill Gates
, "The first rule of any technology used in a business is that automation applied to an efficient operation will magnify the efficiency. The second is that automation applied to an inefficient operation will magnify the inefficiency." Therefore, accounts payable automation cannot be viewed as a panacea for all that ails the accounts payable function in your business. You will need to pair the technology with implementing industry best practices.
Working with a business process outsourcing partner that uses the latest financial and accounting technologies can help you circumvent the risks involved in identifying and implementing accounts payable automation. The added advantage of outsourcing your accounts payable is that you minimize the onboarding time as they will already have the technology and best practice process in place for you to leverage right away. Contact us to find out more about implementing an automated AP solution that's right for your business.
Author: Lisa Sharp