Blog Details
Healthcare Managed IT Services – Is it Right for You?

May 24, 2022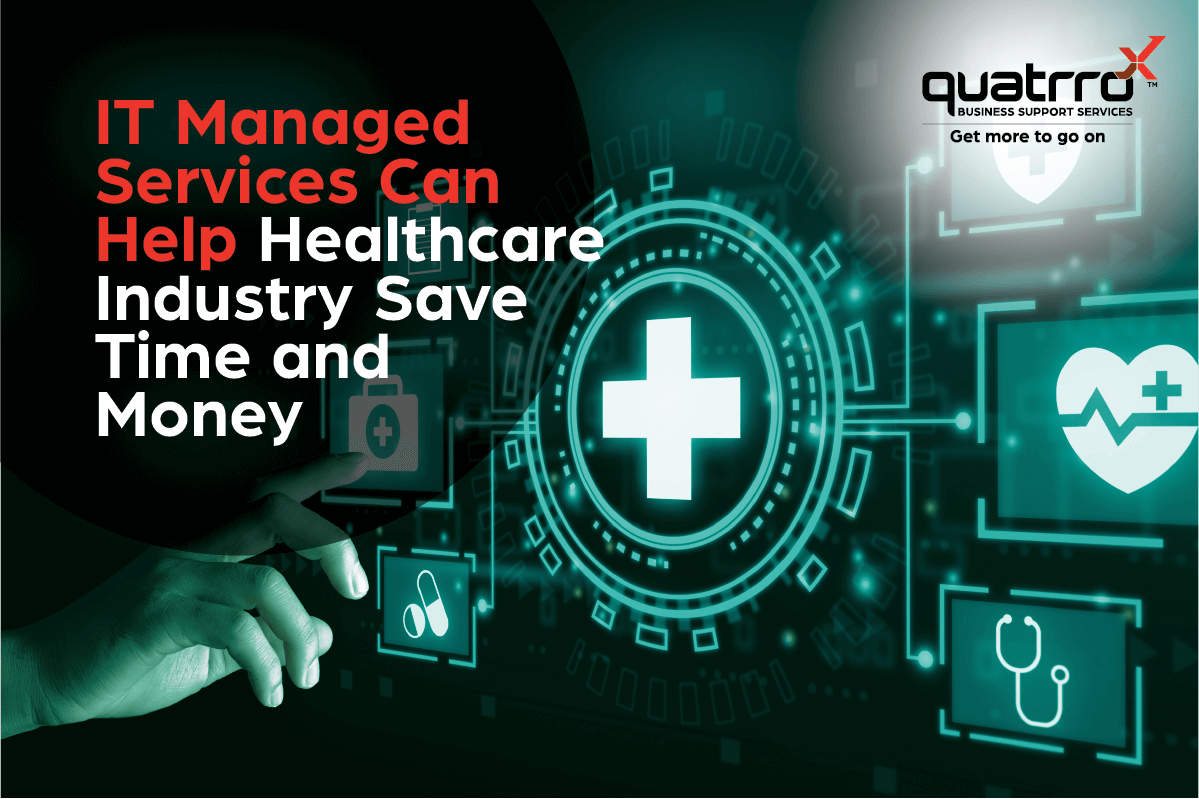 Healthcare IT is an integral part of delivering patient care and managing hospitals and medical practice systems. However, the post-pandemic patient care challenges, the drop in healthcare revenues, and lower staffing budgets have put pressure on healthcare IT teams. Added to that are the evolving compliance guidelines on electronic health records (EHR), patient information portability, and financial data security. Per The Department of Health and Human Services, there was a significant spike in cyberattacks and data breaches in the healthcare industry post the COVID crisis. Therefore, from the point of view of delivering uninterrupted patient care, ensuring HIPAA compliance protocols, and securing systems, many hospitals and large medical practices are opting for healthcare managed IT services.
Scope of Managed IT Service for Healthcare
Managed IT service specifically for the healthcare industry involves working with a provider to handle the entire gamut of information technology operations. This includes:
Patient management system (PMS)
Cloud migrations
Data center solutions
Mobile initiatives
Provider collaboration tools
System security
A healthcare IT managed service provider (MSP) specializes in deploying, monitoring and managing HIPAA compliant technologies. The managed IT service provider is responsible for monitoring systems, providing technical assistance, and ensuring issue resolution via a 24*7 IT support team dedicated to meeting the healthcare organization's unique needs. The MSP can also carry out risk assessments, integrate new applications into the IT infrastructure, monthly data reporting, data backup, and disaster recovery.  
The relationship with the healthcare managed IT service provider is defined via a service level agreement (SLA) that documents the fee, services, and expected response times.
Deciding if Managed IT Service is Right for You
With the emphasis shifting from a fee-for-service to a fee-for-value model, healthcare providers are under pressure to deliver personalized and integrated patient care with improved patient outcomes. Working with experienced healthcare managed IT service provider will ensure that you have access to the best-in-class IT solutions to achieve these results.
It's estimated that managed IT services, which can be easily scaled up and down, help healthcare organizations reduce IT costs by 40%. That is a significant advantage after COVID-19 wiped out billions in practice revenues.
If you own a medical practice or are responsible for managing a large group practice/ hospital, here are five critical questions you must answer to assess if collaborating with a managed IT service is right for you. 
Are you concerned about protecting yourself against cyberattacks?

A 2017 survey by the AMA in collaboration with Accenture revealed that 83% of physician practices had experienced a cyber-attack. The most common form of cyberattack is phishing and computer viruses. The scale of hacks indicates that healthcare organizations are either not investing enough resources towards IT security or lack the IT expertise to protect themselves.

A cyberattack puts your organization at high risk of theft of confidential patient information, loss of access to patient history, and significant downtime of your PMS. Security breaches can be extremely costly for your medical organization both financially and reputationally.

Working with an experienced healthcare managed IT service provider can help you monitor your system for risk of data theft and also help you to promptly take steps to restore systems if a breach takes place.

Are you in need of specialized IT services?

Do you need assistance with migrating your EMR software, integrating multiple healthcare systems, moving data to the cloud, or support for providing telehealth services? Performing these specialized IT tasks while ensuring patient data safety and HIPAA compliance is a big challenge.

A healthcare managed IT service provider will advise you on the latest IT best practices surrounding HIPAA rules and regulations, help you understand the risks involved with your options, and ensure that your medical practice stays compliant with any selected solution.

Do you need 24*7 IT monitoring?

There is an increased reliance on technology for delivering patient care, and any technical issues can put patients' health at risk. An IT breakdown can happen during non-office hours, but having the resources (skills, space, and managerial time) for an around-the-clock in-house IT team can prove challenging for most healthcare organizations.

A specialist healthcare managed IT service provider can deliver reliable 24*7 IT support, which is critical during weekends or late hours when your office operates with minimal staff but may experience the most urgent needs. The MSP can assist you in quickly recovering your systems after significant outages. Partnering with an experienced service provider also gives you the flexibility of scaling IT infrastructure without worrying about upgrading your data center on a limited IT budget.

Do you want to improve patient experience and revenue collections?

Partnering with a managed IT service ensures that your systems run smoothly which improves patient experience at every touchpoint. Patients can view provider accessibility, upload documents, and book appointments seamlessly through the patient portal. The improved PMS (practice management system) performance helps providers readily access patient medical history, easily record patient information, and collaborate with other providers. Medical staff can easily access electronic guidelines, minimizing errors in patient care.

The medical billing staff can offer accurate information on insurance eligibility and patient payment responsibilities. Collecting payments from patients can be done securely through the credit card on file and the patient portal.

Therefore, working with a managed IT service helps healthcare organizations to boost employee productivity and deliver superior patient care; this translates to better patient satisfaction ratings, higher reimbursement rates, and more significant revenues.

Do you need to create a secure remote work environment?

Although the healthcare industry has been a laggard in the adoption of remote technologies, more healthcare organizations are now offering telehealth and remote patient monitoring (RPM). Also, patient information portability has been a mandate for some time now. Providers must be able to quickly access and share patient information with other providers.

If you want to foster collaboration between healthcare teams located across geographies, a managed IT service can help you get the maximum benefits from new technologies. Instead of on-premises IT solutions, the service provider can migrate sensitive patient data to cloud solutions with a high emphasis on data security.

Once you have signed an SLA with a healthcare managed IT service, they will perform an IT assessment to identify things that need to be fixed and new technologies that can be deployed. The MSP will ensure that you have an automated backup solution, so you don't have to worry about manually backing up patient data. They will ensure that you have the best disaster recovery and data security solutions in place, and that all the healthcare IT systems and reports are compliant with HIPAA audit requirements.

Ready to know more about managed IT service for your healthcare enterprise? Reach out to find out how we can help you do more.