Blog Details
Is the Global Healthcare Outsourcing Space Witnessing a Black Swan Moment?

April 19, 2022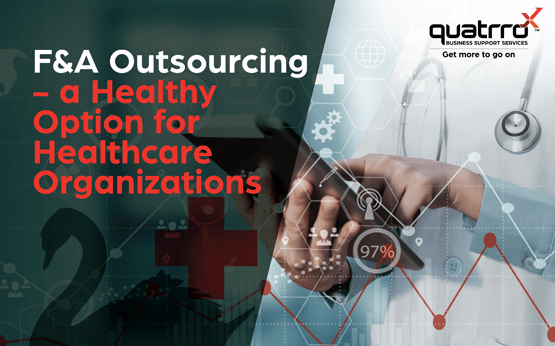 Has the ongoing pandemic inadvertently created a "black swan" moment for the global healthcare outsourcing space? It wouldn't be a surprise, given the swift and irreversible changes the industry itself has witnessed!
Without trying to sound too ironic (or obvious), the pandemic has had profound and far-reaching implications. When it first struck, the global healthcare domain was ill-equipped, at best, to handle such an emergency. Lack (or absence) of policies, infrastructure, risk management, etc., were just the tip of the iceberg. The lack of knowledge on how to address the crisis from the business standpoint was, by far, the most worrisome.
Interestingly enough, though, industry experts are of the opinion that the crisis afforded the industry an opportunity to focus on innovation and reinvention. From (re)building agile supply chains, addressing shifting customer preferences to adapting evolving digital health technologies, the space has, truly, risen to the challenge.
That being said, the biggest lessons are, and will remain, stay prepared; stay nimble. No longer are merely controlling costs and maintaining exceptional levels of service the priority. Stakeholders' must now examine and implement innovative business models to stay ahead of the game. And therein lies the crux of this situation and why outsourcing is no longer just confined to the boardroom.
The In's and Outs of Business Process Outsourcing in the Healthcare Industry
Before diving in, let's look at the larger picture. Outsourcing in the healthcare industry has always been a multi-dimensional concept, each aimed at delivering value and reshaping and scaling the way business is executed.
A Healthy Trajectory: The Global Healthcare Outsourcing Space
$370.94 Billion Projected Value by 2027, up from

$232.33 Billion in 2022

9.81% CAGR between 2022-2027

Source: Market Data Forecast
The Nuts and Bolts of Finance and Accounting Outsourcing in Healthcare
For the scope of this blog, the aim is to turn the spotlight onto a very specific facet, finance and accounting outsourcing. It has been picking up more interest in the healthcare industry as a way to address a myriad of challenges.
What Ails the Finance and Accounting Function in Healthcare
| | |
| --- | --- |
| | Short Timelines to Manage Accounting |
| | Challenges Pertaining to Compliance and Regulation |
| | Multiple, and Geographically Disparate, Clinics and Accounting Systems |
| | Absence of Visibility into Financial Processes |
| | Significant Backlogs of Deliverables |
| | Inability to Address Complex and Specialized Projects Due to Absence of Expertise |
Source: Datamatics and Moss Adams
Why Finance and Accounting Outsourcing is a Viable Tool in a Company's Arsenal
Future Forward
Simply put, finance and accounting outsourcing offers a very viable balance between what healthcare finance teams need and what they actually have. The idea, of course, is to ensure these teams are flexible, agile, and prepared for change.
Addressing the Unknown
Equally critical is insulating the accounting processes and resources from disruption and uncertainty. Pairing up with an external partner can bring calm amidst chaos, armed with cutting-edge technology and end-to-end data visibility.
Tackling Data Silos
And, no more data silos! Outsourcing ensures that fragmented financial reports sourced from multiple data silos are consolidated and highlight the critical aspects of the business. Simplified and informed business decisions naturally become the bottom-line.
Assured Data Privacy
With data privacy and security being the rule today, especially in the healthcare space, outsourcing firms are taking the necessary step to ensure their clients' data stays secure and backed up.
A Varied Services Portfolio
For growing outsource service provider partners, the buck doesn't stop at merely ensuring the financial side of the business remains streamlined. Rather they are looking at ways to support their client's entire back office functions including bookkeeping and accounting, human capital resource management, business process advisory services, and also providing much needed support across their technology infrastructure, which is growing more and more complex everyday.
Staying Atop the Game
Outsourcing of back office business processes also ensures business leaders are able to focus on the larger picture – the strategic growth and direction of the business. An external partner is not just proactive, but will spot and help you address red flags in time before they become major issues.
Fraud Alert!
With outsourced accounting services, transactional processing and reports are scrutinized multiple times over, which provides increased internal controls over most in-house teams. While it is too simplistic to assume that all instances of errors can be eliminated altogether, a dedicated team with the right technology and expertise in accounting is more likely to spot an anomaly much quicker!
Access to Financially Intelligent Insights
Actionable insights lead to better business decisions. Outsourcing ensures questions pertaining to the overall strategic direction of the business, such as hiring more resources, investing in marketing, adequate cash flow, etc., are all addressed intelligently and backed by data.
Key Questions to Ponder Before Opting to Outsource Finance and Accounting Functions
Has the organization's financial requirements outgrown its current infrastructure and processes?
Has the organization attained an accelerated growth stage of its business lifecycle?
Are data silos slowing down or hindering the business?
Is financial data readily available when needed and does the available data enable timely strategic business decisions?
Can the current accounting and financial solutions be scaled to meet the business requirements?
Can the potential outsourcing partner offer multiple services to help meet a range of needs across the organization?
Is the potential outsourcing partner well-versed with and updated on the latest in compliance policies, financial regulations, and accounting rules in the healthcare industry?
Overall, healthcare organizations are finding that outsourcing a once-traditional in-house aspect of the business is clearly becoming a rule for success, and not an exception. Clearly, this is a black swan moment for the healthcare industry, but the great thing is that it appears to be a force of positive change and not negative disruption in the space!
Author: Cynthia Gomez