Blog Details
The Pros and Cons of Outsourced IT Services for SMEs

December 13, 2022


Helpdesk, IT, Outsourcing, SAAS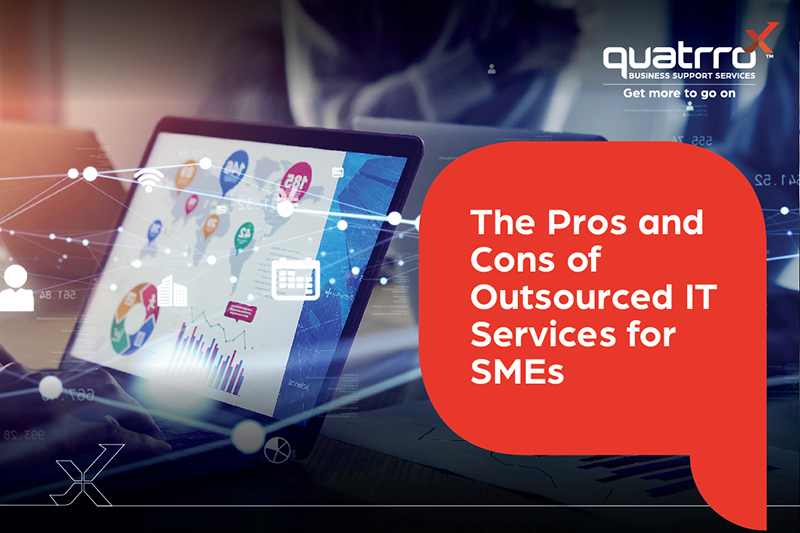 Today success in business is hugely determined by a company's information technology (IT) infrastructure and capabilities. Whether it is manufacturing or the service industry, a B2B or a B2C enterprise, every facet of a company runs on IT hardware and software. Repeated technology downtimes, or even a single cyber-attack episode, can lead to disgruntled vendors and customers, adversely impact brand value, and allow competitors to usurp your market share.
Let's admit it – while IT plays a crucial role, it is not your primary focus of being in business. Many small and medium-sized businesses (SMEs) opt to outsource IT services since getting enterprise-level IT solutions and resources is often complicated and expensive. The scope of outsourced IT services includes real-time monitoring, IT helpdesk, proactive upgrades/patches, scheduled system maintenance, and active cybersecurity monitoring.
But is outsourcing IT services right for your SME? That is a decision you must make after evaluating the following pros and cons of outsourced IT services.
Pros of Outsourced IT services
Working with an outsourced IT service provider minimizes the everyday stresses of IT support, lowers the cost of IT management, and improves process efficiencies.



All-encompassing IT support services:

An outsourced IT services provider can take over the management of the following IT components of your environment:

Device and inventory management
IT security and data compliance
Network and server management
Migration to a cloud, or hybrid cloud, environment
Data storage on the cloud or onsite servers, or a hybrid model that combines both
Application management
Backup and disaster recovery of company data
IT monitoring and data analytics

As a result, rather than hiring and managing an internal IT team to handle these components, you only deal with the outsourced IT account manager, who manages these for you through their experienced team of IT professionals.




Significantly lowers infrastructure and IT personnel costs:

Hiring qualified IT personnel entails substantial employee costs (salary, perks, benefits, retention bonuses, etc.) – especially in today's labor market. Because of the rarity of their skills, IT professionals are in high demand. As a result, there is a lot of IT employee churn, which means that with an internal team, you may constantly be recruiting, hiring, and training while likely also having to pay higher salaries than budgeted.

Hiring an outsourced IT services partner relieves the HR burden of identifying and retaining top IT talent. Once you decide to outsource your company's IT, you can scale up or down the IT arsenal in proportion to your business growth and needs.

The cost savings can be used to fund other critical initiatives within the company, such as research, product development, business app development, and providing customer-friendly digital solutions that improve their overall experience with your business.




Access to best-in-class IT solutions:

The IT world is dynamic, with new challenges emerging daily. An in-house IT team may have a limited knowledge base compared to an outsourced IT service provider that works for different clients (across public and private sectors) so has a plethora of best practices to implement to address those daily challenges. Since the outsourced IT service provider is in the business of providing technology, they make every effort to stay on top of their game, including training and certifying their staff and evaluating the latest technology solutions. So, when you outsource IT, you get access to the best and the brightest IT expertise.




Reduced risk of non-compliance, downtime, and cyber-attacks:

Monitoring the performance of the IT infrastructure and performing routine system/software maintenance and upgrades are critical responsibilities of an outsourced IT service provider. The outsourced IT service partner will collaborate with your internal team to ensure that your IT systems and data-sharing practices comply with national/international regulations. The service partner will work to detect, report, and remediate any cyber-attack attempts on an ongoing basis. Customer satisfaction, as well as employee productivity, will improve as your company virtually eliminates downtimes in internal processing software, customer support lines, and online portals.
Cons of Outsourced IT services
There are bound to be reservations about handing access to your IT infrastructure and management to a 3rd party service provider. The loss of direct control can be disconcerting for SME owners. Critics of outsourcing IT argue that an external partner cannot match an in-house team's responsiveness and service levels.
Business process outsourcing, across the board, cannot work if there are barriers to communication between the client and the service partner. Success of the client-service provider dynamic depends on the flexibility given to the outsourced partner to express a difference of opinion or to challenge unrealistic or out-dated expectations. If the service staff feel compelled to keep the client happy at all costs, it will ultimately lead to your company not achieving the desired results. Obstacles such as differences in language, communication style, and cultural nuances are also often concerns when you hire offshore outsourced IT.
Opting for a service provider that is the most price competitive may soon result in the adage 'buy cheap, buy twice' becoming a reality for your company. If you select a vendor in haste or lack the in-house IT acumen to assess the service provider, you may discover significant flaws after signing the partner contract.
How to Successfully Outsource IT services
When the outsourcing partner possesses the necessary expertise and technological tools, your company will undoubtedly benefit from the advanced IT services, increased productivity, and cost savings. However, in order to achieve these results, you must first assess the prospective outsourced IT service's ability to deliver them..
You must perform due diligence to overcome the potential risks of outsourcing IT for your enterprise. These include evaluating the provider's reputation, assessing the provider's experience with businesses like yours, and asking for an onsite demonstration of the provider's technology and workflow. Don't be afraid to ask questions about the things that concern you the most.
Ensure that you are explicit about the expected deliverables, expected standards of the provider's staff working on your project, onsite visits, and the possibility of overtime. The relationship's success is the only metric that matters, so ensure that the partner is aligned with what constitutes success for you.
The day-to-day workflow agreement should be documented via a RACI document that shows 'responsible, accountable, consulted, informed.' To achieve the required communication cadence, agree on the reporting format and periodicity with the provider. Frequent communication is critical, and you must assign a single-point-of-contact contact within your company to meet with the provider and monitor the performance on an ongoing basis.
Overall, partnering with an outsourced IT service will help your company progress. So don't wait until you have a major IT issue before engaging an outsourced IT service.