Blog Details
Why Every Digital Enterprise Needs Proactive Monitoring

January 20, 2023


Cybersecurity, Proactive monitoring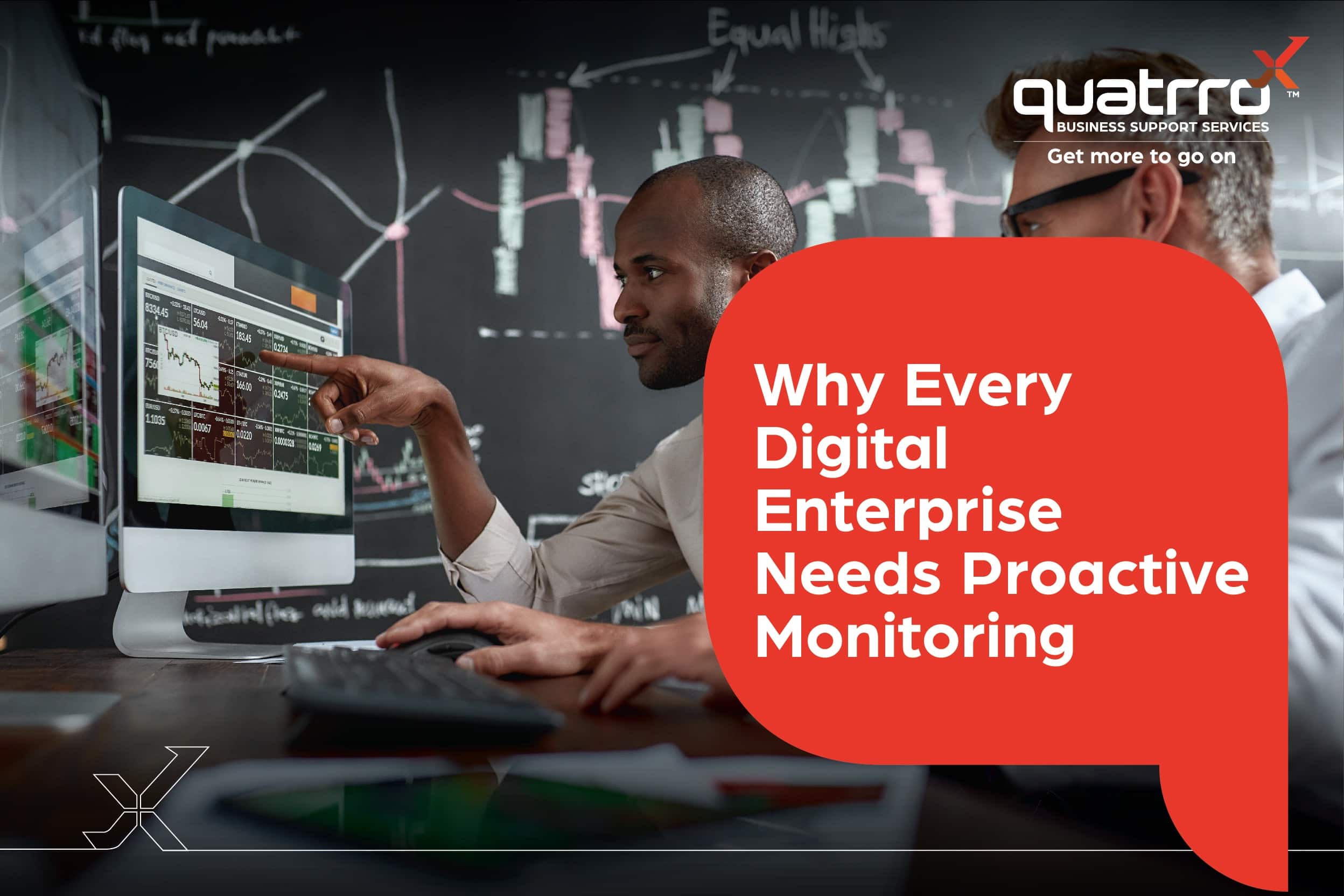 The Clear and Present Need for Proactive Monitoring of Digital Assets
The book, "Business at the Speed of Thought," written by Bill Gates and Collins Hemingway (1999), is about the importance of information technology in achieving a competitive edge. Fast-forward nearly a quarter of a century later, and the role of technology as the mainstay for enterprise success is more crucial than ever.
Most enterprises, including SMEs, have sales and service models based on the web or cloud-computing apps. As a result, the risks of cyber-attacks, system breakdowns, and regulatory non-compliance looms large. And that presents a clear and present case for proactive monitoring of the technology environments they exist within.
What is Proactive Monitoring?
Most SMEs and large enterprises practice reactive monitoring of their IT systems. If a new business requirement emerges, users experience a problem such as a downtime, or when there is a potential cyber-attack underway, the IT team springs into action. The problem with this approach is that the "issue has already occurred," and the end users (which could be the company's staff or clients) have already suffered a negative IT experience.
The other issue to consider is that the full impact of an IT failure is not always immediately apparent. . The more mundane consequences can include decreased employee productivity, irate customers, and unexpected maintenance costs. . However recurring IT-related incidents (or even a single significant mishap) have the potential to cause a slew of serious problems. These include:
A significant negative customer experience for a large segment of your customer base
Data loss (financial data, critical client data, etc)
Expensive urgent IT maintenance efforts
Errors in internal and external communications
Phishing, or other cyber-attacks leading to a ransomware situation
Irrevocable reputational damage to your brand.
In today's competitive and automated business environment, enterprises can ill afford lengthy downtime. Raising IT performance expectations to include heightened monitoring, on the other hand, causes alerts ' noise' and support fatigue of your internal IT team. The best monitoring strategy for an IT-powered enterprise is proactive monitoring, which detects anomalies in apps and infrastructure before an outage or performance threshold is breached.
Proactive monitoring, as the name implies, is a proactive, rather than reactive, approach to managing digital assets. Proactive monitoring seeks to identify IT issues before they occur or before they have a significant impact on employees or customers. It enables you to predict potential disruptions, such as application crashes or performance degradation before they even occur. As the CTO or CIO, fortunately you don't have to worry about expanding your IT team to make this change. A managed service provider (MSP) can efficiently perform proactive systems monitoring on your behalf 24x7x365. The MSP can monitor all the IT hardware, software, networks, mobile devices, desktops, and routers in a non-intrusive manner from one centralized location. So, you incur minimal additional expense for implementing an IT initiative with far-reaching enterprise-wide benefits.
Advantages of Proactive Monitoring
Proactive monitoring ensures that your internal and external customers receive consistent service and that your IT infrastructure operates with minimal revenue/production losses due to IT failures. Proactive monitoring of systems provides the following advantages:
It increases the life of your IT assets and increases ROI.
It facilitates remote assistance and troubleshooting as needed.
You can initiate remote patch assistance during non-business hours with minimal disruption to operations.
Comprehensive real-time reporting helps you identify the need for upgrades or replacement of any hardware or software.
The minimized downtime of your devices and network reduces the threat of data loss or cyber-attacks.
The enhanced IT efficiencies build the trust customers have in your business.
Enhanced monitoring of your entire environment for intrusions before they become full-blown attacks.
Steps Involved in Implementing Proactive Monitoring
Establish the baseline for systems and apps performance


The first step, as with any monitoring activity, is to determine the baseline operation level for your enterprise infrastructure. . Setting the baseline allows you to configure threshold alerts for when the infrastructure is approaching capacity or when the system response time begins to slow. A word of caution – determining the acceptable threshold level system operation can be difficult because the workload may vary across geographies, product lines, and business growth stages. To establish a baseline, it is best to consult with local teams of developers, IT professionals, and other stakeholders and examine historical usage patterns.



Implement a monitoring software


The cornerstone of proactive monitoring is centralized monitoring software. This software will monitor performance and generate alerts so that your IT team or MSP can take corrective action. When you work with an MSP, the choice of monitoring software is often made for you. . If you implement proactive monitoring in-house, make sure that the monitoring software is easy to use and capable of generating detailed insights. For instance, today's monitoring tools can drill down to specific lines of code to help you identify the specific problem area to address.



Set performance alerts


This step is to establish alerts for your IT metrics across all applications and systems. The alerts cover all aspects of your IT ecosystem, including performance, application services, data backup status, and firewall activity. The alerts should be configured within the real-time monitoring software which will run checks 24x7x365. The timing, recurrence, and pattern of alerts will assist you in determining whether you need to make configuration changes, improve load balancing, or capacity expansion. The alerts will prompt you to take corrective action before end users are impacted allowing you to make informed IT investment decisions.



Have a proactive monitoring strategy


Following the definition of baseline performance and the creation of alerts in a monitoring tool, the next step is to identify clear-cut handling of the alert information that will be generated. Who will be notified s, and what action is required for each alert type? Establish a clear decision-making and escalation matrix prior to implementation so there are no questions once alerts start coming up. Identify the daily, weekly, monthly, and quarterly system performance reports your IT teams will be responsible for generating, reporting, and analyzing. Since business requirements change over time, define the periodicity with which your IT team will revisit the baselines established for the critical system performance indicators.

To conclude, without proactive monitoring, you risk the reliability and security of your IT infrastructure. System sluggishness can result in a loss of productivity and cause staff to feel frustrated. Not to mention that your enterprise will be left vulnerable to cyber-attacks. The resulting issues may also cause irrevocable reputational harm.

Quatrro Business Support Services is a comprehensive provider of IT services, and our teams are well-equipped to implement complete proactive monitoring solutions for enterprises of all sizes and industries. Now that you better appreciate the importance of proactive monitoring, let's take things a step further. Contact us to learn more about how implementing proactive monitoring will enhance your company's operations.